Mushroom Tart with a beautiful creamy goat cheese and caramelized onion base. Made with puff pastry, this is a simple, elegant but absolutely delicious appetizer for your next party!
>>Want to PIN this recipe for later? Click HERE to save the recipe to your favourite Appetizer Board on Pinterest. <<
Hey hey friends! I hope your Christmas week was relaxing, I cannot believe it is only 4 days before the end of the year! What are you planning for NYE? Are you a go to bed kinda type, or a stay up and party? I'm somewhere in between! I love my sleep, but always feel obliged to stay up and hang out with friends! I'm just a Nanna at heart!
I've been doing some reflecting lately as well in life and have started to make some new intentions for 2019. A lot of them are based around more self care, less stress - the usual, but I've also put into place some serious business goals for The Home Cook's Kitchen, so I can't wait to see what happens!
2019 is looking to be a massive year for us both, so I am both approaching it with a little grace, apprehension and excitement, but more to come later! I am also reducing my posting schedule for the first few months of the year, looking to update some older content for you, and focussing on growing my traffic and building up THCK into a community.
I am also taking two weeks off over January when we go to New Zealand and Australia. I really want to focus on having that time to ourselves to relax and enjoy our holiday. I'm not very good at switching off though, so I'm still planning on having everything scheduled and organized before I go, so I don't have to do too much!
But to cut to the real reason we're here today, let's chat about a Goat Cheese Mushroom Tart, aka the last recipe that will be up on the blog in 2018 (omgggg)!
How to Make A Mini Mushroom Tart
These little mushroom tarts are really enjoyable bite size pieces of deliciousness! I love finger food, and I wanted to make a gorgeous appetizer just in time for New Years Eve!
I made them for my friends Christmas party the other week and they were a total hit, PLUS they are super easy to make, and can be made ahead of time and be reheated. Winning!
I've always said that make-ahead, easy appetizers are where it's at. I actually hate making appetizers, so I'm making a conscious effort to try and bring you some more appetizer recipes in 2019!
The Pastry
The pastry base for this is regular old store-bought puff pastry! I am not a pastry chef, so making my own puff pastry is totally out of the question (I've seen way to many disastrous attempts on Great British Bake Off to even try it!). I used two whole rolls to make 18 mini mushroom tarts, but you could easily double or reduce the recipe to create more or less.
One key tip when using puff pastry, is to make sure it's defrosted before you start using it, and make sure you roll it out on a lightly floured surface. If you're in America, what I've found is that usually frozen puff pastry is folded into three, leaving big crease lines. I like to gently use a rolling pin to roll out the creases to make them easier to cut.
Aussie friends, you're in luck. Puff Pastry is sold in flat sheets already, so you don't need to do that step!
If you do need to roll out your pastry to make it fully flat, lightly flour a wooden board and your rolling pin, then place the puff pastry on top of the floured board so it doesn't stick.
The Onion Filling
This is one of my favorite parts to the dish - caramelized onion! What's not to like? In fact, if you are adamant that you don't like mushrooms, you can actually omit the mushrooms and just leave the tarts as a caramelized onion and goat cheese tart, totally dreamy!
BUT I do love the earthiness of the mushroom, combined with the sweetness of the caramelized onion, so I like to keep both!
To caramelize the onion, you simply combined finely sliced onion, olive oil, brown sugar and balsamic vinegar. The best method to slice your onion, is to cut it in half longways, remove the skin, then slice it in quarters, then finely slice the quarters to make strips. If you slice half your onion, we found it was a little too much to take in and harder to eat.
The caramelization process takes about 10 minutes, and the onions should be dark brown, reduced and sticky (see images for before and after). I remove the onions after cooking to cool just a touch, so I can reuse the same pan for the mushrooms.
The Shrooms
The mushrooms follow a similar process, but take less time. Instead of olive oil, I used butter (evoo is still fine though) as my base and added in some fresh time.
I like to slice my mushrooms finely, and then cook them in the butter and thyme for about 5-8 minutes.
Pro tip - by the smaller mushrooms at the supermarket. These tarts are delicate and small, so you don't want huge slices of mushroom covering the top. I love cremini mushrooms for this recipe.
Goat Cheese
The goat cheese adds a beautiful creamy texture and a light tang to these tarts, cutting through the sweetness of the onion. I bought a 4oz log (around 110g) and used it all for 18 tarts. Goat cheese is easy to find in most supermarkets and for this recipe I used plain goat cheese.
Putting it All Together
To assemble these little beauties, you want to firstly, slice your puff pastry into 9 equal squares per piece of pastry. Then I add around 1 tablespoon of onion mixture, top with about 1 teaspoon of goat cheese, then finish with 2-3 little mushroom slices.
Then I lightly egg wash the edges of the pastry so they brown in the oven, and bake in a 400F/200C oven for 15 minutes, or until the pastry has puffed up and is starting to brown.
Once cooked, you can cool them down and store them in an air-tight container in the fridge until you need to use them. I've only stored them for half a day but I think they should be fine up to a day.
To reheat, preheat the oven to 350F/180C and place them back in the oven for around 5-10 minutes until they're hot again! These are best served hot as the goat cheese goes all melty and gooey!
This goat cheese, onion and mushroom tart recipe is great to make for a party, pot luck or fun celebration! If you're looking for an easy, yet elegant and dainty appetizer, this is the appetizer for you! Not too heavy, but still fresh and flavorful, plus you'll love that they can be made without too much effort!
G x x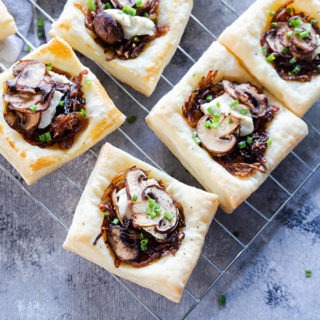 Mushroom Tart with Goat Cheese and Onion
This mushroom tart is a simple, elegant and absolutely delicious appetizer for your next party! Made with a puff pastry base, this tart is simple to put together, can be made ahead of time and is bursting with fresh flavors! Make this appetizer for your friends at your next party, it'll be an absolute hit!
Ingredients
2

sheets

frozen puff pastry

thawed

2

brown/yellow onion

finely sliced

½

tablespoon

olive oil

2

tablespoon

brown sugar

2

tablespoon

balsamic vinegar

12

cremini mushroom

small ones, finely sliced

½

tablespoon

butter

2

thyme sprigs

4

oz

goat cheese

1

egg

lightly beaten for egg wash

2

tablespoon

chives

for garnish
Instructions
For Onions
Heat the olive oil in a skillet over medium heat. Add the onions and stir for 2 minutes before adding the brown sugar and balsamic. Cook for 10 minutes, stirring occasionally until the onions have reduced and are nice and sticky. Remove from pan to cool.
The Mushroom
Heat the same skillet over medium heat and add the butter to melt. Add in the mushrooms and thyme, and cook for 5-8 minutes, stirring until the mushrooms are browned and softened.
Mushroom Tart
Preheat oven to 400F/200C

Slice your puff pastry sheets into 9 equal pieces. Place each square on a baking tray lined with parchment paper.

Spoon 1 tablespoon of onion in the centre, top with a teaspoon of goat cheese and finish with around 3-4 mushrooms.


Use a pastry brush to brush the outside edges of the tarts.

Place in oven for 15 minutes, or until the tarts have puffed up and are lightly browned.
**Want to PIN this recipe for later? Click HERE to save the recipe to your favourite Appetizer Board on Pinterest. ***
Afraid you'll miss a post? Subscribe today and receive updates on new posts, and bonus recipes and information! Follow along on Instagram, Facebook for food inspo and adventures, or see what I'm loving on Pinterest! And subscribe to my YouTube channel to find fun recipe videos!