Light and zesty, this Israeli couscous salad is perfect for summer entertaining. With the fresh flavors of herbs, combined with juicy, lemony tomatoes and brought together with the chewy texture of the Israeli couscous, this salad is freshness at its best! This salad is irresistibly delicious!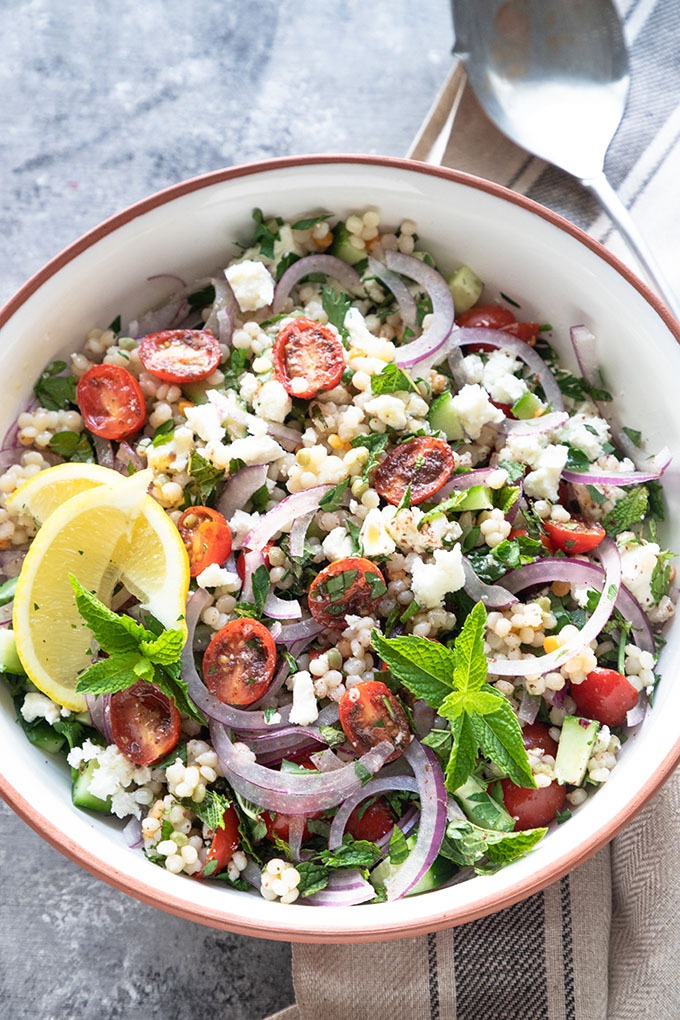 I think I just found my new favorite salad! Seriously, it is that good, I wish I'd thought of it at the start of summer, rather than the end, because I'm pretty sure it would have been my weekly go to salad for dinners and lunches, it is that good!
Like most of my recipes, I've relied on the produce doing the talking with the flavors, and the flavor combination you get from these ingredients in unbelievable!
You won't believe how much freshness and deliciousness can come from just a few simple ingredients like tomatoes, sumac, spices, lemon and fresh herbs! It's a knock your socks off kind of flavor hit!
How to Make this Salad
What is Israeli couscous?
Israeli couscous, also known as pearl couscous, giant couscous or ptitim couscous isn't actually a wholegrain, but a type of pasta!
Unlike 'regular' couscous, Israeli, or pearl couscous is a rounder, heavier type of couscous.
What does pearl couscous taste like?
It tastes kind of like a chewy pasta, similar to a risoni. It's quite dense, and brings a lot of flavour and heartiness to a salad.
I actually prefer Israeli couscous to regular couscous, as it works wonders in salads and as a side dish, and just adds a bit more depth to a salad that I love.
I love using regular couscous as a base for Moroccan dishes like tagine or stew, but Israeli couscous brings a bit more oomph to dishes.
How to cook Israeli couscous
It's really easy to make, and the cooking process is very different to regular couscous. Instead of steeping the couscous in hot water, then fluffing it up like you would regular couscous, you actually boil Israeli couscous in a saucepan before the fluffing process!
To cook pearl couscous;
Bring 1 1/2 cups of water with some salt to the boil.
Add 1 cups of couscous
Bring to the boil and simmer for 8-10 minutes, until the couscous is tender and water has been absorbed.
Remove from the heat and fluff up with a fork.
It is a little sticker and gelatinous however, so it is better to work quickly and serve this salad almost immediately.
The Vegetables
The flavors for this salad come from the fresh produce, which is another reason I love this salad! It is so unbelievably light and fresh, you won't believe that it's only a few ingredients.
How to prepare the tomatoes
I think the biggest game changer is the way the tomatoes are prepared. The first thing you'll do is to marinade the tomatoes in lemon juice and sumac.
Sumac is a spice used typically in Middle Eastern and North African cuisine.
It's easy to find in most supermarkets in the spice section. In Australia we have Gewurzhaus which is an amazing speciality spice store! World Market may stock sumac in the USA.
The tomatoes become so juicy in the marinade, omitting the need for this salad to be dressed which is another bonus!
What cucumbers can I use?
My favourite cucumber are Persian/Lebanese cucumbers. They are small in size and a lot sweeter than English cucumbers.
You'll need two cucumbers, or about 1/2 – 3/4 of a large English cucumber.
Cut the cucumber in half, use a spoon to remove the seeds then dice into small cubes.
Red Onion
Finally, the red onion plays a most important part in this recipe. The intensity of the red onion does mellow out with the flavors of the lemon, sumac and tomato.
To ensure maximum tastiness, you'll want to slice them AS FINELY AS POSSIBLE! No one like chunky onion or bad onion breath, so the finer the better!
The Herbs
I firmly believe, that the herbs are the backbone to this salad and absolutely make it, the best it can be!
With herbs, you'll want as fresh as a possible, and you'll want to chop them as finely as possible.
For this recipe you need;
I hate having salads that have huge chunks of herbs, so the smaller the better. This recipe uses around a 1/2 a cup each of mint and parsley.
This may seem like a lot, but this salad is massive by the time you add the couscous, so it levels it out.
General Recipe Notes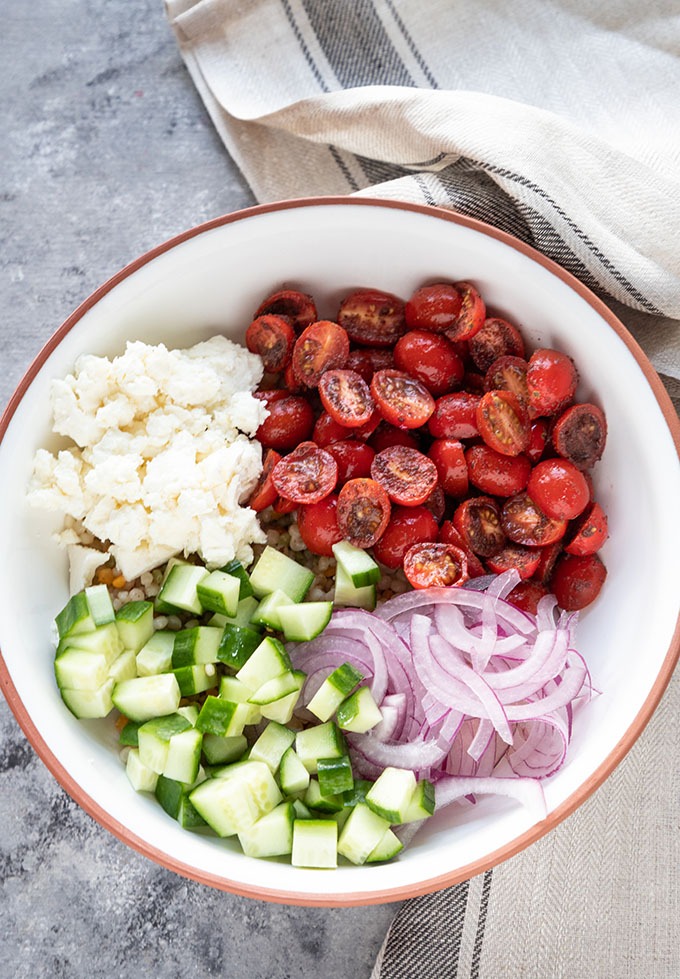 Does this salad keep?
This is one salad that I would make the day off, but it does keep ok for the day after. I usually make it within a few hours of serving it as the couscous can get quite sticky.
As it is a predominantly chopped salad, the freshness is compromised the longer you leave it, so I'd suggest making it just before you want to serve it.
It is that easy to bring together, even with the couscous cooking time, you're looking at under 20 minutes.
How to assemble the salad
I love to add the Israeli couscous to the bowl and fluff up with a fork. Then add my vegetables, herbs, feta and toss.
I also drizzle a little olive oil over the top of the salad before serving, and save some of the fresh herbs for garnish.
Does this salad have a dressing?
The salad doesn't need a dressing, because you have the olive oil, and sumac lemon marinade from the tomatoes which bring a beautiful tang to the salad.
If you're finding your Israeli couscous is sticking too much, add a dash of olive oil to the couscous instead of the finished salad and use a fork to separate it.
This salad is perfect for everyday eating, or to serve as a side salad at a dinner party or barbecue. It'll also make a great pot luck salad too!
This is the easiest recipe to make, and coming in at under 20 minutes, it's a no brainer if you need something quick and fuss-free.
This Israeli couscous salad is so light and fresh, you won't believe the flavor you get from 9 simple ingredients!
G x x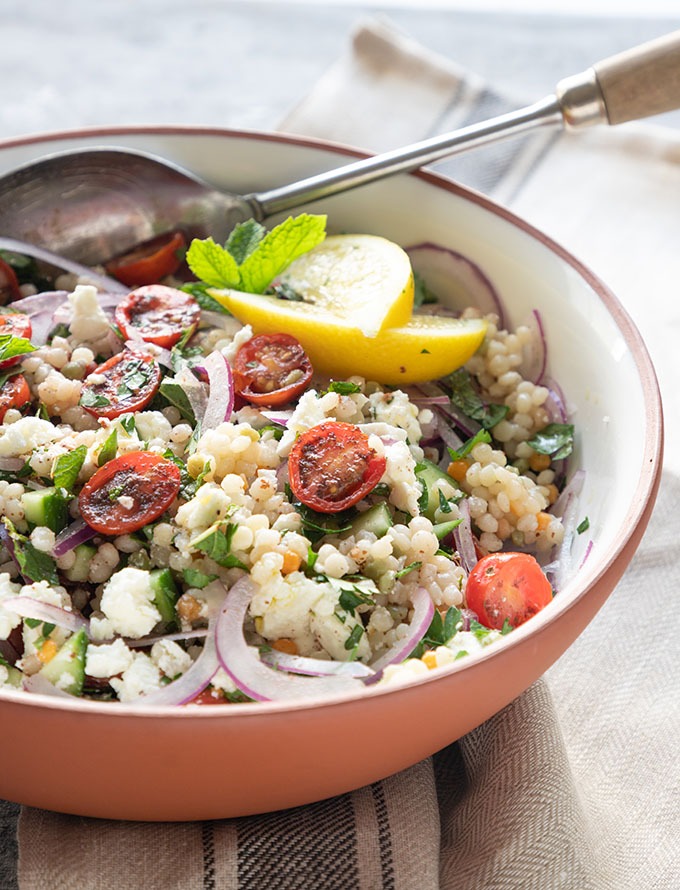 Want more couscous recipes?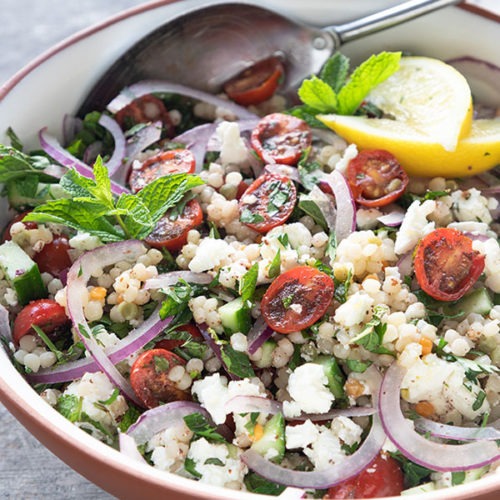 Israeli Couscous Salad
Israeli couscous salad - a zesty, fresh and flavorful salad made from simple supermarket ingredients. Simple doesn't mean boring when it comes to this salad, let the produce speak for itself!
Ingredients
Israeli Couscous
1

cup

Israeli couscous

1 1/2

cups

water

pinch of salt
Israeli Couscous Salad
1

cup

grape tomatoes

halved

2

tsp

sumac

1

tbsp

lemon juice

2

Persian/Lebanese cucumbers

diced, or 1/2 an English cup or around 1 cup diced cucumber

1/4

small red onion

very finely sliced

5.5

oz

feta cheese

1/2

cup

chopped mint

1/2

cup

chopped Italian/flat leaf parsley

1

tbsp

olive oil

to drizzle over at the end
Instructions
Israeli Couscous
Bring the water and pinch of salt to the boil.

Add couscous and bring to the boil. Reduce heat and simmer for 8-10 minutes until couscous is tender and water has absorbed.

Remove from the heat, and use a fork to 'fluff up' the couscous. Break up any larger pieces, then set aside in a salad bowl to cool.
Israeli Couscous Salad
Place halved tomatoes, lemon juice and sumac in a small bowl and set aside to marinate while you make the rest of the salad.

To make the salad, combine the couscous, tomato, cucumber, red onion, feta and herbs together and toss well.

Add your drizzle of olive oil, then garnish with some leftover herbs.
Nutrition
Calories:
329
kcal
Carbohydrates:
41
g
Protein:
12
g
Fat:
12
g
Saturated Fat:
6
g
Cholesterol:
34
mg
Sodium:
453
mg
Potassium:
471
mg
Fiber:
4
g
Sugar:
5
g
Vitamin A:
1455
IU
Vitamin C:
23.6
mg
Calcium:
251
mg
Iron:
1.9
mg
Recipe updates on July 1st 2020 to include more information on how to make this salad perfect every time!
If you loved this recipe, I'd love for you to leave a comment and review! Also, don't forget to snap a pic of your finished recipe and share it on our on our Instagram account using the hashtag #thehomecookskitchen or tagging me @thehomecookskitchen. I'd love to see your creations!
Afraid you'll miss a post? Subscribe today and receive updates on new posts, and bonus recipes and information! Follow along on Instagram, Facebook for food inspo and adventures, or see what I'm loving on Pinterest!