Apple Shortcake- A gorgeous shortcake recipe with a simple apple filling. This apple shortcake is perfect for a quick and easy, last minute dessert if you're in a rush! Soft, buttery shortcake, sandwiches with apple pie filling!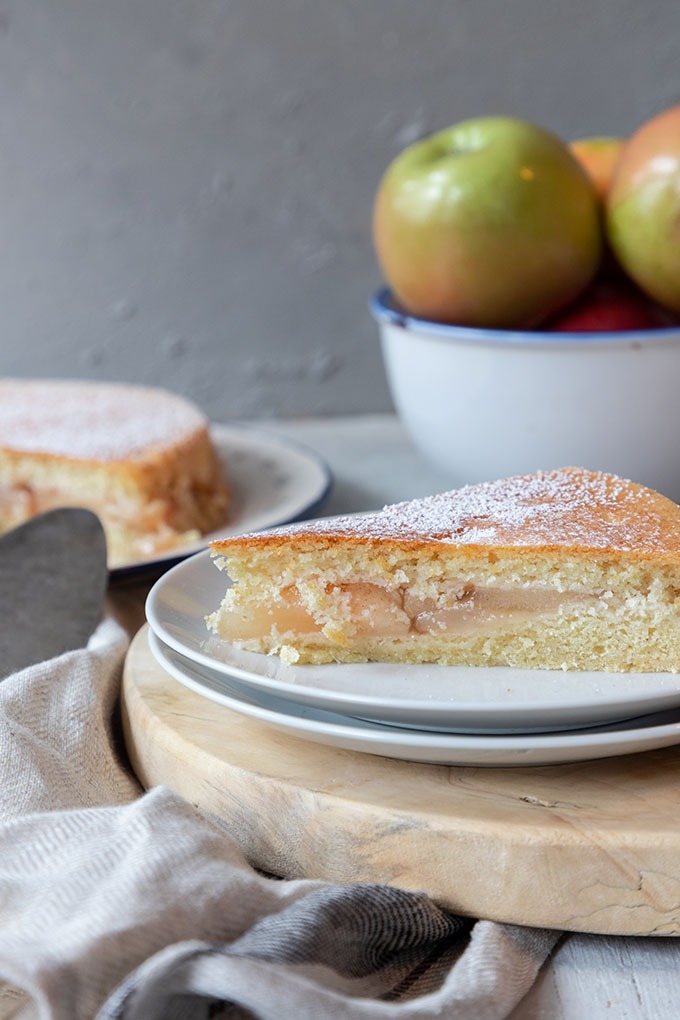 Oh hey there from Australia! I know, what? Long story but we had to come home for a quick, unexpected trip. Frankly, I am not complaining minus the 16-hour flight we had from Vancouver BC, because it's been ages since we've been home!
So far it's been rushing around but it's SO nice to see the family again and to meet our new little niece. We haven't been home since our wedding in January 2017 so a visit was definitely due!
It' weird that it's spring here and I'm writing up fall and Thanksgiving recipes for you! But the truth is, I shot this recipe a few weeks back and it's finally up on THCK!
I am SO excited about this recipe, because it's one of my favourites, and it is really easy to make! This was a recipe that my Mum always used to make when I was a kid. She used to have a sewing group meet once a week and this recipe was originally one of the sewing girls recipes!
This apple cake is one of those desserts that you can make if you're in a hurry, or if you have unexpected guests coming around and need something quick to whip up! The cake is so, so buttery and delicious and the apple brings it together beautifully.
**Want to PIN this recipe for later? Click HERE to save the recipe to your favourite Dessert Board on Pinterest. ***
Apple Shortcake Recipe Notes
This apple shortcake recipe isn't your typical 'American' shortcake recipe. From my understanding, a shortcake in America is more like a biscuit style dessert with fresh fruit.
This apple shortcake on the other hand, is more like a buttery shortbread cake, sandwiched together with apple pie filling.
Shortcake Ingredients
The shortcake ingredients are simply butter, sugar, egg, vanilla and self raising flour. You start by beating the butter and sugar together, then adding the egg vanilla, and finally mixing in the flour little bits at a time.
I prefer to use a stand mixer, but you can also use an electric hand mixer as well. Either process works well. Remember to use a spatula to scrape down the sides of the bowl to ensure all ingredients are mixed in well.
After I've mixed my shortcake ingredients together, I shape it into a ball and cover with plastic wrap to refrigerate for 30 minutes or so. It's much easier to roll when the dough isn't super soft, especially if you're making this in hot weather. The butter has a tendency to keep the dough quite soft which can make rolling difficult.
Apple Pie Filling
Apple pie filling is something I only just found in the US, and it's a premade filling that is lightly sugared. I use the Kroger brand from Fred Meyer and it comes in a 20oz can. For my Australian friends, you can find something similar at Coles or Woolworths. You'll need a 20oz or 565g to fill one of these apple shortcakes. If your pie filling isn't sweetened, I'd suggest adding around 1 tablespoon of sugar and 1/2 a teaspoon of cinnamon to the pie filling, so it tastes a little sweeter. Most pie fillings are sweetened however so this shouldn't be an issue.
Assembling the Apple Shortcake
To start with, you'll need 1 9inch/23cm round cake tin. These are easy to use and I use mine all the time for making sponge cakes as well, so they are super handy to have. I lightly grease mine so that it's easy to remove from the pan when it's cool.
To assemble the bottom layer of the shortcake, you'll need to first divide the dough into even halves. The best way to do this is to weigh the dough, then divide the weight by half. Or you can do it by eye for a slightly less accurate portion.
When it comes to putting the dough into the pan, for the bottom layer I find it easier to use my fingers to lightly press the dough into the tin until it's even. You can roll, however I found that using my hands was an easier option and worked just as well.
For the top layer however, I tend to roll out my dough to the size of my pan (9inch/23cm), and gently lay it flat on the top of the apple pie filling, before very gently using my fingers to fill in the gaps. It's a lot harder to press down into the filling compared to pressing it down into the cake tin for the bottom layer.
If you find your top layer is looking messy, flip the cake onto a plate before serving so that the bottom becomes the top. The bottom will be a lot neater!
Cooking Time
This apple shortcake takes around 35-40 minutes to bake at 350F/180C in a non-fan forced oven. The top of the cake should be lightly browned. A good test is to stick a metal skewer into the middle of the cake (the shortcake only, not filling). The skewer should come out clean with a few crumbs. If you're finding that the cake is browning too quickly and not cooking, cover the cake with aluminum foil to prevent burning.
This cake is perfect for Friendsgiving, Thanksgiving or any dinner party! It's easy to make, requiring a few simple ingredients. It's one of my favorites to bake for dinner parties, because it's so simple and is always a hit with our family and friends. Served with a dollop of cream or some vanilla ice cream, this is sure to please even the pickiest of eaters!
Georgie x
Apple Shortcake
A light and fully apple shortcake with a beautiful apple pie filling. This dessert is perfect for dinner parties because it's quick and easy to make!
Print Recipe
Ingredients
1/4

lbs

butter

,

softened

1/4

lbs

sugar

1

egg

1/2

lbs

self-raising flour

1

tsp

vanilla

20

oz

apple pie filling
Instructions
Shortcake Dough
Cream butter and sugar in a large bowl (stand or hand mixer), until smooth. There should be minimal lumps of butter

Add egg and mix for 30 seconds.

Add flour, small bits at a time, making sure to scrape down the sides with a spatula to incorporate all ingredients.

Turn the dough onto a piece of plastic wrap/cling wrap, and shape into a ball. Cover and refrigerate for 30 minutes.

Preheat oven to 350F/180C.

Grease a 9inch/23cm round cake tin

Divide dough into equal halves.

Press half of the dough into your greased pan as evenly as possible. Use your hands to work the dough to the edges.

Top with the apple pie filling.

Roll the other half of the dough into a rough round that fits the size of the pan. Place the dough on top of the pie filling and use your hands to gently press the dough into any missing gaps. It doesn't matter if it's not perfect because you can flip the cake when it's cooked and no one will see the bottom!

Bake for 35-40 minutes, or until top is browned and cake it cooked through.

Cool for 20 minutes in the tin, then turn out onto a wire rack and cool completely.

Transfer to a plate and serve with a dusting of icing sugar and some cream and/or ice cream.
Nutrition
Calories:
225
kcal
|
Carbohydrates:
35
g
|
Protein:
2
g
|
Fat:
8
g
|
Saturated Fat:
5
g
|
Cholesterol:
36
mg
|
Sodium:
90
mg
|
Potassium:
40
mg
|
Sugar:
16
g
|
Vitamin A:
270
IU
|
Vitamin C:
0.8
mg
|
Calcium:
9
mg
|
Iron:
0.3
mg
**Want to PIN this recipe for later? Click HERE to save the recipe to your favourite Dessert Board on Pinterest. ***
If you loved this recipe, I'd love for you to leave a comment and review! Also, don't forget to snap a pic of your finished recipe and share it on our on our Instagram account using the hashtag #thehomecookskitchen or tagging me @thehomecookskitchen. I'd love to see your creations!
Afraid you'll miss a post? Subscribe today and receive updates on new posts, and bonus recipes and information! Follow along on Instagram, Facebook for food inspo and adventures, or see what I'm loving on Pinterest!