Red Lentil Dal – just like the real stuff! Indian red lentil dal is one of my most favourite vegetarian dishes to cook during the weeknight, especially if I'm feeling lazy and want lunch leftovers! This lentil dal is light, bursting with flavour, hearty and super healthy. Perfect for any seasons, especially if you're looking for some super comfort foods!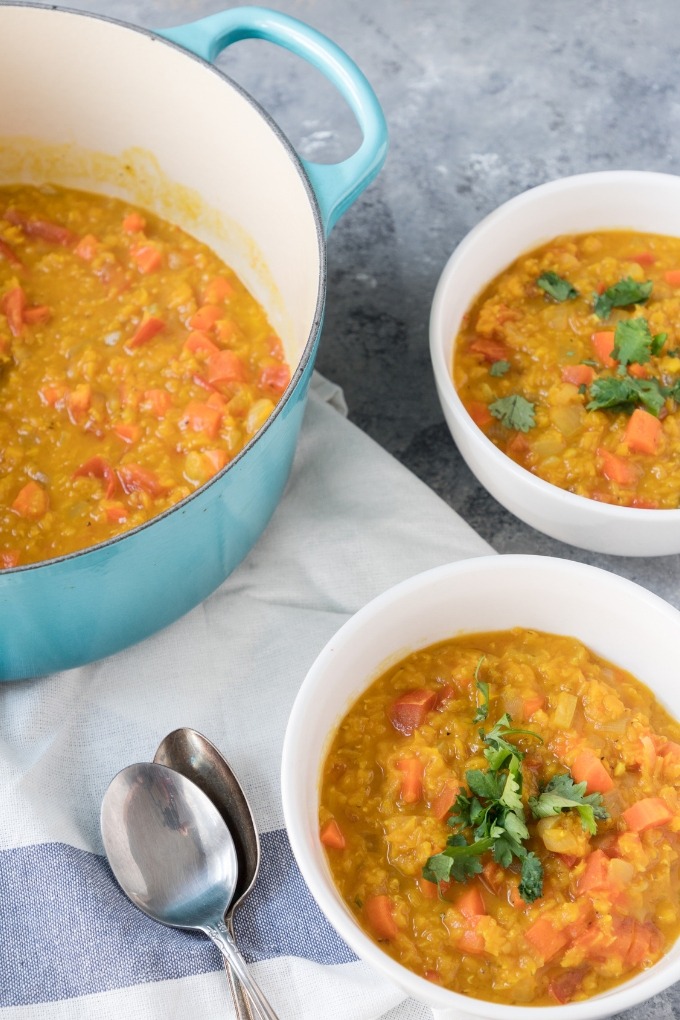 Dhal, Dal or Dalh (there are so many spelling variations!) is a classic Indian lentil dish. The recipe for this actually came from my brother and sister in law who is a vegetarian, and it has been one of our favourites for many years.
I love cooking recipes from countries that I've travelled to, and I must admit India had some of THE BEST food I have ever tasted in my life. In 2015 I was lucky enough to go on a school trip to Indian as an accompanying teacher and it was one of the most incredible experiences of my life.
We were right up in Northern Indian in the Himalayan mountain ranges – possibly the most breathtaking places I have ever visited. I say that quite literally as well as figuratively if you've ever been to 11,000 feet you'll know what I'm talking about – altitude sickness is a bitch!
But on a serious note, if you ever go to India I highly suggest going to Leh, in Ladakh absolutely phenomenal experience. We spent three weeks hiking, building community projects, learning about Indian culture and language, and of course, my favourite part – eating.
Indian food is so simple, yet some of the most flavoursome food I've ever eaten. Think beautiful curries, naan bread that is to die for, spicy sugary chai (resisting urge to write chai tea, aka tea tea!), exotic spices and vegetables and other beautiful vegetarian dishes.
While I was there, I did go mostly vegetarian, with I think the exception of tasting a tiny bit of butter chicken, which I know is not traditional, but I couldn't resist! The vegetarian food was just so good, I couldn't bring myself to eat anything else. Unfortunately, I wasn't into blogging and photographing my food back in 2015, so I actually don't have any photos of the food we ate, but I can still remember the flavours and smells, which is literally making me drool right now!
Although we had been making our own Indian red lentil dal prior to my trip, I discovered that this recipe is actually very similar to the dal I had in India. The red lentil dal we tasted in Northern India was not spicy at all, and I found it was really heavy on the turmeric, giving it a gorgeous orange colour.
About Indian Lentil Dal
This dal is a one-pot recipe made using some very simple spices, tomatoes, red lentils and vegetable stock. This dish is so comforting and is perfect for an easy weeknight meal – if you don't gobble it down all at once, you'll be lucky to have some lunch leftovers!
I've also made this for my vegetarian friends before. It's a really easy dish to dress up for a dinner party. Add some white rice, some homemade naan bread and you've got yourself a gorgeous Indian style feast!
In terms of cooking, the process is very simple. There are a few methods for cooking – either a saucepan or dutch oven. If you are using a Dutch oven, however, make sure to stir frequently as I have found sometimes the lentils can stick to the bottom.
As far as serving goes, there are a few different ways you can present this dish. Traditionally we had it over rice with naan bread, but I find during the weekday, I just eat is as itself with maybe some rice for extra carbs. For a garnish, I typically use cilantro/coriander and add a dollop of natural yogurt.
This dish is great for easy weeknight dinners if you're looking to pack more plant-based recipes into your diet, or fancy up for an Indian-style feast! This recipe is super versatile, super tasty and super easy to make.
Georgie x
Red Lentil Dal
Similar to the real deal, this Indian red lentil dal is perfect for easy weeknight meals or for an at home Indian feast! Quick and easy, one pot, minimal fuss and maximum flavour.
PRINT RECIPE
Ingredients
1

tbsp

olive oil

1

yellow/brown onion

,

finely diced

2

carrot

,

diced

2

garlic clove

,

finely diced

2

tsp

grated ginger

1

tsp

turmeric

,

ground

4

cups

vegetable stock

8.5

oz

red lentils

4

roma tomatoes

,

diced
Instructions
Heat olive oil in a medium-sized saucepan over medium heat.

Fry the onion until soft, then fry the ginger and garlic.

Add the turmeric and stir until fragrant.

Add the vegetable stock and bring to the boil.

Once the stock is boiling, add the lentils and bring to the boil.

Add tomatoes and carrot, bring to the boil, reduce heat and simmer covered for 30 minutes or until lentils and vegetables are cooked through.

Serve as is, or with naan bread or brown rice
Notes
We like our dhal a little runnier, if you want a thicker dhal, leave the lid off and cook for a little longer.
Nutrition
Calories:
295
kcal
|
Carbohydrates:
47
g
|
Protein:
16
g
|
Fat:
4
g
|
Sodium:
970
mg
|
Potassium:
873
mg
|
Fiber:
20
g
|
Sugar:
7
g
|
Vitamin A:
122.7
%
|
Vitamin C:
18.7
%
|
Calcium:
5.9
%
|
Iron:
28.3
%
If you loved this recipe, I'd love for you to leave a comment and review! Also, don't forget to snap a pic of your finished recipe and share it on our on our Instagram account using the hashtag #thehomecookskitchen or tagging me @thehomecookskitchen. I'd love to see your creations!
Afraid you'll miss a post? Subscribe today and receive updates on new posts, and bonus recipes and information! Follow along on Instagram, Facebook for food inspo and adventures, or see what I'm loving on Pinterest!