This beetroot feta lentil salad is so simple to make and great for summer or winter! Made with fresh beetroot, lentils, creamy feta and some fresh herbs, and topped with a seeded mustard vinaigrette. This feta lentil salad may be made using simple ingredients, but it tastes nothing short of amazing! 
This recipe was inspired by our recent trip to Riga, Latvia! If you saw my post about a guide to the best food in Riga, you'll know that I discovered some amazing things about Latvian food. Especially the fact that I ate a lot of dill, and a lot of beetroot salad!
I actually posted a really similar recipe back when THCK was just a baby health food blog (oh how times have changed), but in light of my recent love for Latvian food, and the fact that I've come along way since 2016 as a blogger, that post has now been updated with much prettier photos, and some new ingredients in the recipe.
I love that this salad can either be a winter or summer salad and the fact that there are a few shortcuts you can take, to make this process a lot quicker!
Now, I don't always like to take shortcuts when it comes to cooking, and I'd prefer to do everything from scratch, but a) sometimes I just don't have time, and b) sometimes things actually taste better out of a can!
I'm talking about the lentils here!
How to Make this Beetroot Feta Lentil Salad
For this recipe, I opted to use canned lentils for a number of reasons. One, mainly the fact that it's so much easier to open a tin than get out your pots and bother rinsing and cooking your lentils, not to forget the soaking period that usually occurs before you can even cook them, but two, I actually prefer the taste of canned brown lentils compared to red or green lentils for this recipe.
Canned lentils I've found are a little trickier to find in the US than Australia. In Aus, there is an abundance of canned lentils in the bean section of Woolies (Aussie you'll know what I'm talking about), but here in the states, I found that only our local, New Seasons market stocked them compared to our bigger supermarkets. This may be different in other states, but for some reason, I could never find them in Fred Meyers! If you can't find them, I've left instructions in the recipe notes for cooking your own lentils, but just remember the cooking time will increase!
If you were looking for another way to reduce the time, I'd really advocate for using canned beetroot as well. Once again, I think the taste is fairly similar and if you are in a hurry, you'd save a lot of time.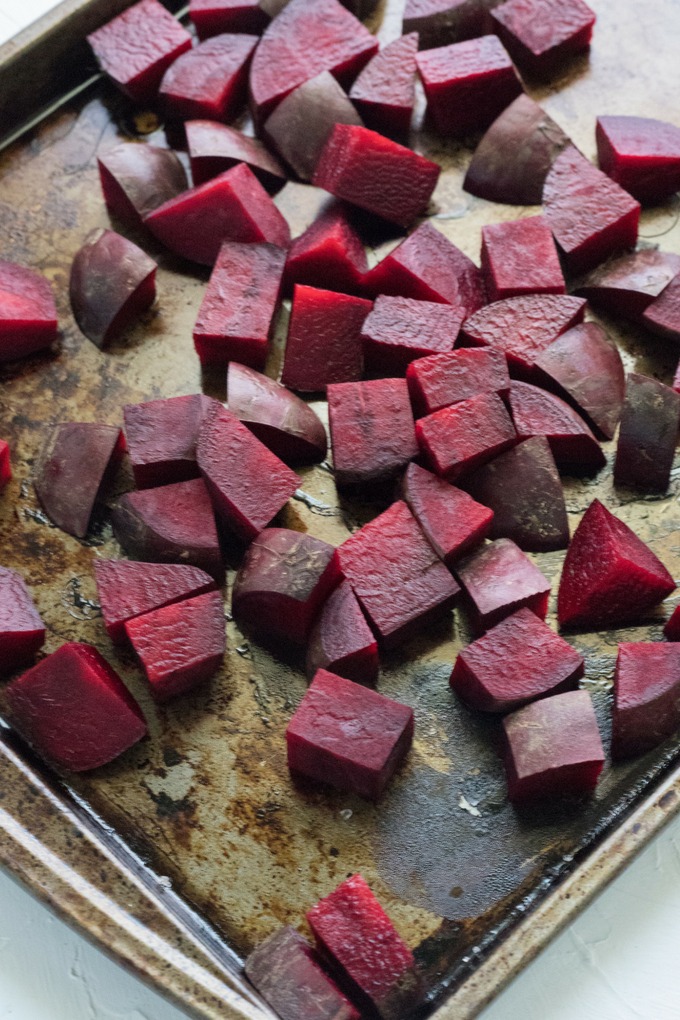 If you're looking to bulk up this salad a bit more with some extra greens, arugula would be a great addition as well! I like this fetal lentil salad with and without arugula, it entirely depends on where you're looking to serve it up!
Speaking of which, this salad is perfect to transport meaning it would be a great potluck dish. I made it the other days for a friends housewarming party and it was a total it. It took me under an hour to make, and I had it in my salad bowl, ready to go!
So if you're looking for a salad, that's just a little bit different, but not too different, and a salad that's easy to whip up in no time, this beetroot feta lentil salad is the recipe for you! Hope you're having a lovely Tuesday, and PS you're going to LOVE what I've got coming for you this Thursday! Stay tuned.
Georgie x x 
Beetroot Feta Lentil Salad
This beetroot feta lentil salad is a great salad if you're looking to try something a little different with your beets! Made using a combination of fresh, and store-bought ingredients, this salad is customisable depending on your time constraints!
Ingredients
3

beetroot

diced

14.5

oz

brown lentils

canned, rinsed and drained. (note 1)

4

oz

feta

¼

cup

dill

very finely chopped

3

tablespoon

mint

very finely chopped

2

cups

arugula

optional

½

tablespoon

olive oil

¼

teaspoon

salt

¼

teaspoon

pepper
Vinaigrette
1

tablespoon

wholegrain mustard

½

tablespoon

honey

4

tablespoon

olive oil

½

tablespoon

lemon juice

¼

teaspoon

salt

¼

tsp

pepper
Instructions
Preheat oven to 420F/210C

Dice beetroot, and toss in the ½ tablespoon of olive oil, and salt and pepper to taste.

Place on an oven tray, and bake for 30-40 minutes, or until beetroot is soft and starting to brown. Set aside to cool.

Add the beetroot, dill, mint, lentils, feta and arugula if using to a salad bowl.

To make vinaigrette - combine ingredients in a jar and shake well. Taste, and adjust flavour according to taste.

Pour vinaigrette over salad, and toss until well combined.
Notes
note 1 - if you can't find canned lentils, then you can make them on the stove top. Take ½ a cup of brown lentils, and rinse thoroughly. Add lentils and 2 cups of water to a saucepan. Bring to the boil, reduce heat and simmer for 15-20 minutes, until they are tender. 
If you loved this recipe, I'd love for you to leave a comment and review! Also, don't forget to snap a pic of your finished recipe and share it on our on our Instagram account using the hashtag #thehomecookskitchen or tagging me @thehomecookskitchen. I'd love to see your creations!
Afraid you'll miss a post? Subscribe today and receive updates on new posts, and bonus recipes and information! Follow along on Instagram, Facebook for food inspo and adventures, or see what I'm loving on Pinterest!