A beautiful, hearty and healthy grain salad that is filling and fresh! Made with roasted pumpkin, cooked grains and topped with the most delicious honey lemon dressing! This is a great salad for meal prep, or a healthy dinner party!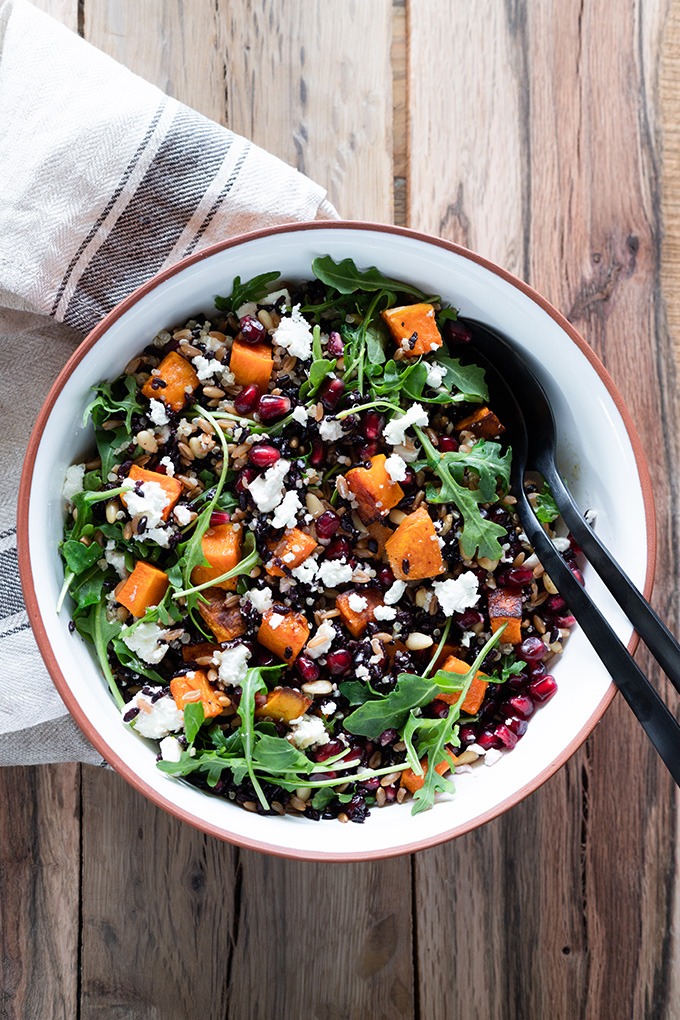 Jump to:
Why we love this recipe
This grain salad is a winter hit! No more boring salads! Grain salads are an easy way to up your salad game and I adore this recipe because it's so versatile and adaptable. You can use whatever grains you want!
This salad is beautifully balanced, bringing a little bit of sweet, some creaminess, tanginess and savoury flavours!
This salad is perfect for a winter dinner party - it's so easy to make and there are some short cuts that you'll love!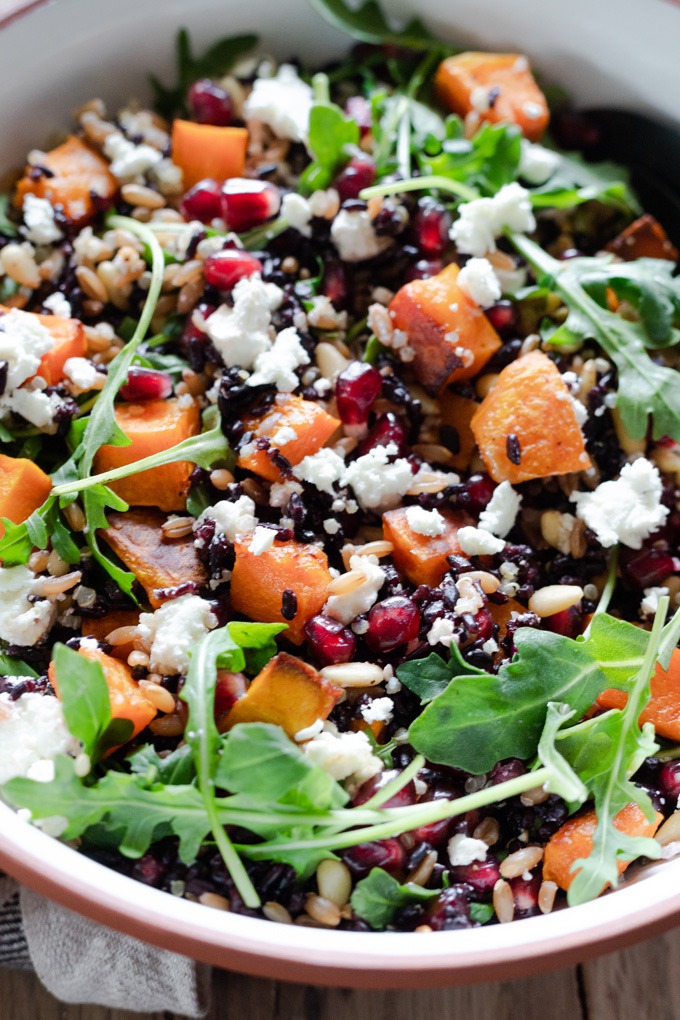 Ingredients in this Recipe
This is a super easy, versatile salad that can be customized according to your tastes and grain preferences! You can also cook the grains in batch, and freeze them to use at a later date!
Grain Selection - To make a grain salad, you need...GRAINS! Obviously! I opted for quinoa, black rice and farro for this recipe! I had a lot of quinoa in the cupboard to use up, and some leftover farro as well! For some reason I also had black rice and thought it would look gorgeous in the salad to jazz it up a little bit.
You could also use;
brown rice
buckwheat
barley
amaranth
bulgur
freekah
wild rice
black or red quinoa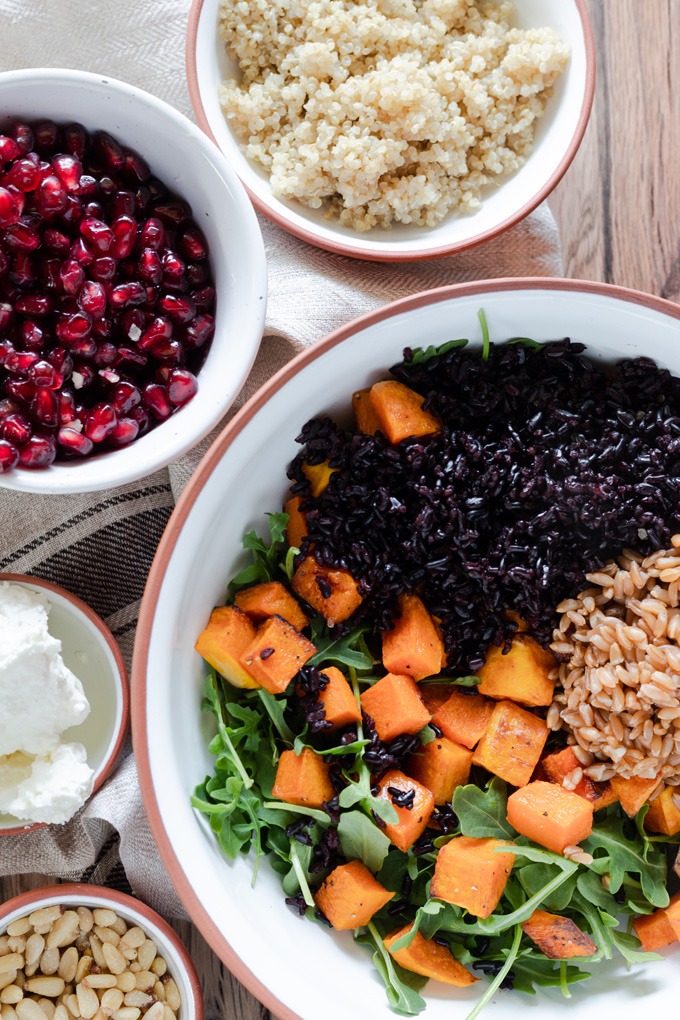 The skies the limit with what you put into this! Choose grains that you know you enjoy, or already have in the cupboard! This recipe calls for ½ cup of cooked quinoa, ½ a cup of cooked black rice and ½ a cup of cooked farro.
To save time - I love to use microwavable packets! You can get so many different selections now.
Butternut Squash - also known as butternut pumpkin. I opted for fresh butternut squash for this particular grain salad, but you could also add in roasted sweet potato as well or in place of the squash.
To roast your squash, you simply dice half a butternut pumpkin/squash, toss it in some olive oil and salt and pepper, and roast it for around 30 minutes in a 400F/200C oven until it's golden brown on the bottom.
Rocket/Arugula - fresh rocket adds a hint of pepper to the salad and adds some greenery to bulk up the salad just a bit more.
Pomegranate - pomegranate adds a gorgeous crunch and a bit of tang to cut through the sweetness of the butternut squash. A must have in my opinion and they are so juicy! I also love the peppery
Feta cheese - I love marinaded feta cheese. It adds some creaminess to the salad. You could also use goat cheese.
Pine Nuts - I finish off this salad with pine nuts just at the end. They add another element of crunch to the salad.
Honey Mustard Dressing - the finishing touch for this salad is the honey mustard dressing. This ties the salad together beautifully!
How to Make This Recipe
Cook the grains. This will be depended on the grains you use. The grain to water ratio for quinoa and black rice is 1:2 cups, while farro is 1:3 cups of water. These grains have similar cooking processes, whereby you boil, then simmer the grains on the stove top. Other grains will have a slightly different cooking process.
Cook up the butternut squash.
Shake together the honey mustard dressing ingredients in a jar until well combined.
Assemble the salad - place all the ingredients in a bowl and toss.
Tips and FAQ
Does this salad store well?
You can keep this salad for a days in the fridge, HOWEVER I wouldn't store it with the dressing. If you want leftovers, dress the salad seperately before serving and then store the salad in an air tight container for the next day.
Can I make some substitutes?
Yes - absolutely! See the ingredients list above for some of my favourite substitutes. You can use plenty of different grains and can sub out squash for sweet potato and feta for goat cheese.
Can I make this in advance?
Elements of this salad can be made in advance. I usually roast my butternut squash the day or morning of when I'm planning to serve it and eep it in the fridge in an air tight container.
You can also cook your grains in advance and store them, and deseed your pomegranate and store in a container as well. The rest of the ingredients you can easily assemble just before serving.
You can also make the honey mustard dressing early too as it keeps in the fridge.
What goes well with this salad?
Practically any meat or fish. I love doing a big lamb or beef roast with this salad on the weekends. It's also great for barbecues.
This grain salad is a great salad for meal prep, easy weeknight dinner or fancy salad for a dinner party! It's a great pot luck salad.
Happy Salading Friends! Georgie x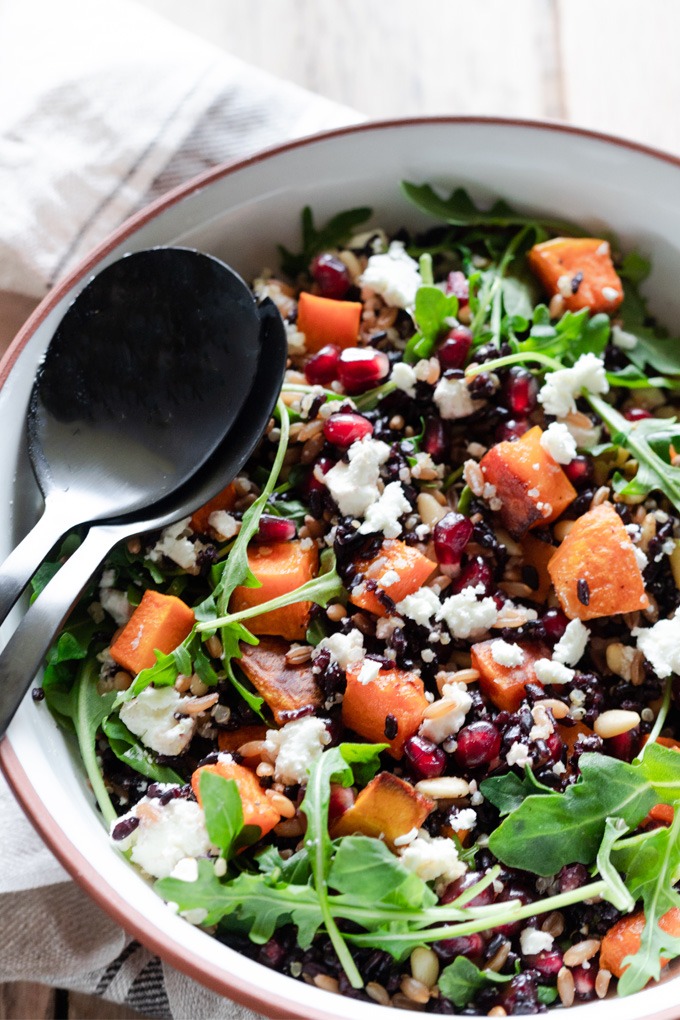 Want More Grain Recipes?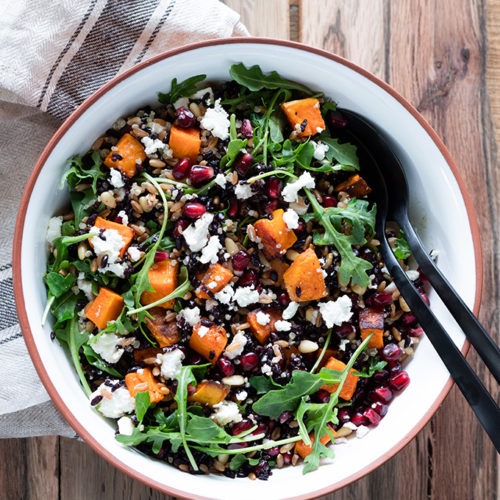 Wholesome Grain Salad
This grain salad is a healthy, wholesome salad recipe made with fresh ingredients and cooked grains like quinoa, farro and black rice! Topped with a delicious honey, mustard and lemon dressing, this salad will make you feel good from the inside out!
Ingredients
½

butternut squash

diced

½

cup

cooked quinoa

½

cup

cooked farro

½

cup

cooked black rice

3

cups

arugula/rocket

roughly four handfuls

¼

cup

pomegranate seeds

¼

cup

pine nuts

3.5

oz

feta cheese
Grain Salad Dressing
1

tablespoon

honey

½

tablespoon

wholegrain mustard

½

tablespoon

Dijon mustard

1

tablespoon

lemon juice

3

tablespoon

olive oil

salt and pepper to taste
Instructions
Preheat oven to 400F/200C. Toss the diced pumpkin in ½ tablespoon of olive oil and some salt and pepper. Place on a lined oven tray and bake for 25-30 minutes, until the pumpkin is cooked through and is golden brown.

Place arugula in a large salad bowl. Top with cooked pumpkin, cooked grain, pomegranate seeds, feta and pine nuts.

Toss to combine, adding extra feta and pomegranate on top for looks.
Salad Dressing
Combine all the ingredients in a small jar and shake until well combined.

If you know you're eating all the salad at once, pour the salad dressing over the salad and serve! OR, to keep for a later date (like meal prep), keep the salad dressing in a separate container and use as required.
Afraid you'll miss a post? Subscribe today and receive updates on new posts, and bonus recipes and information! Follow along on Instagram, Facebook for food inspo and adventures, or see what I'm loving on Pinterest! And subscribe to my YouTube channel to find more fun recipe videos!