A quick and easy cocktail, that is beautifully light and fresh for the summer! These white wine spritzers with rosemary, lemon and ginger are guaranteed to be on your menu this summer! Make individual, or whip up a pitcher, these white wine spritzers scream summertime entertaining!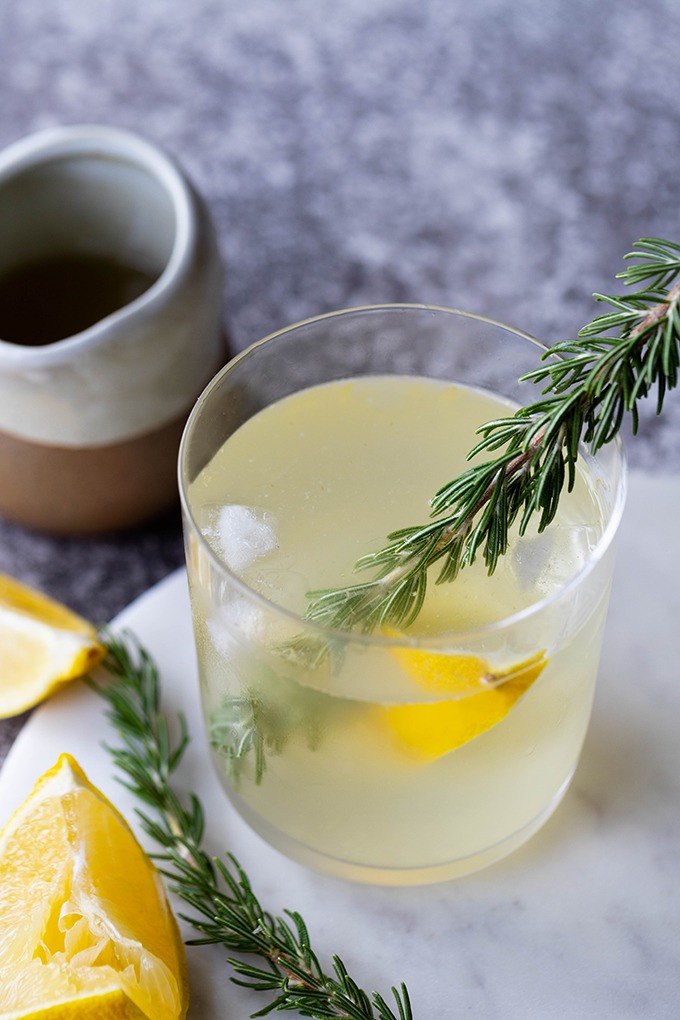 Happy almost Spring to my American friends! While the weather is getting warmer there, we are starting to freeze our butts off here in Australia!
Regardless, I was feeling nostalgic for Portland the other day, so I thought it was the perfect time to remake these white wine spritzers!
This recipe was inspired by one of my favourite local wines - Portland Sangria. They have this amazing white wine sangria in a can that is flavoured with rosemary, ginger and lemon and it is absolutely perfect for a hot summers day!
Nothing beats sipping on these spritzers on a hot day. They're hydrating, not too sweet, gingery and tangy!
Recipe Notes
What is a white wine spritzer?
A white wine or wine spritzer is a cocktail combing wine, and soda water/mineral water/club soda.
The addition of the soda water makes it really light and refreshing, which is why I love it for the summer time.
I feel a lot more hydrated when I drink spritzers!
What type of wine can I use?
Preferably and light white wine, that is not too sweet, such as a Sauvignon Blanc, or dry Pinot Gris.
Personally, I'm a huge fan of all things New Zealand when it comes to white wine, and Marlborough Sav Blanc is usually my go-to region and wine for whites.
I opted for a Clean Skin brand because it was cheap and still drinkable. Clean Skin wines are wines that are available in Australia and New Zealand and have no label. They are typically sold very cheap and can be quite good.
Ingredient List
Lucky for you, these white wine spritzers are ridiculously easy and require just a few simple ingredients.
White Wine - see above for more information.
Club Soda - this is hydrating, bubbly and brings the spritz to the spritzer
Fresh ginger - finely grated
Lemon - juice of one lemon
Rosemary - one rosemary sprig, plus more for garnish
Sugar - you'll need a ¼ cup of sugar for the simple syrup
Water - equal parts to sugar for the simple syrup
How to Make Simple Syrup
To make the simple syrup, you'll combine the water, sugar, ginger and thyme in a small saucepan, and heat until the sugar has melted.
Then you'll want to set it aside for 10 minutes to cool and to let the flavours infuse.

How to Assemble The Spritzers
To make follow these simple steps.
Add ice to your glass
Top with about 1 cup of white wine
Add 3 teaspoon of the simple syrup
Add a teaspoon of extra ginger if needed
Squeeze in a good squeeze of lemon
Top with the club soda
Garnish with lemon wedge and a sprig of rosemary.
The amount you use of the lemon, ginger and simple syrup is dependent on taste. I measured mine with 1 cup of white wine and wanted a touch of the extra ginger flavour.
Adding fresh ginger really enhanced the sharpness to the drink and really mellowed out the thyme flavour.
If you want yours with more citrus, simply add additional lemon, and likewise, if you wanted it sweeter, add more simple syrup.
I love this recipe because it's perfect to adapt to individual tastes and serving sizes. I measured mine with a baseline of 1 cup of wine and went from there, but you could totally do this with a whole bottle of wine in a pitcher!
Happy cocktail making lovelies!  I hope the sun is shining in your part of the world!
G x x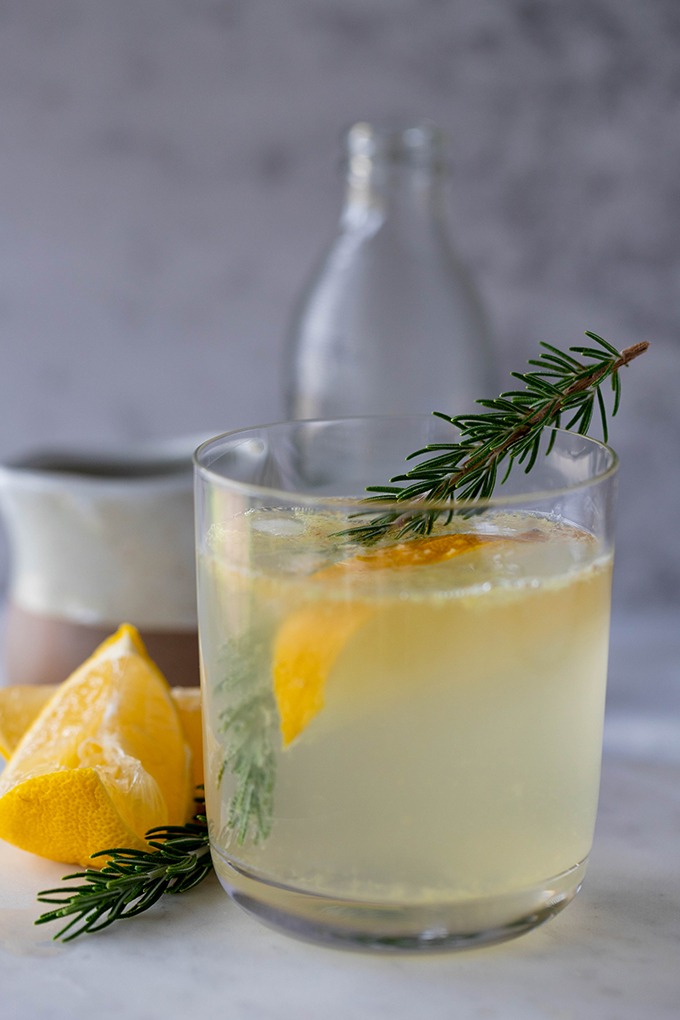 White Wine Spritzer with Lemon, Rosemary & Ginger
A beautiful summery cocktail, that is both refreshing and flavourful. Enhanced with a rosemary and ginger simple syrup, this white wine spritzer is perfect for hot summer days in the backyard with friends!
Ingredients
Simple Syrup (Makes ¼ cup)
¼

cup

granulated sugar

¼

cup

water

1 ½

teaspoon

fresh rosemary

roughly chopped, or you can use thyme

2

teaspoon

ginger

grated
White Wine Spritzers
1

cup

white wine

4

teaspoon

lemon juice

1

teaspoon

fresh ginger

extra

3

teaspoon

simple syrup

¼

cup

club soda

or thereabouts

fresh thyme sprig

for serving

ice cubes

for serving
Instructions
Simple Syrup
Combine water, sugar, ginger and rosemary in a small saucepan

Heat over low heat, until sugar has melted

Set aside for 10 minutes to allow the syrup to cool and infuse.
White Wine Spritzers
Place wine in a wine glass, and add lemon juice, fresh ginger and simple syrup.

Adjust ingredients according to taste.

Top with soda water and serve with ice and a fresh thyme sprig.
Want More Cocktail Recipes?
If you loved this recipe, I'd love for you to leave a comment and review! Also, don't forget to snap a pic of your finished recipe and share it on our on our Instagram account using the hashtag #thehomecookskitchen or tagging me @thehomecookskitchen. I'd love to see your creations!
Afraid you'll miss a post? Subscribe today and receive updates on new posts, and bonus recipes and information! Follow along on Instagram, Facebook for food inspo and adventures, or see what I'm loving on Pinterest!