Mojitos all round!!!! This strawberry mojito recipe is so, SO good, you probably won't just stop at one! Made with fresh strawberries, these mojitos taste like raspberry lemonade, and are light and refreshing for the warmer months!
Remember that time in Cuba that I threw up in the street and had the worst food poisoning of my life?
Do you? It wasn't fun!
Sorry to bombard your Thursday with gross AF stories of food poisoning, but I think we can all relate to that ONE holiday where nothing went to plan, and you spent more time on the toilet than you did actually seeing the sites.
That was me. I think I spent 5 days in Cuba, and actually really only got out
My memories of Cuba don't really bring back happy, positive moments for many reasons, maybe food poisoning was the key reason why, but one good thing to come from our trip to Cuba was my new found love for mojitos!
If you haven't had a mojito before, you are seriously missing out on some damn tasty cocktails!
A traditional mojito is a blend of white rum, sugar, lime juice, soda water and mint. But not just a tiny bit of mint, a butt load of mint. They are THE freshest cocktails and are so, so perfect for really hot days. I remember drinking mojitos pretty much for lunch and dinner, or anytime we wanted to escape the sun in Havana.
Be wary though, they do taste so good, you can't just stop at one. And they are so refreshing you think you're drinking water! Which, as you can image, can get a teeny bit dangerous!
I was trying to think of a seasonal recipe for THCK, and my original thought was rhubarb mojitos. But, unfortunately, rhubarb was not available at the local supermarket, and after doing some reading, I also discovered rhubarb wasn't in season until April, so that didn't happen.
But rhubarb-less mojitos aside, this strawberry mojito recipe was born, and I'm a little smitten about it!
About this strawberry mojito recipe
This strawberry mojito recipe is made up of a strawberry and lemon simple syrup base. While mojitos traditionally use lime juice, I failed to plan ahead properly and forgot to buy some, so I made use of the truckload of lemons I had to make it with lemon juice instead.
Not going to lie, that simple syrup is INSANE! It taste's just like strawberry lemonade!
The rest of the cocktail is a combination of the leftover strawberry compote, white rum, soda, a few sprigs of mint and a touch more lemon juice. I didn't want to go overboard with the mint, as I find it to be quite overpowering sometimes, so I added just 1 spring and muddled it a bit to bring out the flavour.
I also HATE having to ungraciously spit out mint leaves while you're drinking it. It is not a classy look, just saying. And no, I don't like eating mint in big pieces. It's just icky.
Aside from that, the flavour balance is really up to you. As your taste buds are different to mine, the quantities are just a guideline. Feel free to add more or less depending on your taste. You may like a sweeter cocktail, so add more sugar syrup. Adjust the lemon juice if you want it a little more tart!
They would also be great to serve in a large pitcher if you're having friends over for a party and need to feed (water?) a crowd. Or, individually I can guarantee your friends and family will love them!
Also, if you're wondering, this also makes a great mocktail! Without the rum, these mojitos are still so refreshing!
So jump on board and celebrate the fact that the weather is (surely) getting warmer, and if you make this strawberry mojito recipe, I'd love to see your pics! Tag me on Instagram @thehomecookskitchen or send me an email at [email protected]!
Much Love
Georgie x x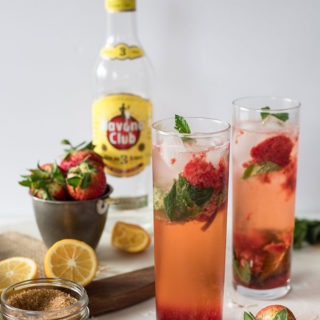 Strawberry Mojito Recipe
This strawberry mojito recipe is an easy to follow recipe that packs a massive flavour punch! It is light, refreshing, and is fantastic for the warmer sunnier months. Great for a crowd, can be made individually or in bulk for maximum good times!
Ingredients
Strawberry Simple Syrup
1

cup

fresh or frozen strawberries

¼

cup

water

1

tablespoon

turbinado sugar

½

tablespoon

lemon juice
Cocktails
2

oz

white rum

depends on taste

1

oz

simple syrup

cooled, recipe above, depends on taste

1

teaspoon

lemon juice

optional

6

whole mint leaves

between 4-8 is perfect + 1 stem for garnish

club soda/soda water

crushed ice
Instructions
Strawberry Simple Syrup
Place strawberries, lemon juice, water and sugar in a small saucepan

Gently heat over medium heat until sugar is dissolved and strawberries have disintegrated into a compote - about 10 minutes.

Strain the simple syrup, keep or discard the strawberries and set the syrup aside to cool.
For the Cocktails
In a tall glass, muddle/crush your whole mint leaves and simple syrup to gently crush the mint and release the flavour. Optional - add some of the leftover crushed strawberries from the simple syrup

Add the rum, lemon juice (if using), and crushed ice.

Top with club soda and extra mint for garnish.
Notes
Rum - add as much or as little as you want. I used very tall glasses so 2 oz/60ml was perfect. 
Simple Syrup - same applies as rum. I don't like my cocktails overly sweet so used 1 oz/30ml
Mint - add 4-8 mint leaves, depending on taste preferences
Afraid you'll miss a post? Subscribe today and receive updates on new posts, and bonus recipes and information! Follow along on Instagram, Facebook for food inspo and adventures, or see what I'm loving on Pinterest!