This Vietnamese Beef Salad is my all-time favourite wholesome, healthy salad. Filling, and fresh, yet hearty enough to make you feel like you've had a real meal. Tied together with the best Asian salad dressing you'll ever make!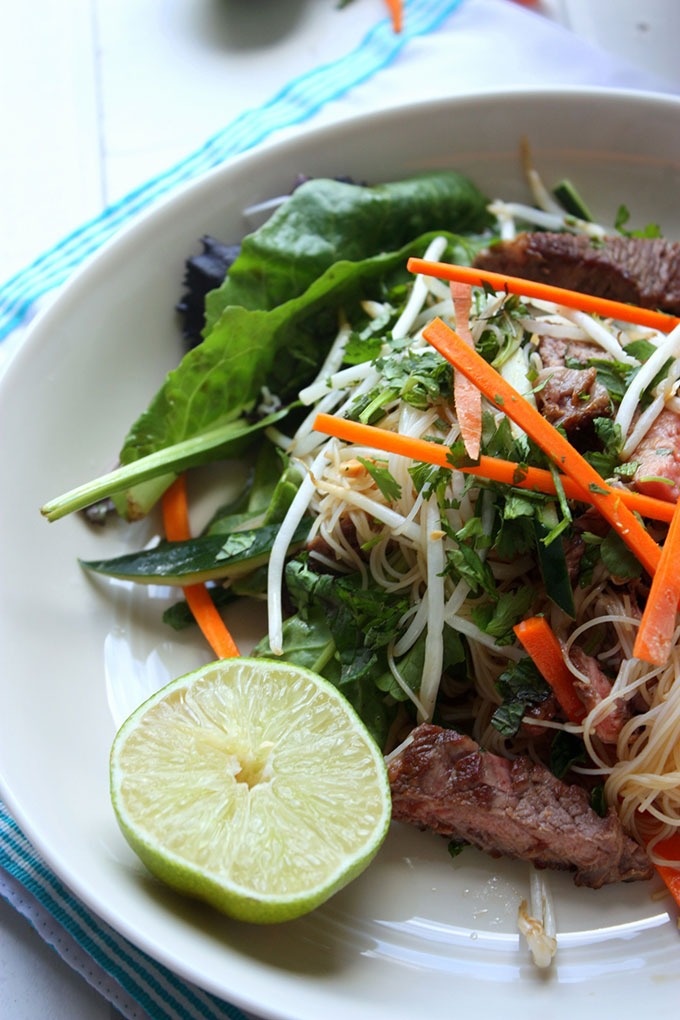 OMG I so forgot I had this salad!
So, I don't know if you knew this, but back in 2016, THCK was actually a healthy food blog with a totally different name. And was where this recipe first featured. I originally started it to lose weight for my wedding. I thought by holding myself accountable by cooking about healthy foods, I would.
Spoiler alert, it didn't work. Three days before my wedding I didn't even fit into my dress! How hilarious is that!!
Just goes to show, that when you actually do follow a cause you're passionate about, good things happen. Needless to say, THCK is doing 1000% better than the old blog, and I am SO down with those changes I made.
Despite the fact that I practically hated the recipes from my 2016 blog, some truly fantastic recipes came from it. This Vietnamese Beef Salad was by far one of the best recipes I made in 2016! (if you're interested, this seafood risotto and pesto pasta are insanely good! Also, who the heck makes a creamy chicken pesto pasta in a health food blog? Clearly, I knew where my foodie passion lied early on!)
I have been going through withdrawals of Asian food! I absolutely love it! Whether it be a fresh pho, a Pad Thai, red curry or sticky rice dish, I will eat the lot!
One thing we really miss about home is the access to fresh Asian inspired ingredients, like snow peas, bean sprouts, and red chilli's. I cannot for the life of me find red bird's eye chilli here and it's driving me nuts!
I was absolutely craving a Vietnamese Beef Salad the other day, and my friend Renee came over for lunch, so it was the perfect time to retest the recipe!
And yes, it is still as good as it was back in 2016!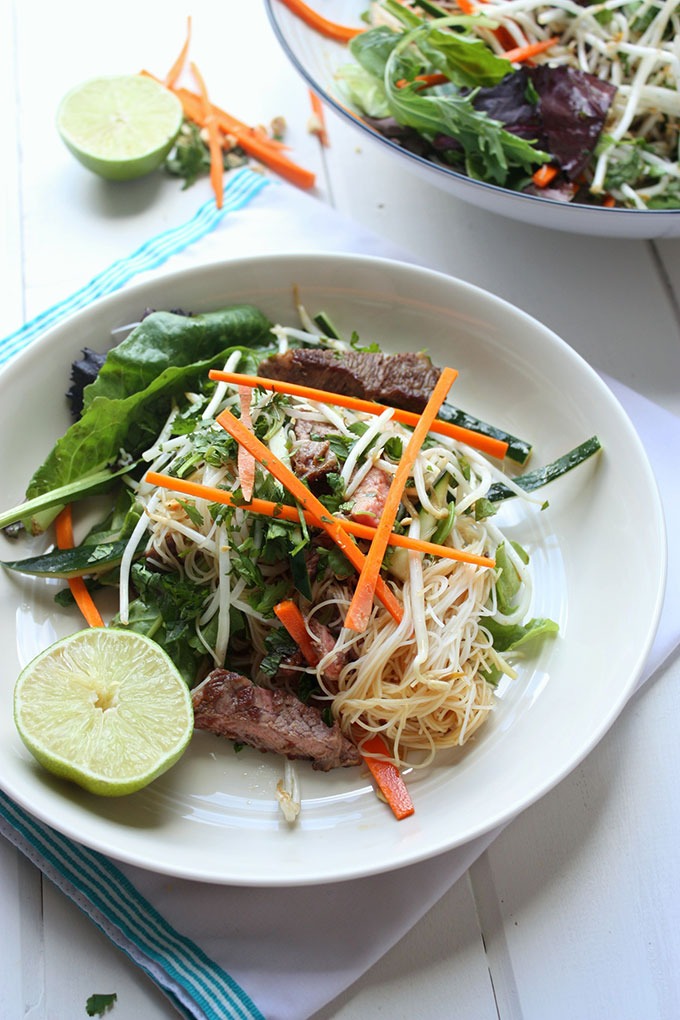 Whats not to love about this Vietnamese Beef Salad?
Firstly this salad is SO fresh and flavourful. For a beef and vegetable salad, the level of flavour that emulates from the Asian dressing is incredible. It takes the recipe to the next level.
Secondly, despite the fact that it's a salad, this Vietnamese Beef Salad is so filling. As you know, I hate boring salads that leave you hungry in minutes. This my friends does not.
The addition of vermicelli noodles just adds that extra level of heartiness that you want from a salad.
This Vietnamese beef salad is fresh, light, crunchy, full of goodness and makes a darn healthy dinner! We've also paired it with a cleaner dressing, using fresh ingredients such as chilli's, lime juice and cilantro, and healthier alternatives such as coconut sugar.
This would be great for easy weeknight meals, perfect to pack into a picnic and great for a girls lunch or weekday meal prep.
Enjoy! And remember, tag us on Instagram @thehomecookskitchen with your creations or send us a pic! We'd love to see your work!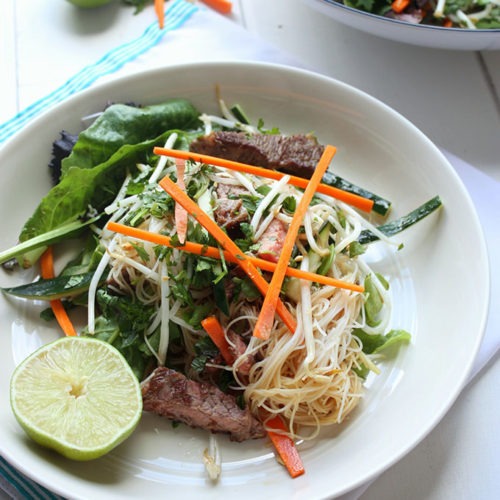 Vietnamese Beef Salad
Our Vietnamese beef salad is light, fresh, quick to make and super easy! Beautiful for a hot summer night or when you're craving a hearty, yet healthy salad!
Ingredients
3

cups

mix salad greens

1

Persian/Lebanese cucumbers

juilienned (or half an English cucumber)

1.5

oz

carrot

julienned (about 1 medium sized carrot)

1.5

oz

snow peas

cut into thin slices (about 10 snow peas)

2

oz

vermicelli noodles

1

lbs

chuck steak

1

tablespoon

peanuts

roughly chopped

2

tablespoon

roughly chopped cilantro

2

tablespoon

roughly chopped mint

½

cup

bean sprouts

2

teaspoon

white sesame seeds

optional
Dressing
½

teaspoon

fresh red chilli finely diced

add more for more kick

2

tablespoon

tamari

or good quality soy sauce

3

teaspoon

coconut sugar

1

tablespoon

lime

1

teaspoon

fish sauce

1

teaspoon

sesame oil
Instructions
Beef
Season beef with salt and pepper.

Heat 1 tablespoon of olive oil on a large pan or cast iron skillet. Place steak onto a pan, and leave for 4-5 minutes, then flip and repeat on the other side.

Set aside to rest 5 minutes, then slice into thin pieces.
Salad
Add mixed salad greens, cucumber, and carrot to a large salad bowl.

Cook vermicelli noodles according to packet instructions. Usually, this just means placing them in boiling water until tender for about 4 minutes.

Run noodles under cold water, drain then add to salad bowl. Combine.

Top salad with beef, snow peas, bean sprouts, then herbs and finally top with peanuts.
Dressing
Combine ingredients and mix well

Adjust according to taste.

Add dressing to salad, stir through and serve.
Afraid you'll miss a post? Subscribe today and receive updates on new posts, and bonus recipes and information! Follow along on Instagram, Facebook for food inspo and adventures, or see what I'm loving on Pinterest!