A creamy smoked salmon pasta perfect for any occasions. Easy to make, this dish is a great, healthy weeknight dinner option or date night pasta recipe!
Ok, SO ready for spring and summer - it can't come soon enough. I've been dreaming of beautiful, sunny days will with fresh fruits, healthy salads, light pasta dishes and days spent outside riding or swimming! Melbourne has wild weather, one day you're sweltering, the next you need the heater on!
A gal can only dream! It seems weird that everyone else is heading into fall when I've been in my 10th month of fall/winter/spring combo, hurry up December!
So in anticipation of the upcoming warmer weather, I'm celebrating with this gorgeous, light and healthy spring/summer smoked salmon pasta. This recipe is so easy to make, and really combines those fresh ingredients that I love for the warmer weather.
How to Make Smoked Salmon Pasta
What I love about this recipe, is how easy and quick it is to make. You only require a few simple ingredients, and in no time you'll have a gorgeous fresh pasta dish.
What Ingredients Do You Need?
For this recipe, you'll need the following;
Risoni - risoni (also known as orzo) is a type of pasta with a similar shape to rice. Risoni doesn't take too long to cook which is why I love using it in this recipe
Hot Smoked Salmon - hot smoked salmon is my absolute favourite thing right now! I found this in our local Coles supermarket, but you can also get it at Trader Joe's in the US. It's a cold, flaky salmon with a gorgeous smoky flavour. You'll need around 185g or 6.5 ounces.
Lemon - zest and juice, adds a gorgeous zing to the recipe and balances out the smoky flavour.
Dill - dill is a herb I grew to love in Latvia. Dill goes perfectly with smoked salmon and lemon.
Parsley - chopped
Asparagus - spring is asparagus season and I love the crunch it brings to this recipe.
Frozen peas - adds a little sweetness to the recipe
Ricotta or feta - adds a creamy element to the recipe
Olive oil and pepper (you salt will come from the salmon!)
How To Make Smoked Salmon Pasta
This recipe requires minimal cooking, and two pans - one for the salmon and one fo the pasta. The first step is frying off the herbs and lemon zest. I've never done this before in a recipe, but it infuses the olive oil and makes the pasta taste absolutely delicious!
Once you've fried the herbs in the oil, you'll add the salmon and break it up into little chunks. The final step is to add the ricotta until it's all heated through. The salmon should be nice and creamy.
You then stir through the salmon into the pasta, garnish with a little extra parsley and lemon zest and serve.
This recipe is just gorgeous and a really lightweight, fresh summery dish you can serve on any occasion! It's so easy to make, and will only take you about 10 minutes. I love fast, easy recipes especially when it's summer and the last thing you want is a hot oven on!
So here's cheers to a happy almost summer!
If you make this recipe, I'd love for you to review it and leave a comment! Happy almost Spring!
Georgie x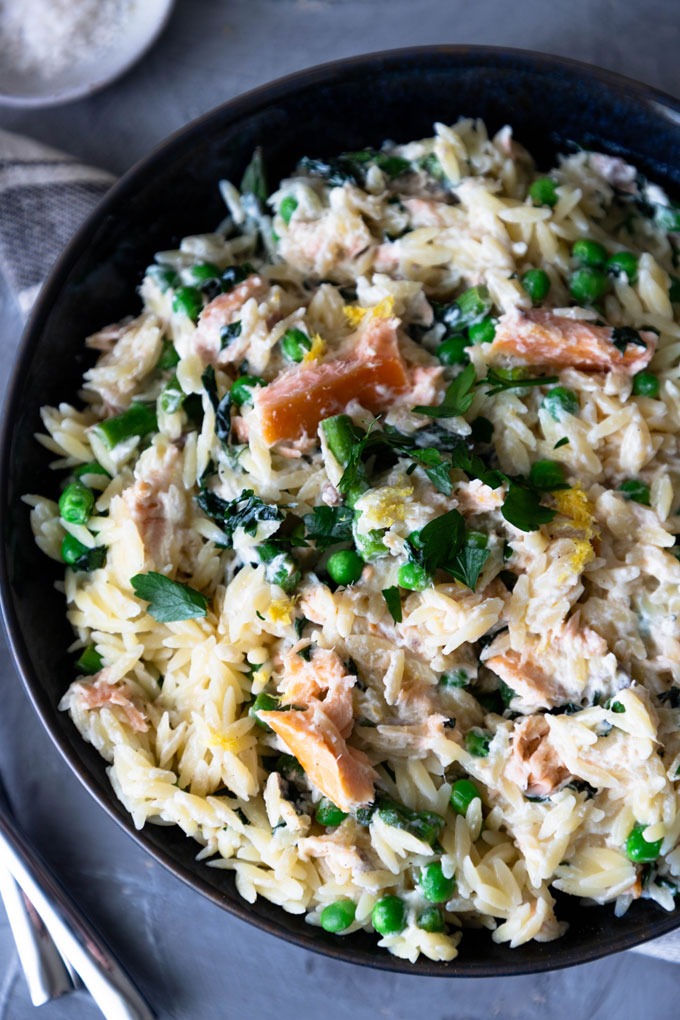 Want more Salmon Recipes?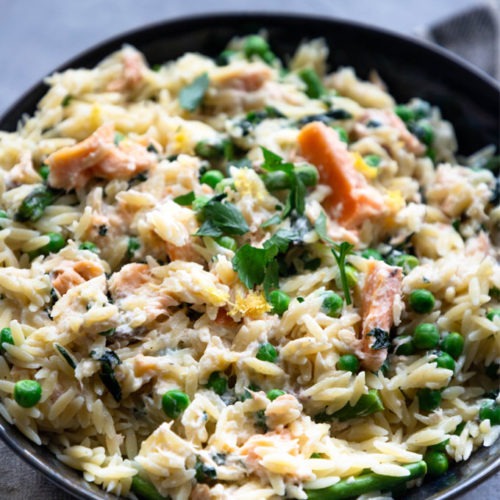 Smoked Salmon Pasta
A light, fresh and super quick summery smoked salmon pasta recipe. This is so delicious, and is on your table in under 15 minutes.
Ingredients
4

tablespoon

olive oil

½

cup

dill

chopped

¼

cup

parsley

roughly chopped

2

teaspoon

lemon zest

200

g

risoni pasta

7 ounces/approx 1 ¾ cups

1

bunch

asparagus

100

g

frozen peas

3 ½ ounces/approx ½ cup

150

g

hot smoked salmon

approx 5.5 oz

½

cup

soft ricotta

juice of half a lemon

salt and pepper to taste
Instructions
Cook the risoni according to packet instructions. In the last 2 minutes of cooking, add the frozen peas and the asparagus.

Heat the olive oil in a small fry pan over medium heat.

Add the dill and parsley and cook for 5 minutes.

Add the hot smoked salmon and break up with a wooden spoon. Salmon should be warm through.

Drain the pasta, peas and asparagus.

Mix the salmon through the pasta, and stir in the lemon juice.

Serve and garnish with a little extra parsley and lemon zest.
Afraid you'll miss a post? Subscribe today and receive updates on new posts, and bonus recipes and information! Follow along on Instagram, Facebook for food inspo and adventures, or see what I'm loving on Pinterest!