This fresh & simple Thai green salad is perfect for when you want to jazz up your regular old salads. Made with our 'go-to' Thai dressing, it's a Summer favourite.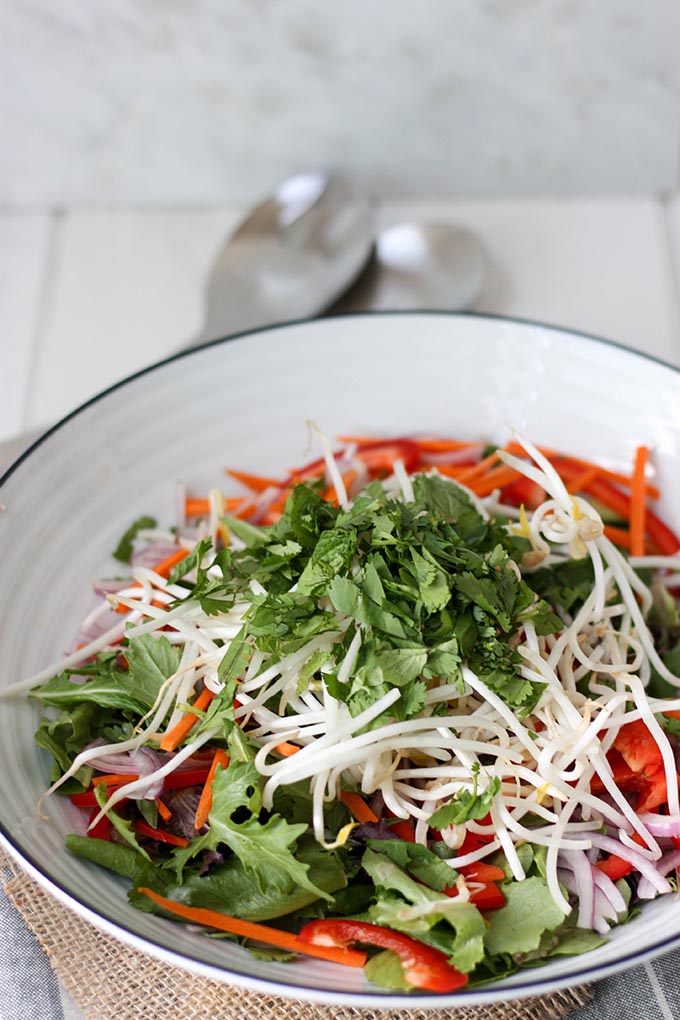 I'm a recipe hoarder.
There, I said it.
Some people hoard books (I also do that), some people hoard old newspapers. I'm a recipe hoarder.
I can't help myself, every time I see a recipe food at home or at a friend's house, I just HAVE to read it and gather recipes to try! I have countless photos of recipes that I've snapped back at home, or while reading magazines at the hairdresser! Pretty sure I get it from my Mum!
I remember countless times of being in the dentist or doctors waiting room and hear a "George, quick, get this recipe down somewhere before anyone notices!" My mum has hundreds of recipes and goodness knows how many recipe books!
One particular recipe book she has was from when her and Dad were first married. It was the first recipe book she ever started writing in. It is full of classic recipes that she gathered over the years, mostly from other people like my Grandparents of some of their old friends.
Each Christmas we make Karens Christmas cake, we've baked my Auntie's chocolate cake for decades, my Nanna's pavlova is still a favourite at family gatherings, and who can forget my Grans apricot and date slice!
I think what I'm getting her is that recipes can have so much meaning. I'll always remember flicking through mums handwritten recipe book trying to find the recipe that she needed (mostly unsuccessfully) noticing how all our favourite recipes had splashes of old food, flour and butter all over them!
After years of use, her recipe book has become so faded, littered with memories of our childhood, and little recipes notes like 'DON'T TRY' or 'DON'T FORGET EGGS"!
I guess where I'm going with this is that with the old, comes a time where one transitions to the new, and I remember being so shocked when Mum bought a new recipe to start, and started filling it with new and fancier recipes, like this fresh & simple green Thai salad!
There was so much excitement with this transition of old to new, and even now I still get messages from Mum saying how she's found a new recipe that she LOVES and that I have to try it!
I think I know where I get my love for cooking from!
This fresh & simple Thai green salads was one of those recipes that Mum called me up excitedly about, telling me how she had found this new recipes (presumably ripped from a magazine somewhere!) and how she absolutely loved it! And sure enough, next family gathering there sat this beautiful fresh salad!
I have no idea where she got the original recipe from, but I've been making it for a couple of years now, and only recently started making a cleaner version with our own Thai salad dressing (same one we used in our Vietnamese Beef Salad). Once I found that coconut sugar makes an excellent substitute for brown sugar in Asian cooking, there was no going back!
I have also adapted this recipe to reduce the quantities, to enough for about 2 and a little bit meals. Although, if you do eat it the next day, avoid lathering it in salad dressing otherwise it'll go soggy!
So if you're a recipe hoarder, or just a lover of good, fresh and simple ingredients, our fresh & simple thai green salad is the recipe for you!
Tag us on Instagram #thehomecookskitchen if you make any of our creations! Georgie x x
Fresh & Simple Thai Green Salad
This fresh & simple Thai green salad is a perfect combination of fresh and healthy ingredients. Easy, quick and delicious!
Print Recipe
Ingredients
3

cups

mixed salad green

1

Persian/Lebanese cucumber

,

julienned

1/4

cup

red onion

,

very finely sliced

3/4

red pepper

,

finely sliced

1

carrot

,

julienned

3/4

cup

bean sprouts

1/4

cup

mint

,

roughly chopped

1/4

cup

cilantro

,

roughly chopped

1

tbsp

peanuts

,

roughly chopped
Dressing
1/2

red chilli

,

seeds removed finely diced (note 1)

2

tbs

tamari

,

note 2

2

tsp

coconut sugar

,

note 3

1

tsp

fish sauce

1

tsp

sesame oil

1

tbsp

lime juice
Instructions
Slice onion, cucumber, carrot and red pepper.

Place salad leaves in a large bowl

Top with onion, cucumber, carrot and red pepper.

Make dressing by placing all ingredients in a jar and shaking. Adjust flavours according to taste.

Pour dressing over salad and lightly toss.

Top salad with bean sprouts, mint, coriander and top with peanuts.
Notes
Note 1 - use as much chilli as you desire. I don't like a lot of spice so I use half a chilli seeds removed. I also prefer using the red bird's eye chilli but have a hard time finding them in America, so use green serrano's instead.
Note 2 - tamari is a gluten free soy sauce and has a really nice flavour. If you don't have tamario, regular soy sauce will do.
Note 3 - coconut sugar can be substituted for brown sugar or palm sugar, or regular white sugar if you have it.
Nutrition
Calories:
77
kcal
|
Carbohydrates:
11
g
|
Protein:
3
g
|
Fat:
2
g
|
Sodium:
648
mg
|
Potassium:
358
mg
|
Fiber:
2
g
|
Sugar:
5
g
|
Vitamin A:
3905
IU
|
Vitamin C:
51.4
mg
|
Calcium:
33
mg
|
Iron:
1.2
mg
Join the discussion!
Do you have any favourite childhood recipes that you used to cook?
What does your recipe collection look like?