These soft vanilla sandwich cookies are delightfully cute and delicious! A soft cookie sandwiched together with raspberry jam and topped with vanilla icing! Biscuits versus cookies, it doesn't matter. What matters is that these soft vanilla sandwich cookies are delicious!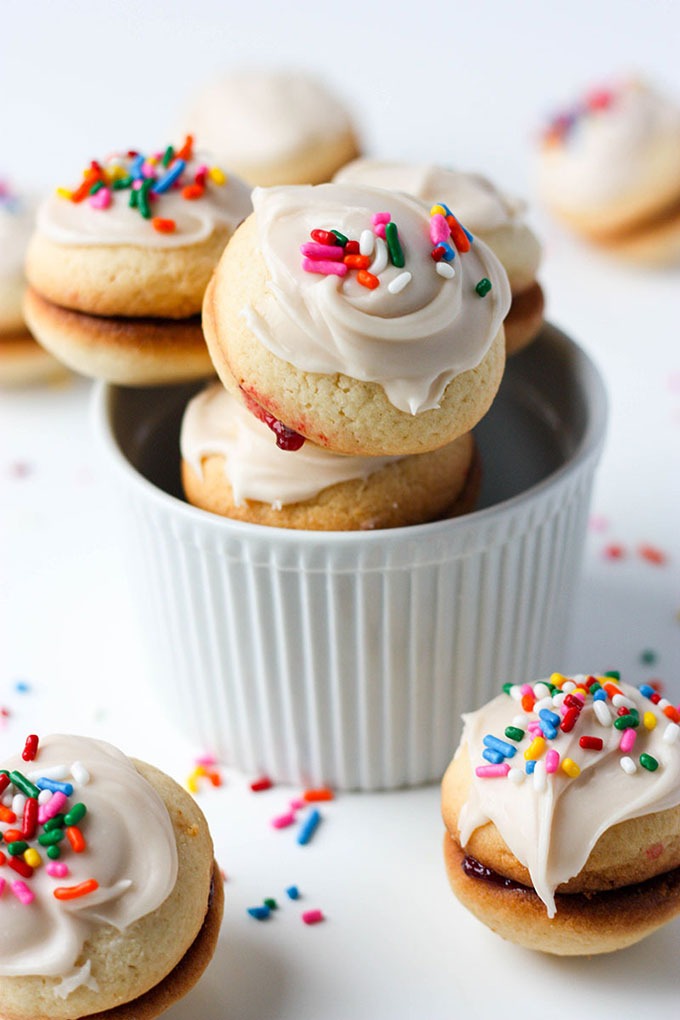 We are a participant in the Amazon Services LLC Associates Program, an affiliate advertising program designed to provide a means for us to earn fees by linking to Amazon.com and affiliated sites. If you happen to buy one of my recommended products, I will receive a small commission! Thank you for supporting THCK!
Do any of you have those recipes that are passed down generations? You know, the ones you've been making since you were a kid, and you continue to make and will probably teach your own kids? Well, this is one of them.
My Grandma Fleur used to make these vanilla sandwich cookies all the time, and then my Mum did and now I do.
There is one funny story associated with cooking, my grandma and recipes from friends. Apparently, Gran had that one friend, who used to give her friends recipes with one or two ingredients missing, so that when they made them, their recipes didn't turn out. Then they would say to her 'oh you must be such a good cook, my recipes never turned out'! ????????????
Can you image?! Well, I'll let you in on a little secret, these vanilla sandwich cookies have ALL the ingredients, and work every time!
The original recipe was from one of my Grandma's friends Joan, and have been simply known as 'Joan's Kiss Biscuits'. I have no idea why they are called Kiss Biscuits, but I do know that they are one of Australia's many baked delicacies!
There was nothing more exciting as a child than going to the bakery to get one, knowing that you'll end up with jam everywhere and sprinkles in the back seat of the car but that you'd love every minute of it!
Essentially what they are, is a soft vanilla cookie, sandwiched together with raspberry jam and iced with vanilla icing. And no, do not substitute the raspberry jam for any other kind. Has to be raspberry, no questions asked!
Secret Tips for Making the Perfect Vanilla Sandwich Cookies
The first secret to making these cookies is how much of the cookie dough you roll out. As a general rule, I use about a teaspoon of the mixture then roll it into balls. Don't be too fussy, but just try and be consistent. Original kiss biscuits are kind of flat, but I prefer them risen and soft.
The second secret to making these perfectly soft and fluffy is the cooking time. Over the years, I've tried and tested these babies to find out that the ultimate cooking time is around 8-10 minutes. This is where things start to get a little technical. I've made these in my Mums oven, and they take exactly 8 minutes. I made them in my oven the other day, and they took closer to 12-14 minutes.
You want them to just have a slightly brown edge and underside, but they will continue to cook once taken from the oven.
Using a non-stick silicone baking mat
with help the process of even cooking. I noticed that my oven gets really hot on the bottom rack and burns the bottom. So I used my top rack to get an evenly cooked cookie. I am trusting that you guys know your oven and know how it cooks!
Every oven is different, so just make sure you keep an eye on them!
See image below for confirmation of what does happen when you overdo it! Obviously, you want your cookies to be like the cookie on the right in both pictures – just golden brown and delicious!
These biscuits/cookies are soft, fluffy and deliciously buttery. You won't go back once you've tried them! Every time I make them I'm reminded of home and hours spent with Mumma bear sitting on the bench top as a young lass watching her cook and bake.
With Easter just passed, I'm feeling a little nostalgic, so I decided now was a perfect time to reshare this recipe!
A bonus note – these vanilla sandwich cookies freeze beautifully. After you've cooked them and cooled them, match them together according to size, and place them in a freezer bag or Ziploc bag
.
Once you are ready to use them, whip them out and once you've got around to making the icing, they are already defrosted and ready to go.
These would be great for:
A high tea party with champagne and tea
Baby shower – dye the icing blue or pink
Gifts for friends – I love to wrap them up in clear cellophane with ribbon and give to friends when I go to their houses
Everyday eating – they really are delicious for an everyday cookie!
So, all hail Joan and here wonderful vanilla sandwich cookies! Let me know if you try them, tag us on Instagram @thehomecookskitchen
Georgie x x
Vanilla Sandwich Cookies
These Vanilla Sandwich Cookies, aka Joan Kiss Biscuits, are a childhood favourite. So easy to make, these beauties and light, fluffy, and delightfully buttery. Careful not to over-cook them, as they will go hard and you'll be sad! But cook them right, and you're in for a delight! (see what I did there?)
Ingredients
1/2

lbs

butter

at room temperature, note 1

1

cup

granulated sugar/caster sugar

note 2

2

eggs

2 1/2

cups

self-raising flour

raspberry jam
Vanilla Icing (ices 12 cookie sandwiches)
1/3

cup

powdered sugar

note 3

1/2

tsp

vanilla extract

1/2

tbsp

butter

melted

1/4

tsp

hot water
Instructions
Preheat oven to 180C/355F

Line a baking tray with parchment paper.

In a bowl, beat together butter and sugar until creamy and butter is smooth.

Add eggs, one at a time beating after each addition.

Gradually add the self-raising flour, beating after each addition.

Take about one teaspoon of the mixture, and roll into a small bowl. Lay out dough onto parchment paper, leaving adequate room for cookies to spread (note 4)

Bake in oven for 8-10 minutes, until cookies are just very lightly browned (note 5)

Cool on a wire rack.
Cookie Assembly
Once cooled, pair cookies according to roughly size. (note 5)

Spread a small amount of raspberry jam and sandwich cookies together.
Icing
Place powdered sugar/icing sugar in a bowl.

Melt butter in microwave 20 seconds and add to icing sugar along with hot water and vanilla.

Stir until smooth and relatively thick. (note 6)

Ice cookies and leave so icing can set.
Notes
note 1 - most baking websites will say use unsalted butter. I prefer to use salted butter because I'm a rebel.
note 2 - if you're in Australia, always use caster sugar
for baking. It's been killing me that I haven't been able to find it in America. In America, use granulated sugar and it works fine. I always prefer to use caster sugar in baking because it is less grainy.
note 3 - I used about a third of a cup and it wasn't quite enough. Add powdered sugar gradually until you have reached adequate consistency.
note 4 - cookies will spread a lot, so I usually bake around 6 per time on one tray (depending on tray size). Just make sure you leave enough space for spreading.
note 5 - the first batch might take closer to 12-15 minutes while your oven heats up, but usually they take around 8-10 minutes. Don't worry if they don't look fully cooked, you want them really soft on the inside and crispy on the outside. They will also continue to cook once you take them out of the oven. Be aware however of your oven - mine cooks really fast on the bottom, therefore they burnt a lot quicker than the cookies I placed on the top rack. I just used my top rack and in my oven it took around 12 minutes. Just keep an eye on them to make sure they are not over done!
note 6 - after this step, you could freeze them. Place paired cookies into a snap lock/freezer bag and place in freezer.
note 7 - if icing is looking too runny, add more powdered sugar. If it is too thick, add just a touch more hot water. I used 1/3 cup plus 2 extra tablespoons until I reached desired consistency.
Nutrition
Calories:
265
kcal
Carbohydrates:
33
g
Protein:
3
g
Fat:
13
g
Saturated Fat:
8
g
Cholesterol:
55
mg
Sodium:
121
mg
Potassium:
32
mg
Sugar:
17
g
Vitamin A:
420
IU
Vitamin C:
0.2
mg
Calcium:
10
mg
Iron:
0.3
mg
This recipe originally appeared on THCK in March 2017 and has since been reuploaded. The recipe is still the exact same delicious recipe though!
Afraid you'll miss a post? Subscribe today and receive updates on new posts, and bonus recipes and information! Follow along on Instagram, Facebook for food inspo and adventures, or see what I'm loving on Pinterest!