Gorgeous, gooey, buttery, fudgy triple chocolate chip brownies! This is the best chocolate chip brownie recipe you'll need! Easy to make, and oh so delicious it'll be hard to stop at just one!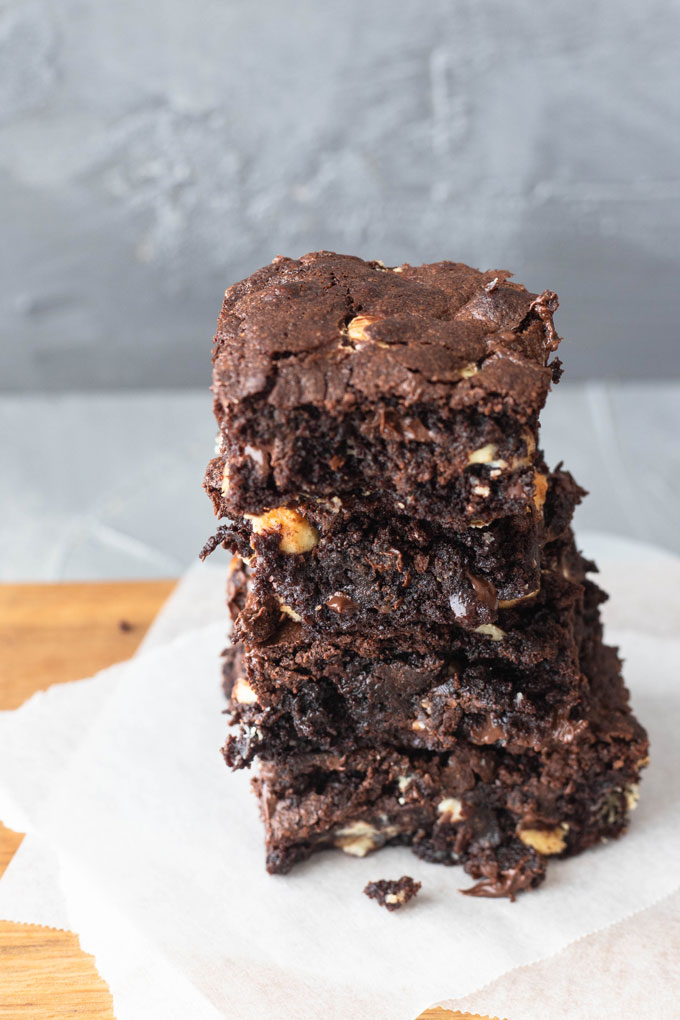 OMG you guys, this recipe! I know that there are a stack of brownies recipes out there on the inter webs, but this one is the ONLY CHOCOLATE BROWNIE RECIPE YOU'LL NEED!
Picture this…ooey, gooey chocolate fudge brownies that can be ready in under 45 minutes. None of this boxed crap, these brownies are the real deal!
I've made these multiple times at work, and let me tell you, these brownies are now famous at my school! They are gone in seconds once these bad boys are brought out! They are so rich and decadent, but easy to make at the same time.
If you love a brownies that's crispy on the top, and fudgey in the middle, this recipe is the perfect recipe for you!
How to Make Triple Chocolate Brownies
This recipe is really, really easy to make! Simple ingredients that are combined in one bowl so that you've got minimal washing up, how can you go wrong?
Why are these brownies the bees knees?
These tripe chocolate chip brownies are ridiculously easy to make, requiring simple ingredients found in regular old supermarkets. They are perfectly crunchy on top, but ooze with beautiful dark and white chocolate when you cut into them.
What ingredients will you need?
To make these beauties you'll need;
brown sugar
caster sugar (is you're in Australia, white sugar is fine elsewhere)
cocoa
plain flour
baking powder
dark chocolate chips
white chocolate chips
butter
eggs
vanilla extract or vanilla bean paste
How do you make Triple Chocolate Brownies
The beauty of this recipe, is that all the ingredients can be thrown into a bowl and mixed together for ease.
Preheat the oven to 180C/350F.
Grease a 20x20cm/8×8″ rectangular or square baking tray with a little butter, then line with baking paper/parchment paper.
Sift the dry ingredients into a large bowl and add in the chocolate chips.
Melt the butte in a saucepan and add to the dry ingredients with the vanilla and eggs.
Mix well until combined, then pour into your prepared tray.
Bake for 25-30 minutes until brownies are crunchy on top and soft to the touch.
Brownies should be soft to touch, but slightly firm on top. I like to leave mine to cool first before cutting them into pieces, they'll firm up a little as they continue to cook and cool.
This recipe is great if you need something quick and easy to take around to a friends house, or a quick dessert or pot luck sweet treat! These will be your go-to brownies!
If you loved this recipe, rate it and leave a reply, we love your feedback on theHCK!
Georgie x
Triple Chocolate Chip Brownies
A beautiful brownie recipe – soft and gooey in the middle, crunchy on top. These triple chocolate chip brownies will be your go-to brownie recipe!
Ingredients
130

g

brown sugar

3/4 cup packed

110

g

caster sugar/white sugar

1/2 cup

75

g

cocoa powder

3/4 cup

75

g

plain flour

1/2 cup

1/4

tsp

baking powder

100

g

dark chocolate chips

100

g

white chocolate chips

150

g

butter

1

tsp

vanilla extract or vanilla bean paste

3

eggs

lightly beaten
Instructions
Preheat oven to 180C/35F.

Lightly grease a 20x20cm/8×8" baking tray with butter and line it with parchment paper.

Sift the cocoa, brown sugar, caster sugar and baking powder into a large bowl. Add the white and chocolate chips.

Melt the butter in a small saucepan and lightly beat the eggs.

Add eggs, butter and vanilla to the dry ingredients.

Stir until combined with a wooden spoon or spatula.

Pour brownie mix into your prepared tin and bake for 25-30 minutes, or until it's firm to the touch. The brownie should be crunchy on top. It will continue to cook as it cools and becomes firmer as well.

Cool completly then cut into 12 even squares and serve.
Notes
If you have a scale, use the scale and convert the units to oz if using imperial measurements. Otherwise use the cups version.
Nutrition
Calories:
310
kcal
Carbohydrates:
38
g
Protein:
5
g
Fat:
17
g
Saturated Fat:
11
g
Cholesterol:
70
mg
Sodium:
126
mg
Potassium:
222
mg
Fiber:
3
g
Sugar:
28
g
Vitamin A:
370
IU
Calcium:
73
mg
Iron:
1.5
mg
Want More Chocolate Recipes?
Afraid you'll miss a post? Subscribe today and receive updates on new posts, and bonus recipes and information! Follow along on Instagram, Facebook for food inspo and adventures, or see what I'm loving on Pinterest!