This chocolate self saucing pudding is everything you need in a quick and easy dessert! Made in under 30 minutes, this recipe is no fail! A light and fluffy chocolate pudding, with a rich chocolate sauce that requires no effort! Perfect for your next dinner party, or when you're craving a chocolate dessert fix!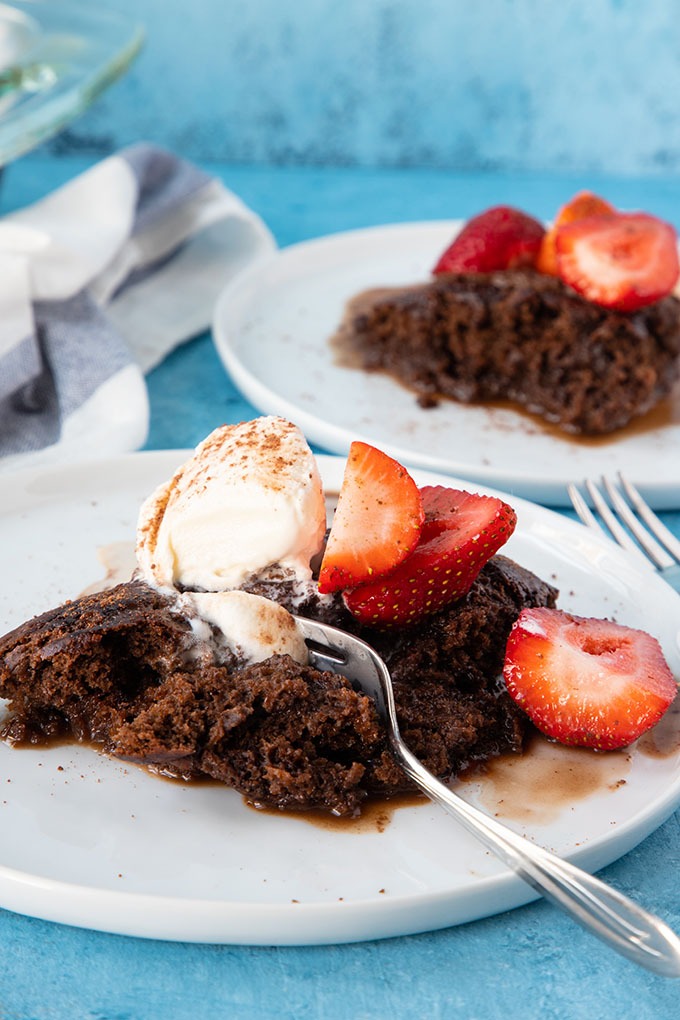 This recipe has been in my family for as long as I remember. I still have fond memories of digging into this chocolate self-saucing pudding on special occasions, or just whenever Mum felt like making it! It was always a competition though to get the biggest piece. Coming from a family of 6, it wasn't often we had leftovers! So to my delight when my older siblings moved out and I was still in high school, I always got the biggest serve AND leftovers!
If you can't tell already - I LOVE chocolate (um hello chilli chocolate ice cream, chocolate banana bread, chocolate bark & chocolate chip cookie jars!). It is definitely my favourite treat, usually the darker the better! But on occasion, I'll eat a fancy milk chocolate Cadbury block with delicious additions like caramel or mint! I was so sad to find that I can't find (decent) Cadbury chocolate anywhere in the States! It's just not the same! So anyone reading this in Australia (or the UK)- send blocks of Cadbury asap! The only chocolate that comes close is Tony's Chocolonely salted caramel chocolate, omg if you can find it, get it ASAP!
Now, back to the chocolate self-saucing pudding.
How to Make Chocolate Self Saucing Pudding
There are two components to this chocolate self saucing pudding- the pudding part, and the sauce part. Pretty simple yeah?
The Pudding Part
The pudding part is the 'batter' that makes up the cake part of the pudding. It's a very simple processing, consisting of combing the ingredients together in a bowl and pouring the mixture into your prepared pan.
Top tip #1 - sift the dry ingredients. Yes, even the sugar. The last thing you want is lumps of flour and cocoa in your pudding.
Top tip #2 - grease your prepared pan with a little butter. This just helps it stick a little less.
Top tip #3 - I use an 8x8"/20cmx20cm square dish. This yields a slightly higher pudding, however, you can also use a shallow baking dish too.
The Self Saucing Part
The self saucing name for this chocolate self saucing pudding comes from the 'sauce' that you pour over the top of the pudding mix before cooking. This is a simple combination of cocoa, sugar and boiling water.
Top tip #1 - when you pour the boiling water over the pudding, pour it over the back of a spoon (and be very careful). This avoids dents in the pudding. I tried to get a photo however when I was shooting this I was flying solo and unfortunately don't have a third arm to snap the pic! Yes, it will look like a swamp, yes it will still taste good.
The Cooking Part
Cooking is always oven dependent, but for me,  I cooked it for 35 minutes at 350F/180C non-fan forced oven. The key to knowing whether your chocolate self saucing pudding is cooked is to check the middle. The middle part should be cake-like, but the sauce should be bubbling ever so slightly, and overflowing onto the pudding base. The cooking time will vary depending on the type of baking dish you use. If you use a square dish, it'll be closer to 40 minutes for the cooking time, if you use a longer, flatter dish, the cooking time will be closer to 25 minutes.
Top tip #1 - put your pudding on another heatproof flat tray. These chocolate self saucing puddings have a tendency to overflow, so save the effort of having to clean your oven and put the pudding on a flat tray!
This recipe is a tried and tested recipe that has been in my family for decades! If you're looking for a crowd please, this is the recipe for you! Serve with vanilla bean ice cream and fresh berries and I can guarantee everyone will love it!
Georgie x x 
Ps - serious about sending blocks of Cadbury asap! Please!!!
Chocolate Self Saucing Pudding
This chocolate self saucing pudding is an absolute crowd pleaser. A tried and tested recipe that has been in my family for decades, you know it's a good one!
Ingredients
Pudding
5 ¼

oz

all purpose flour

2 ½

teaspoon

baking powder

¾

cup

sugar

¼

cup

cocoa powder

½

cup

milk

4

tablespoon

butter

melted

1

teaspoon

vanilla

1

egg
Sauce
¼

cup

cocoa

¼

cup

brown sugar

1 ½

cups

boiling water
Instructions
Preheat over to 180C/350F
Pudding
Sift all purpose flour, baking powder, sugar and cocoa powder into a large bowl.

Add the vanilla, milk and butter and mix together until well combined.

Lightly grease your baking dish with butter, and fold out the batter mixture into the pan.

Smooth out with a spatula until it's even.
Sauce
Combine the cocoa and sugar.

Sprinkle the sugar and cocoa over the pudding.

Very carefully, pour the boiling water into the pudding mixture. Pour it over the back of a dessert spoon to avoid dents in the pudding.
Cooking
Place the dish on baking tray to avoid spillage.

Place in oven and bake 30-40 minutes, or until pudding is cooked through. To test if it's cooked, take a knife and skewer the middle, the knife should come out clear.

Serve immediately with berries and ice cream.
If you loved this recipe, I'd love for you to leave a comment and review! Also, don't forget to snap a pic of your finished recipe and share it on our on our Instagram account using the hashtag #thehomecookskitchen or tagging me @thehomecookskitchen. I'd love to see your creations!
Afraid you'll miss a post? Subscribe today and receive updates on new posts, and bonus recipes and information! Follow along on Instagram, Facebook for food inspo and adventures, or see what I'm loving on Pinterest!
Join the Discussion - favorite chocolate? did you ever have to fight for leftovers at the dinner table?