The very best vegetarian curry for when you need a little more veggies! This sweet potato, lentil & kale curry hits the spot on a cold night!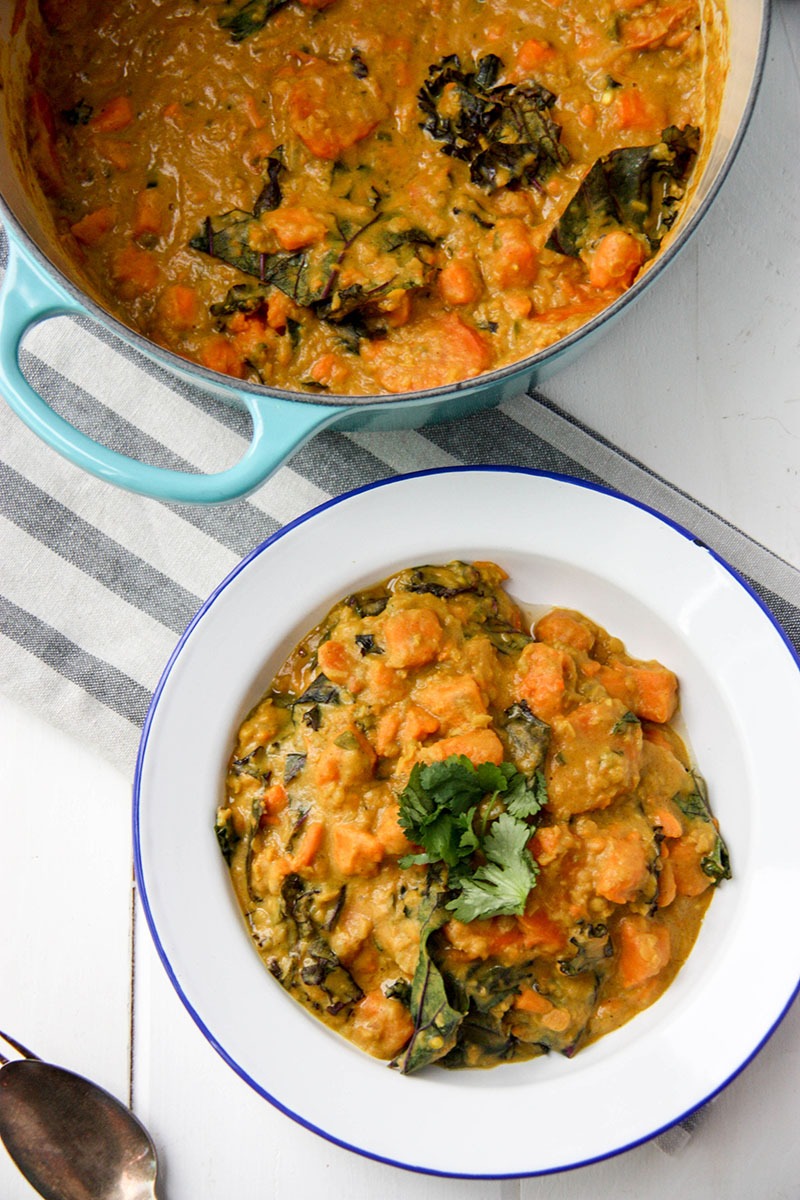 Spring? Hello? Are you there?
Yes, if you've been reading my posts, you'll know that I complain about the weather approximately 80% of the time - mostly when it's cold and I'm feeling miserable.
Like right now.
I have the worst sore throat and it sucks! I also have mad brain fog causing Adam to constantly ask 'why do you look weird? Are you ok? You look totally out of it"
Thanks love.
But it was bad. I went to the supermarket and forgot my list, cue forgetting half the stuff I needed to get, and getting the stuff I didn't even need.
Thank goodness it's only a 4 day work week this week! Not sure my brain and throat could deal with the constant strain that comes with being a substitute teacher!
I also realise that I've been posting a few more winter recipes than I'd like - sorry Australian friends, but it's just too cold here to face summer foods, and I refuse to buy mangoes that have a huge carbon footprint.
So for now, I'll have to wait until the summer foods and fruits come out! Although, I do have a ripper recipe for you on Thursday that is seasonal all year round woo!
This sweet potato, lentil & kale curry was probably one of my first recipes that I drafted when I decided to change over me blog to The Home Cook's Kitchen!
I know, weird right? I have so much more cooking freedom and I made a vegetarian curry?
But I love this curry, so I am super happy to be sharing it with you!
This curry is really to make and uses simple ingredients which you'll be able to find in supermarkets. For the curry powder, I used Minimalist Baker's DIY Curry Powder and it as a huge hit!
The curry powder is really easy to make, and stores really well which is an added bonus!
Aside from that, this recipe is really straight forward, and super delicious! It's creamy, packed full of vegetables, and has a distinct hint of spice from the curry powder.
So enjoy! Hope you guys are staying healthy, unlike me ☹ - Georgie x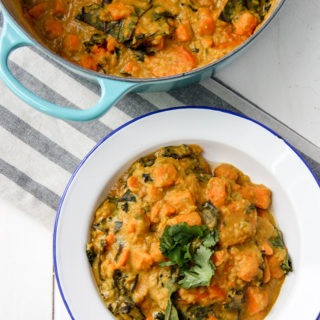 Sweet Potato, Lentil & Kale Curry
Creamy, thick, packed full of vegetables with just a hint of spice. This sweet potato, lentil & kale curry is the perfect weeknight meal when you're looking for something a little healthier.
Ingredients
1

tablespoon

coconut oil

1

shallot

sliced

2

garlic cloves

crushed

1

red chili

bird's eye chili or serrano chili (note 1)

3

teaspoon

curry powder

homemade see link in article for recipe

9

oz

sweet potato

peeled and diced

½

cup

red lentils

1

carrot

sliced

1

cup

coconut milk

2

cups

vegetable stock

2

cups

kale

note 2

1

tablespoon

cilantro/coriander

naan and rice

for serving
Instructions
Heat coconut oil in a dutch oven or large fry pan over medium to high heat.

Add shallot, ginger & chili and fry 2 minutes, or until shallot is soft.

Add curry powder and fry for 30 seconds until fragrant.

Pour in coconut milk and stock, and bring to the boil.

Add lentils, carrots and sweet potato.

Continue to boil, reduce heat.

Simmer 40-45 minutes, or until sweet potato has started to disintegrate and carrot is soft.

Two minutes before serving, stir through kale until wilted.

Top with a little cilantro, serve with rice and naan bread.
Notes
Note 1 - I always prefer to use the Bird's Eye Chili or Thai Chili (the long red ones) but cannot for the life of me find them in America. So here, I use the green serrano chili's/peppers. I used the whole serrano chili, seeds and all which added a lot more spice to it. You can opt to use ½ a chili plus seeds, or the whole chili minus the seeds, depending on how spicy you want it.
Note 2 - it doesn't matter what type of kale you use. I've used both purple and green and they are both tasty. The kale will wilt, so feel free to use even more!