Beetroot Goat Cheese Salad is the perfect fall or winter salad! This beetroot goat cheese salad is one of our favs for every day eating, or for a quick and easy recipe to whip up when you're in a hurry or want something easy for stress free dinner entertaining!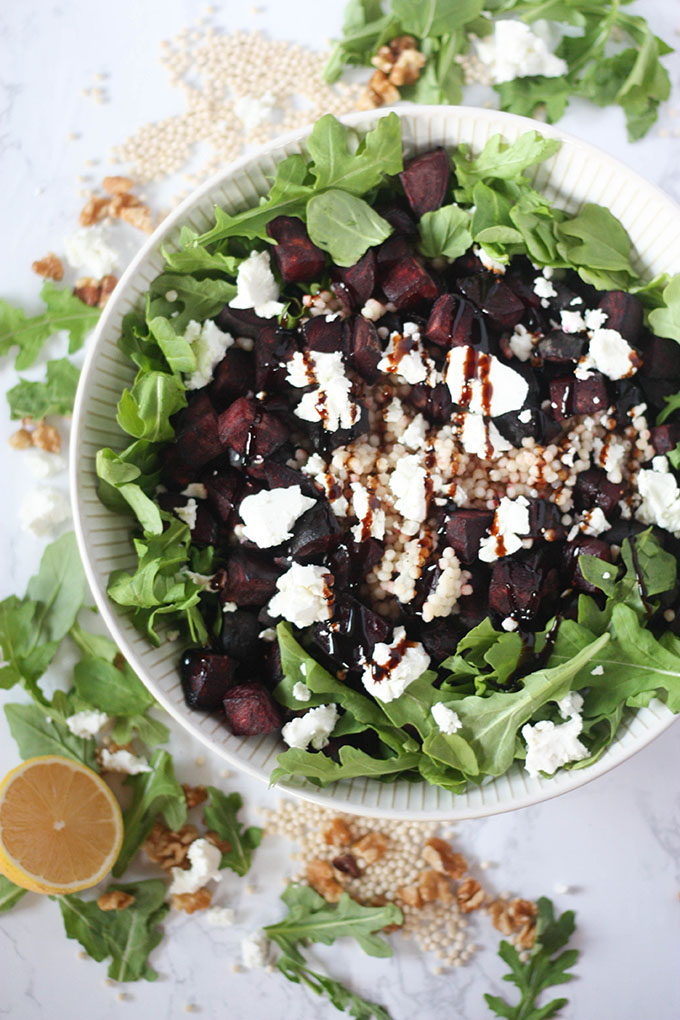 Hey guys, happy Thursday!
I'm so happy to be back blogging this week! Especially when I get to give you guys a terrific, easy and stress free salad!
I really think fall/winter salads are underrated. To me, summer is prime salad time, but I love being able to maintain a healthy(ish) diet during the winter.
I often get caught up on stews, soups and warming, comfort food, I often forget just how delicious and comforting a good, hearty roast vegetable salad can be, or in this case a roasted beetroot goat cheese salad!
Salads can be such a bore sometimes, but I'm making a stance.
NO MORE BORING SALADS!
or SALADS THAT LEAVE YOU HUNGRY 10 MINUTES AFTER YOU EAT THEM #thestruggleisreal.
I'll stop yelling now.
I've actually made quite a few different versions of this salad before, like this Beetroot Lentil Salad , and generally just when I need something quick to make.
We had friends around for dinner on Sunday and I needed a quick recipe that I could organise earlier, so I could just throw it together when they arrived.
It's that simple!
I did my prep earlier in the day by roasting the beets and cooking the Israeli cous cous and all I had to do was to throw everything together with a bit of balsamic glaze when they arrived! Voila! So easy!
How to make a Beetroot Goat Cheese Salad
As mentioned before, this beetroot goat cheese salad is really quick and easy to make.
Israeli CousCous (Pearl Couscous)
You'll start by cooking the Israeli couscous (or Pearl couscous). Pearl couscous is one of my favorite couscous varieties to use.
I love it for a summer Israeli Couscous Salad, and it also works perfect for this beetroot goat cheese salad. Israeli/Pearl couscous is easy to find in all supermarkets.
The cooking ration for Israeli couscous is 1 cup of couscous to 1.5 cups of water. Rather than the absorption method I use for regular couscous, I start by boiling the 1.5 cups of water, then add in the couscous and reduce to simmer until it is absorbed.
Israeli couscous has a tendency to get a little stuck after cooking, so you'll need to use a fork to 'fluff up' the couscous to separate the grains.
Roasting Beetroot
The key to roasting the beetroot for this recipe, is to make sure the beetroot it cut into even sized pieces. This will ensure even cooking time.
I drizzle over a little olive oil and add some salt and pepper and roast at 400F/200C for 40 minutes or so, until it is cooked through.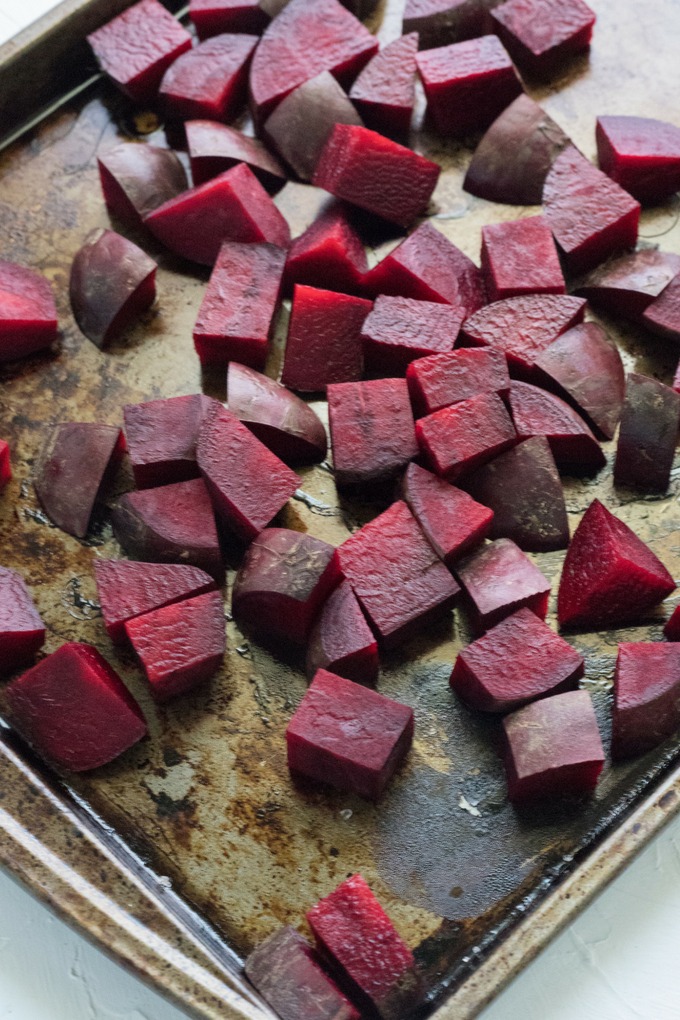 Dressing for Beetroot Salad
The dressing for this beetroot salad is simply balsamic glaze. I love using balsamic glaze for salads as it is so simple, and in this case, really cuts through the tanginess of the goat cheese.
Balsamic glaze is simply a thick balsamic vinegar which is sweetened and it is the bomb!
I use store bought balsamic glaze, because it really is just easier than making your own balsamic reduction at home. Generally you can find balsamic glaze in the oil/vinegar section of your supermarket and it's around $6-$7 each.
It's great to use on salads and for roast vegetables and in my opinion, is definitely a pantry staple to invest in!
Bringing the salad together
The 'green' base for this salad is arugula/rocket. I love the pepperiness of the arugula/rocket combined with the sweetness of the beetroot and tanginess of the goat cheese.
After you add your arugula/rocket to a salad bowl, you'll simple top with the Israeli couscous, the beetroot and finish with the goat cheese, walnuts and balsamic glaze.
This beetroot goat cheese salad is a solid salad designed to fill you up! It's perfect for fall or winter entertaining, or every day weeknight dinners and meal prep. The flavour combination will knock your socks off!
Georgie x x
Want more Beetroot Recipes?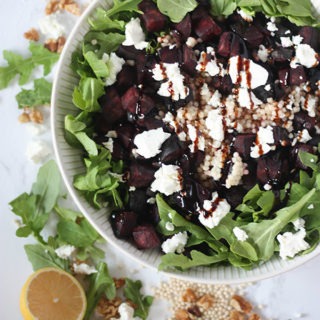 Beetroot Goat Cheese Salad with Israeli Cous Cous
This beetroot goat cheese salad with Israeli cous cous will be your go to salad for the fall and winter! Easy and simple, this salad can be prepped ahead so you don't need to stress!
Ingredients
4

beetroots

medium sized, roughly diced into 1 inch pieces

2

cups

arugula/rocket

also known as rocket

4

oz

goats cheese

around 110g which is the size of a small block from the supermarket

1

cup

Israeli cous cous

see notes

1 ½

cups

water

1

tablespoon

lemon juice

the juice of half a lemon

2

tablespoon

olive oil

divided

½

cup

walnuts

roughly chopped

1

tablespoon

balsamic glaze

salt and pepper
Instructions
Prepare the beetroots
Preheat oven to 200C/400F

Place beetroots on a baking tray lined with parchment paper.

Toss with 1 tablespoon of olive oil, and season with salt and pepper.

Roast in oven 20-25 minutes, or until softened but still slightly crunchy.

Remove and cool.
Prepare the cous cous
Place water, lemon juice, salt and pepper and 1 tablespoon of olive oil in a medium size saucepan.

Bring to boil, reduce heat and add cous cous.

Simmer cous cous 8-10 minutes, or until water is absorbed and cous cous is al dente.

Fluff with a fork to break up the cous cous and set aside. (note 2)
Assemble salad
Place arugula/rocket in a salad bowl.

Top with cous cous, and beetroot.

Crumbled goat cheese over top and sprinkle over walnuts.

Drizzle over a generous amount of balsamic glaze

Serve and enjoy!
Notes
Israeli cous cous is also known as 'pearl cous cous'. You should find it in regular supermarkets or bulk sections of supermarkets. It is a thicker type of cous cous that resembles more of a pasta than a traditional cous cous. You can also use quinoa, buckwheat or regular cous cous if you don't have Israeli cous cous.
The cous cous may clump together, but don't worry about it as the balsamic reduction and the process of mixing the salad will help break it up. This step can be done prior to serving, however the cous cous will clump even more. it won't change the taste of the salad at all, you just may have larger chunks of cous cous!
So tell me! What's your favourite fall or winter salad? And I'd love to see you create this beetroot goat cheese salad!! Tag me on instagram @thehomecookskitchen so I can see your creations!
Afraid you'll miss a post? Subscribe today and receive updates on new posts, and bonus recipes and information! Follow along on Instagram, Facebook for food inspo and adventures, or see what I'm loving on Pinterest!