This hot spiced apple cider is perfect for a rainy, gloomy day. A beautiful combination of spices, blended with some fresh ginger, hard cider and just a little apple juice, this will warm your soul from the inside out!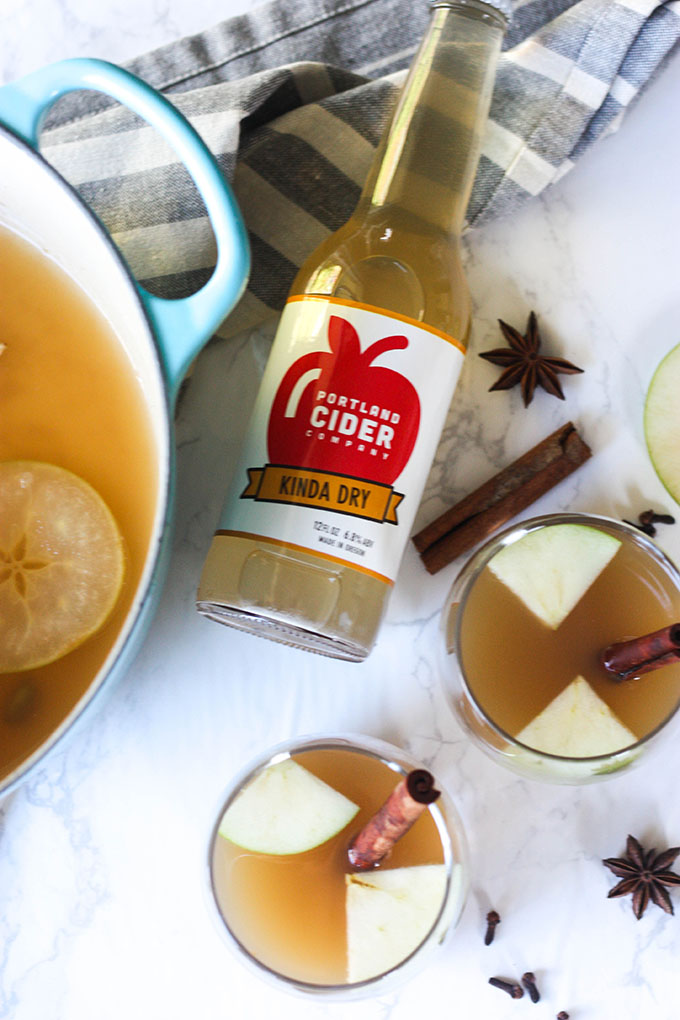 Thank you to Portland Cider Company for providing me with the product for this post. As always, all my opinions are my own. Thank you for supporting the brands that make THCK possible!  
Ok, so I guess it time to really say good bye to the warm weather, and embrace the fact that I'm just going to get colder, and colder as the months go on. We have actually had some stunning fall days here. You know the ones I'm talking about? Really, really cold mornings, followed by bright sunny cool days. It's actually dreamy.
If you had asked me a few years ago if I was sad about the changing seasons, I would have said absolutely. Even if you had probably asked last year, I would have said that the end of summer was a sad occasion.
But for some reason I feel differently about it this year.
I don't know if it's an age thing, but the thought of embracing the colder weather, has actually got me a little bit excited.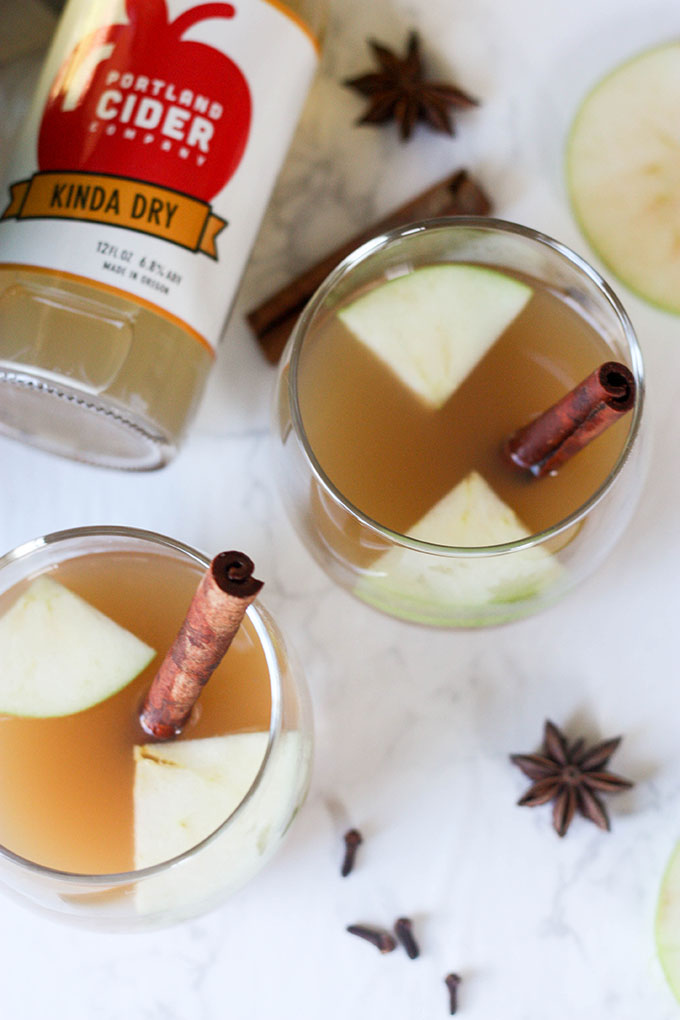 I am a summer baby at heart, but I came to the realisation that damn, America knows how to do fall well. And it is getting me excited!
The fall leaves, the holiday seasons, the festivities and celebrations that occur from now up until the end of December, this time of year is actually my favourite.
I am a little excited to bring out the boots, and the down vest, and am even more excited about the prospects of sipping wine in front of the fire in our new house, reading a book or watching a feel good film.
Made better by the fact that there might be a little golden retriever nugget running around our house (more on that to come at the end of the month!) ????
I think I might just have to become a home body this holiday season! We had such a crazy busy summer, it's going to be so nice to just relax a little bit toward the end of the year and focus on a few projects.
If I'm honest, the thing that is getting my most excited about the cooler weather, is the prospect of comfort food and drinks.
Seriously, how good it is, coming home after a day at work, let's say on a Friday. Chucking on your ugg boots (you know what they are right?), a thick hoodie, making a big beef stew or pot of soup and sitting down with a warm glass of mulled wine, or hot spiced apple cider.
Are you feeling me?
Embracing Hot Spiced Apple Cider
I started to embrace hot (alcoholic) drinks back when we were living north of Spokane and were under a few feet of snow. I discovered my love for hot spiced apple cider when I went to the Pike Place Market for the first time and bought a little homemade packet of spiced for hot apple cider.
I hadn't ever really had anything like it before. Then I realised you could add bourbon or rum, and all was good in the world.
I thought this fall I'd take the opportunity to make my own, having been given some free cider products from Portland Cider Co. I used their passionfruit cider in a punch last month, and genuinely love their cider products.
How to Make Hot Spiced Apple Cider with Alcohol
For this recipe I opted to use alcoholic apple cider. Spiced apple cider can definitely be made with dry or sweet cider and in fact, it's actually a method I prefer! For this recipe, you can use their sorta sweet or kinda dry. I used their kinda dry cider for this recipe, but the sorta sweet would work perfectly as well, it may just be ever so slightly sweeter!
I opted for relatively traditional spices, but added some fresh ginger for extra pizazz, because everyone needs some pizazz in their life! Oh, and because flu season is approaching. Ginger = great for colds
So, let's have a drink together, and celebrate fall in the best way I know how - with a hot spiced apple cider! Cheers friends! - Georgie x x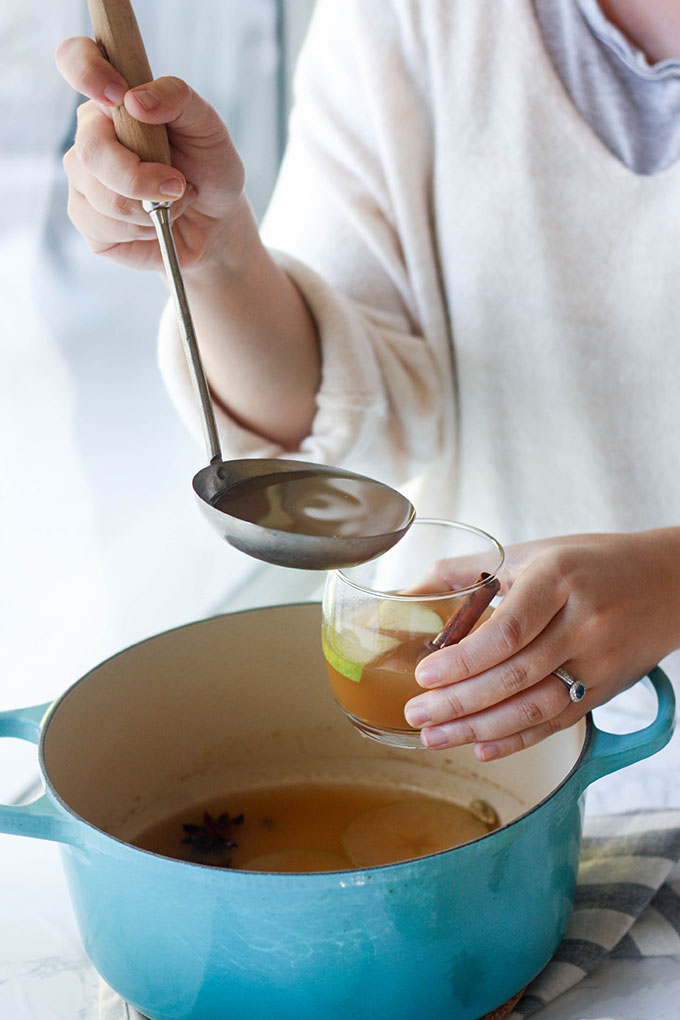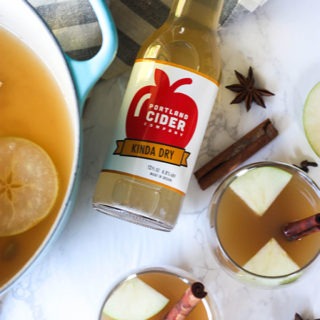 Hot Spiced Apple Cider
This hot spiced apple cider will warm you up from the inside out! A delicious blend of spices, with alcoholic apple cider, and just a hint of sweetness
Ingredients
12

fl oz

dry cider

1 ½

cups

apple juice

see recipe notes

1

tablespoon

fresh ginger

finely grated

2

cinnamon quills

8

cloves

3

cardamon pods

lightly crushed

4

slices

apple

¼

cup

spiced rum

optional but highly recommended
Instructions
Place cider, apple juice, ginger, cinnamon, cloves, cardamon and apple slices in a saucepan or dutch oven.

Heat over low to medium heat, 10 minutes, or until cider mixture is hot

Add spiced rum if using.

Serve with fresh apple slices and cinnamon quills.
Notes
I love using Trader Joe's honeycrisp apple cider (non alcoholic version). But if you can't find that, a good quality cloudy apple juice would be great.
General Notes - this recipe makes enough for 2 large glasses or 3 smaller glasses. To make more, double the recipe amounts.
Join the Discussion!
What's your favourite drink for the fall? Or favourite fall/winter/holiday thing to do?
If you loved this recipe, I'd love for you to leave a comment and review! Also, don't forget to snap a pic of your finished recipe and share it on our on our Instagram account using the hashtag #thehomecookskitchen or tagging me @thehomecookskitchen. I'd love to see your creations!
Afraid you'll miss a post? Subscribe today and receive updates on new posts, and bonus recipes and information! Follow along on Instagram, Facebook for food inspo and adventures, or see what I'm loving on Pinterest!