Our stone fruit crumble is light, fresh, and a healthier version of a classic! Perfect for making the most of the fresh summer fruit we've been having! 
Do you just ever get those days where you're not motivated to do anything?
Well, I've been having a few of those lately! I think I'm trying to get my head around my blogging schedule and organization (or lack there of) and it seems to have me taking three steps back rather than three steps forward.
I've aimed to have at least three blog posts a week - Monday, Wednesday and Friday, but so far it seems I've only managed a Monday and Wednesday the last couple of weeks, with a delayed Friday! Even now I'm writing this on a Tuesday when technically it should have been out yesterday!
I find the more time I have the more confused I get about how to prioritize The Home Cook's Kitchen, and no matter how organized I try to be, something else always seems to come up!
I'm trying to figure out what is stopping me from getting myself organized. Is is lack of sleep? household distractions? not enough coffee? too much coffee? or am I just simply overwhelmed right now? I don't know, but it's something I aim to tackle this week!
Starting tomorrow...because today I'm already disorganised! I tried to minimise distractions today by going to our apartments common room, only to find I had no idea what the wi-fi password was!
I had all these plans - write three articles, edit photos, do some YouTube tutorials on Photoshop and get on top of my emails ...but not sure that is going to plan! So I guess the question is thrown out to you guys - what do you do to keep your blogging lifestyle organised?
I'm not sure I have a link into todays recipe from that, other than the fact that it is now officially the fourteenth day of Summer and it's FRIGGIN RAINING pouring here in Portland! I mean come on!
Despite the lacking sunshine though, I still maintain that this time of year is THE BEST! Mainly because of all the delicious stone fruit going around! I am a Summer fruit fiend!
I was pondering what to do with a bunch of leftover  stone fruit I had the other day, and saw a YouTube video by Deliciously Ella that got me inspired to make my own healthier crumble. I figured with all the amazing fruit, how good would it be to make a delicious roast stone fruit crumble, and I must admit I'm pretty smitten about the ways it's turned out!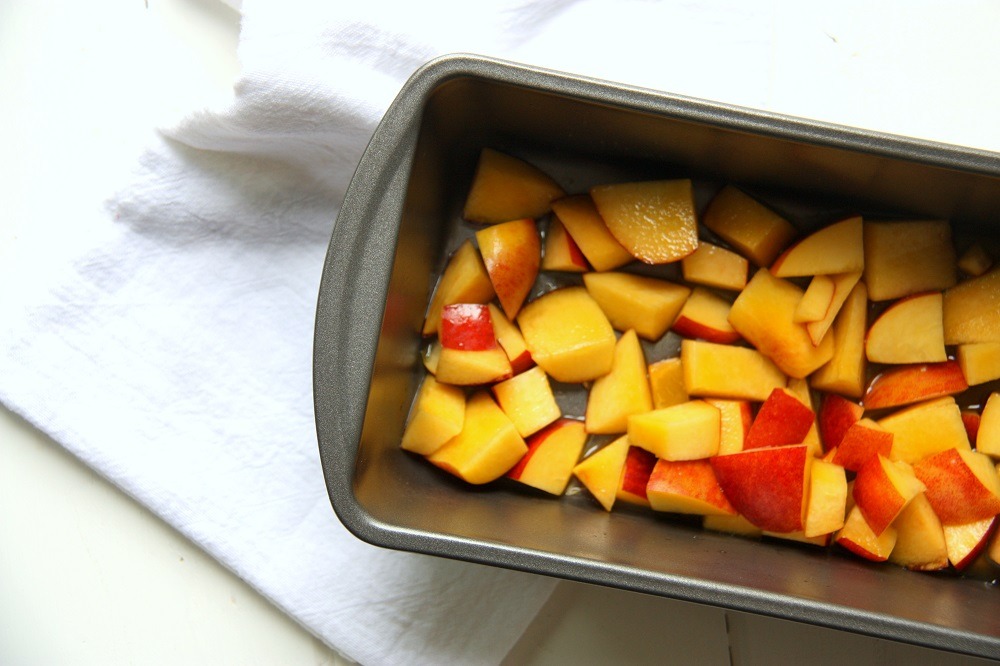 Our stone fruit crumble is a healthier version of a classic we love, made with simple substitutes.
We've substituted refined sugar for maple syrup, flour for almond meal and coconut oil for butter! It still has a beautiful crunchiness to it of a traditional crumble, but I find this version much better is you are seeking something lighter! It's also an added bonus being gluten-free, dairy free AND vegan (although I did some research and vegans still need to be aware of the type of maple syrup they're using!). I actually can't believe how good this stone fruit crumble tastes! Topped with natural yoghurt or coconut cream it's the perfect combo!
So let's get together and celebrate Summer!!! And remember if you make our recipes, tag us #thehomecookskitchen
Stone Fruit Crumble
Our stone fruit crumble is simple, easy and a healthier take on a classic! Make the most of the amazing summer fruit and make this today!
Ingredients
Roasted Stone Fruit
1

nectarine*

1

peach*

1

tablespoon

fresh orange juice

2

tablespoon

maple syrup
Crumble
½

cup

rolled oats

½

cup

almond meal

2

tablespoon

maple syrup**

2

tablespoon

coconut oil

melted
Instructions
Preheat overn to 180C/355F

Dice stone fruit (discard stones) and place in a large bowl with maple syrup and orange juice.

Place fruit in an oven proof tin/dish and roast for 10-15 minutes until slightly soft.

Meanwhile make the crumble topping by combining the rolled oats, almond meal, maple syrup and coconut oil.

Transfer fruit to smaller ramekins.***

Top fruit with crumble mix and bake a further 15-20 minutes or until top is nice and crunchy and starting to brown.

Top with coconut cream or natural yoghurt.
Notes
*I haven't tried it, but you could probably use other stone fruits such as apricot or plums.
** I found that 2 tablespoons was enough, if you want it sweeter add 3.
***Instead of transferring fruit to smaller ramekins, you can simply add the topping to the top of the fruit in whatever dish you are using, I just found it easier to make them in individual ramekins.
Join the Discussion!
Blogger friends - how do you divide your time between work and blogging?
What do you do when you get stuck in a bit of a blogging rut?