Maximum crispiness, minimum fuss! Hands down, the best homemade oven baked fries you'll ever make. These oven-baked Yukon gold rosemary fries are exactly what you look for in a chip! Crunchy on the outside, soft on the inside, perfectly seasoned and with just a hint of rosemary and garlic to make them next level fantastic!  
Wow! So the first time I posted this recipe, I was chilling at a campsite in Montana across the river from Yellowstone, having the time of my life with Adam and our friend!! That was quite possible, THE best road trip I think I have taken!
This year, a little different. I'm currently sitting at my desk, sipping on a vino on a Monday night, watching Queer Eye on Netflix and madly trying to rush to get my posts scheduled before we go to London on Sunday!!! Woohoo for London, but OMG am I drowning in work right now! I think a campsite by the river is a much better option!
But I am excited because gosh darn, this post is amazing!!
I bring you...
Hands down, THE BEST oven baked fries you'll ever make in your life!
These fries are our go-to side dish every summer since we discovered Yukon gold potatoes when we first moved to America in 2015. And since then, I've come to declare, that Yukon Gold potatoes are THE BEST POTATOES EVER!! Like, ever. When we first lived in America, we used to live about two hours north of Spokane. The first day I landed in Spokane, Adam and I found this tiny little farmers market where we were first introduced to Yukon Gold potatoes.
The dude selling them to us said you'd never have a better potato in your life, and that they tasted like golden buttery, fluffy goodness.
He wasn't wrong at all – Yukon Golds are THE best potatoes I have eaten.
And these Yukon Gold oven baked fries are the best homemade fries I've ever made!
We made the most amazing discovery, that around June through September, the local Portland farmers market has a small stock of the potatoes, and kid you not, last year we went and bought 7lbs in one sitting, practically their entire lot! While we haven't made it to the farmers market this year, it is high up on the agenda for this summer!
Why Yukon Golds?
I can't explain just how good these potatoes are, but you definitely notice a difference using Yukon Gold potatoes compared to regular old potatoes. Once baked, these Yukon fries are so, so crispy on the outside, but still light and buttery on the inside. Despite not butter being used, it literally feels like these oven baked fries have been smothered in butter while cooking! They also crisp up so, so nicely in the oven at the high temperature.
How to make crispy oven baked fries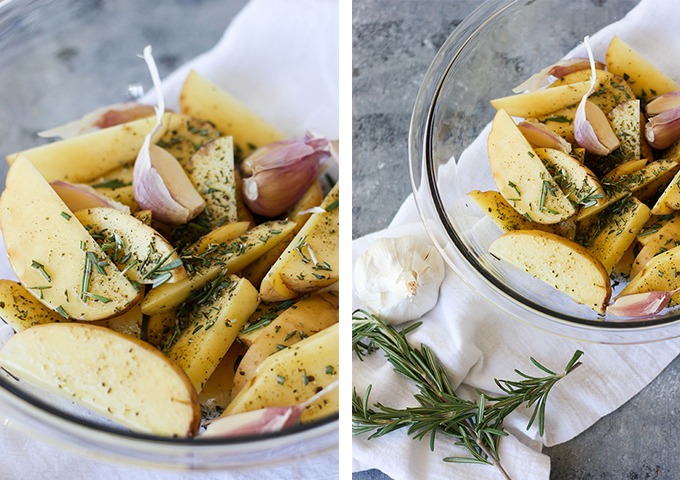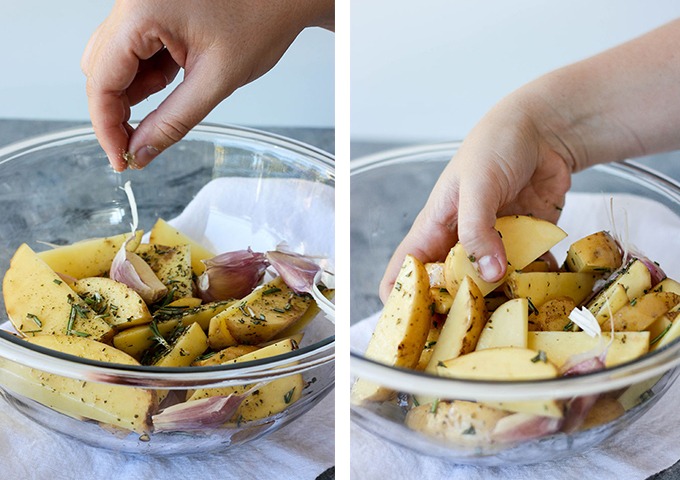 The crispiest oven baked fries come down to two things - oil, and oven temperature. And cooking time. Ok, three things but whatever! But how do we achieve that?
Grapeseed oil - grapeseed oil has a high smoking point, meaning it's perfect for cooking at high temperatures. This will result in a slightly browned, crispy fries which as you know, are the best!
Oven temperature - they cook best at high heat. I have the oven temperature at 425F/220C and find this the perfect temperature for crispy fries.
Cooking time - at high temperature, I cook these oven baked fries for between 50-60 minutes. Cooking time may vary depending on oven type, and the width at which the potatoes are chopped. But as you can see by the images, the fries should be lightly browned, and a little bubbly. Make sure you flip each chip halfway through cooking to ensure an even cooking surface. I also personally found that in my oven, the bottom tray cooked quicker than the top tray, so I rotated the trays halfway through cooking as well.
Aside from that, these fries are crazy easy. If you want to be fancy, we used my all time fav salt Jacobsen sea salt in rosemary. I use their product on the regular and their rosemary salt is so SO good! I used their vanilla bean sea salt in my salted caramel vanilla bean ice cream too! It's easy enough to find on their website.
If you don't have rosemary sea salt, regular sea salt is just fine, with the addition of the fresh rosemary, your fries will be perfectly seasoned!
These oven baked fries are the perfect addition to a grilling shindig, backyard party or as a side or appetizer for weekend parties. To be honest, Adam and I have been known to scoff down a whole plate for lunch, with zero regrets!
So there we have it - oven baked fries with rosemary. A delicious, easy and oh so tasty dish that is perfect for a party, or if you just want a carb loaded lunch because let's be honest, who doesn't!
Happy Tuesday friends - Georgie x x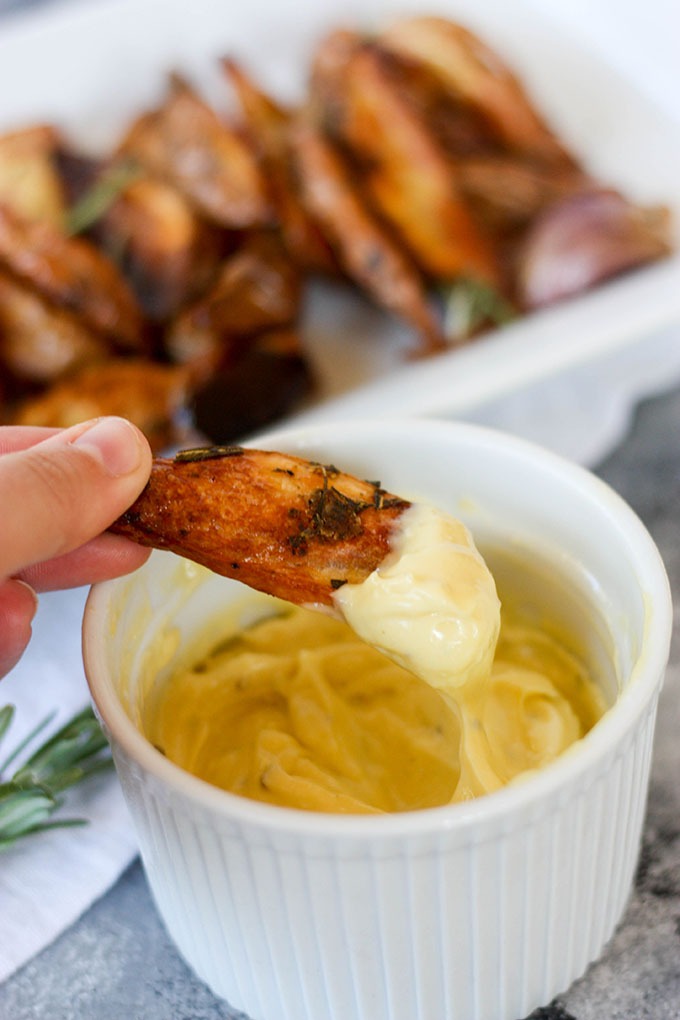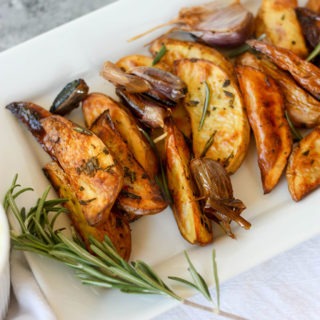 The Crispiest Oven Baked Fries
These oven baked fries are hands down, THE BEST homemade fries you'll ever!!! Minimum fuss, maximum flavour! These are a perfect addition to any grilling shindig, or if you just want a delicious and easy lunch!
Ingredients
4

Yukon Gold potatoes

2

tablespoon

grapeseed oil

1

teaspoon

salt

or rosemary infused if you have it

2

teaspoon

rosemary

chopped

6

garlic cloves

whole, skin on

½

teaspoon

black pepper
Instructions
Preheat oven to 425F/220C

Cut Yukon golds into wedges - cut in half, then into 4 wedges. Each potato should yield 8 pieces.

Place potatoes and garlic in large bowl.

Toss in grapeseed oil, rosemary sea salt and salt and pepper.

Evenly lay onto an oven tray lined with parchment paper.

Place in oven - 50 to 60 minutes, flipping potatoes halfway.

Bake until crispy and golden brown.

Serve straight away and enjoy with aioli or sweet chilli sauce.
If you loved this recipe, I'd love for you to leave a comment and review! Also, don't forget to snap a pic of your finished recipe and share it on our on our Instagram account using the hashtag #thehomecookskitchen or tagging me @thehomecookskitchen. I'd love to see your creations!
Afraid you'll miss a post? Subscribe today and receive updates on new posts, and bonus recipes and information! Follow along on Instagram, Facebook for food inspo and adventures, or see what I'm loving on Pinterest!