This rocky road recipe is a favorite to make at Christmas time! Melted chocolate, mixed with marshmallows coconut and almonds. It's a beautiful combination of soft, and crunchy and makes the perfect gift for friends and family! This is a super simple recipe, requiring 5 ingredients only, and is no bake! The perfect flavors combined into one fun treat!
I think that out of cookies, chocolates, cakes and all the other Christmas treats, rocky road would have to be my all time favorite Christmas chocolate! Every Christmas since I've been about 6 years old, Mum's made this rocky road recipe for us, and I couldn't pass up on making it this year as well! The original recipe came from one of my best, best friends in primary school. Her mum used to make this for us all the time, and it kind of became our family tradition to make it!
I must confess though, the only reason I made it this year, was because we were back in Australia in November and I was able to pick up my favourite ingredients to make it taste 'authentic' to me! I think I've spoken about this before, but there are some significant differences in Australian food compared to American, and there are just some things I can't get on board with here. Chocolate is one of them!
The chocolate in Australia is made with cane sugar, and it just tastes SO much. better than corn syrup chocolate! Hence why I bought back a ton of cooking chocolate for Christmas! The chocolate, alongside with my favourite marshmallows (Pascal marshmallows all the way!) just made this rocky road taste like home and it was so nice to create something that reminded me of family at Christmas time!
We don't always bring this out for Christmas too. Other occasions like birthday parties are a great occasion for rocky road, and I also love wrapping it up for presents for people! If you didn't know, edible gifts are my favourite gifts to give (and if you haven't checked out my Mason Jar Hot Chocolate recipe, do that ASAP!).
This rocky road recipe is super easy to create, and is a no bake recipe! It comes together in under 2 hours, including setting time and as I mentioned makes the most beautiful edible gift! As this recipe is so easy, there aren't too many recipe hacks I need to tell you, but I've got a couple of tips up my sleeve to help you pull of this rocky road perfectly every time!
**Want to PIN this recipe for later? Click HERE to save the recipe to your favourite Dessert Board on Pinterest. ***
How to Make the Perfect Rocky Road
The Chocolate
For this rocky road, you'll need milk and dark chocolate buttons. I use 2x375g/13oz bags of milk and dark chocolate and together they create a beautifully rich but not too sweet chocolate base for the rocky road. For this amount of chocolate, I melt mine over a double boiler rather than in the microwave. To melt the chocolate, place it in a heatproof bowl, and place is over a gently simmering saucepan of water. The bowl should be bigger than the size of the saucepan rim so it sits comfortably without touching the water in the saucepan.
The chocolate should melt over time. The key thing with a double boiler though is to not let any of the chocolate come into contact with the water, otherwise the chocolate will seize and it will be ruined. You need to cool the chocolate before adding the marshmallows too, otherwise the chocolate will melt the marshmallow and not have the same effect as the final product.
The Marshmallows
As I mentioned before, I love using the pink and white Pascal marshmallows. Otherwise you can use the mini white marshmallows, or cut up the jumbo marshmallows into small chunks. The easiest way to do this, even if it's a little unconventional, is to use scissors! Clean your scissors well, then I run them under hot water to sterilize them a little, then use scissors to cut up the marshmallows into chunks. I keep a mug of boiling water next to me, and dip the scissors into the water after I cut up each marshmallow so they don't stick to the scissors.
The Rest!
The rest of the ingredients are slivered almonds and shredded/desiccated coconut. You lightly toast the coconut in a small saucepan or fry pan for 1-2 minutes, until the coconut starts to smell and turns lightly golden brown. This adds another flavor element to the rocky road, so a step I'd highly recommend.
To assemble, you combine all the ingredients into the melted chocolate and fold until everything is smothered in chocolate! Then pour into a prepared pan, and refrigerate for 1-2 hours, until the rocky road has set. To cut and serve, roughly chop the rocky road. The pieces won't be even which is another reason I love this recipe! Then wrap them up in cellophane, or tie a piece of string and baking paper around a larger chunk to give away to a friend!
This truly is an easy, fun and delicious recipe that makes the best gift, or treat for Christmas, birthdays or any occasion, like a party or pot luck! You can't really go wrong with such an easy recipe, that requires minimal effort but produces maximum flavour! Treat your self or someone special with a homemade gift they'll absolutely love!
Georgie x x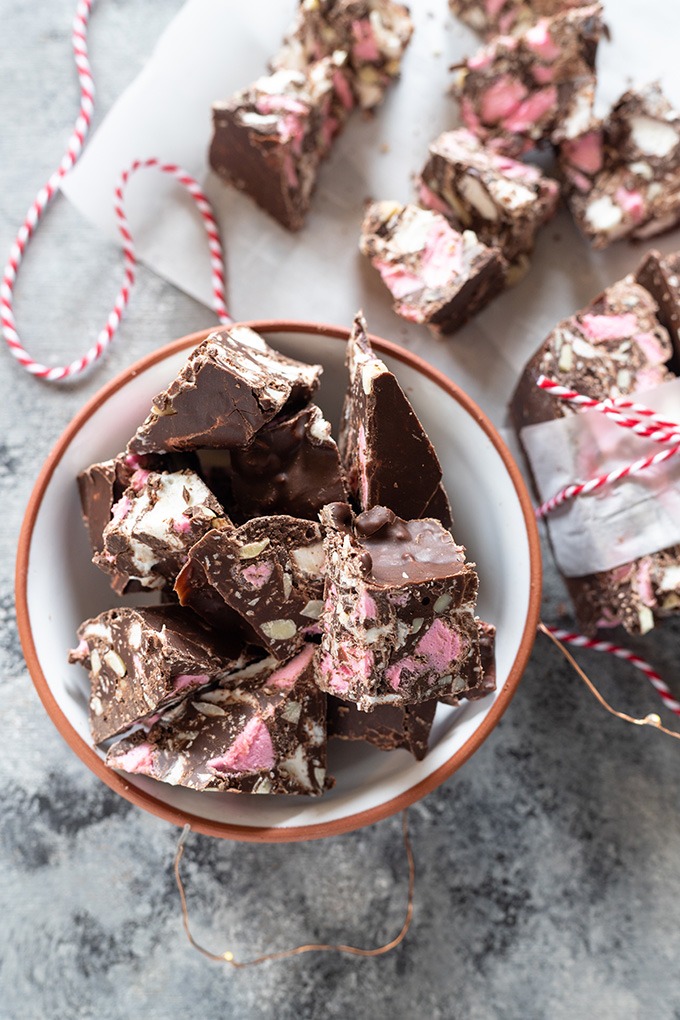 WATCH HOW TO MAKE THE FULL RECIPE HERE!
Rocky Road Recipe
This rocky road recipe is an easy recipe for any occasion! Smooth chocolate, combined with soft fluffy marshmallow, and crunchy nuts with a hint of toasted coconut. This is a super easy and fun recipe to make at home, great for holidays, birthdays, pot luck or any other occasion. Plus they make a great gift wrapped up in cellophane! Make this recipe today for a sweet little, fun no bake dessert that is only just 5 ingredients!
Ingredients
13

oz

milk chocolate chips

13

oz

dark chocolate chips

10

oz

marshmallows

1/2

cup

slivered almonds

1/2

cup

desiccated/shredded coconut
Instructions
Melt the milk and dark chocolate over a double boiler until fully melted. Stir occasionally until the chocolate is melted and mixed together. Remove from heat and cool for 10-15 minutes.

Use clean scissors, to cut up your marshmallows into a medium sized bowl. Dip the scissors into boiling water after you cut up each marshmallow to ensure the marshmallows don't stick to the scissors.

Heat a skillet or small saucepan over medium to high heat. Add the coconut and toast, stirring for 1-2 minutes, or until coconut is lightly browned and starting to smell.

Line a square baking dish with parchment paper.

Add the marshmallow, slivered almonds and coconut to the melted chocolate.

Use a spatula to fold in the ingredients, until they are fully coated with chocolate.

Pour into your prepared pan.

Refrigerate for 1-2 hours, until the chocolate is solid.

Roughly chop the rocky road and serve or wrap for a gift.
Nutrition
Calories:
444
kcal
Carbohydrates:
59
g
Protein:
5
g
Fat:
21
g
Saturated Fat:
15
g
Cholesterol:
4
mg
Sodium:
74
mg
Potassium:
245
mg
Fiber:
3
g
Sugar:
43
g
Vitamin A:
70
IU
Vitamin C:
0.3
mg
Calcium:
141
mg
Iron:
1.1
mg
**Want to PIN this recipe for later? Click HERE to save the recipe to your favourite Dessert Board on Pinterest. ***
If you loved this recipe, I'd love for you to leave a comment and review! Also, don't forget to snap a pic of your finished recipe and share it on our on our Instagram account using the hashtag #thehomecookskitchen or tagging me @thehomecookskitchen. I'd love to see your creations!
Afraid you'll miss a post? Subscribe today and receive updates on new posts, and bonus recipes and information! Follow along on Instagram, Facebook for food inspo and adventures, or see what I'm loving on Pinterest! And subscribe to my YouTube channel to find more fun recipe videos!