Jazz up your curries and stews with this delicious, and easy za'atar naan bread! Soft in the middle, crunchy around the edges, this naan bread recipe is a great addition to any winter curry, or even if to have as a pizza if you're feeling adventurous!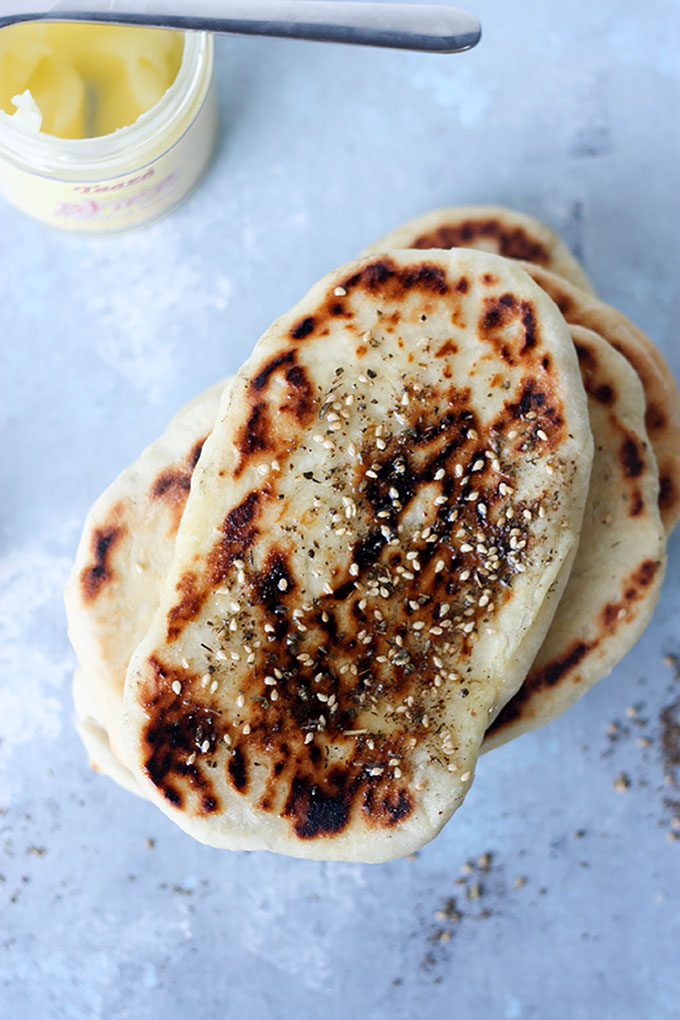 Hello friends! How was your Labor Day weekend?
Ours was very low key, but to be honest, that was exactly what we needed after a busy summer!
We went mountain biking, I had football training, I did some recipe development and a little work on the blog, and watched a really cute (or slightly sad) movie 'A Man Called Ove'. You should watch it, it's a lovely film!
We are out road tripping this week with Adam's friend from home. He was one of his groomsmen at our wedding and we haven't seen him for ages! The plan is to head from Portland out to Snake Valley, then into Yellowstone, up to Montana/Glacier National Park and back to Portland.
I write plan, but as it currently stands, I'm writing this post on Saturday before we even have left, so by now I'm not entirely sure if the plan has stuck!
I'm really excited to see more of America and see some of the places I've always wanted to see! Oh, and bears, call me weird but I really want to see a bear!
But enough chit chat, let's get down to business...
and talk about this za'atar naan bread!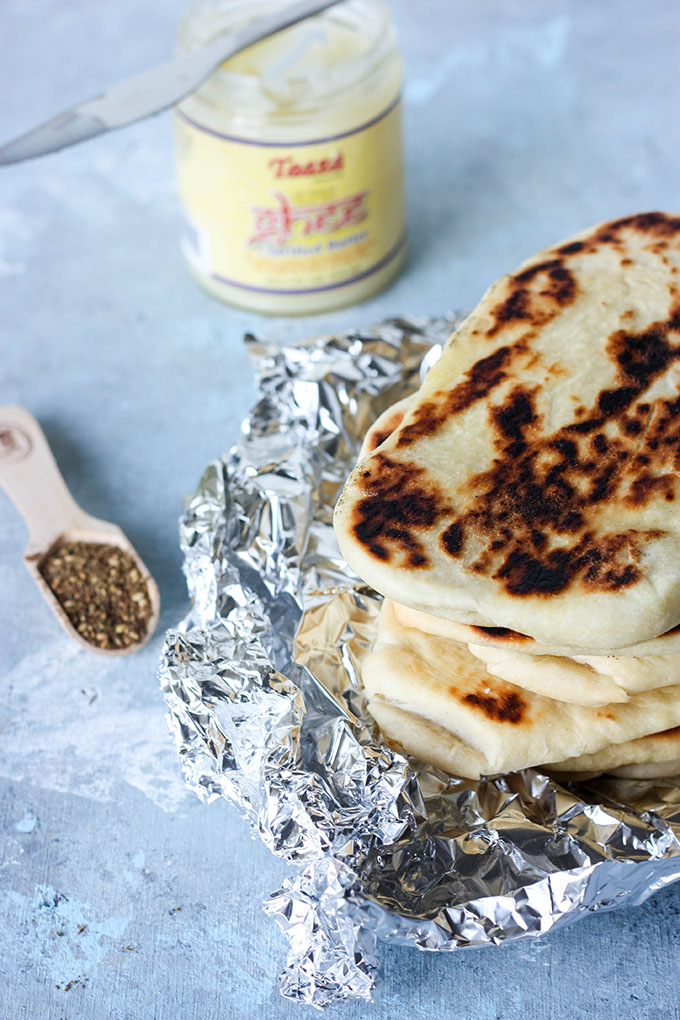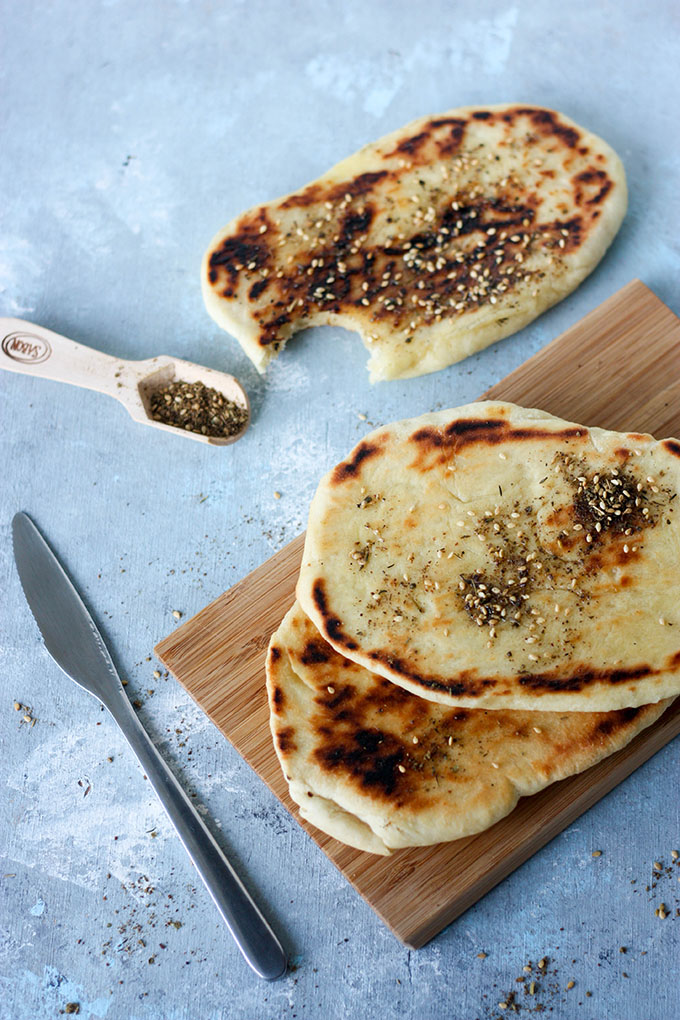 Za'atar would have to be one of my favourite spice blends to use. It's super versatile, and great to add to practically anything to add a huge flavour hit. We add it to roasted cauliflower, and even just sprinkle it over some chicken breast for roasting for our weekday lunches.
It also pairs fabulously with lamb and fish!
Za'atar is a Middle Eastern spice made from a blend of sesame seeds, thyme, salt and dried sumac. Some za'atar blends will have cumin or oregano in it as well.
For its minimal ingredients, za'atar has a massive flavour to it, which is slightly salty, and slightly crunchy thanks to the sesame seeds.
Personally, we use the blend from the World Market spice section, which is our favourite blend to use. It's easy to find in stores or online, and is also probably the cheapest we've found.
Despite the fact that we use za'atar on a weekly basis, I've never actually done a recipe with it yet! Shock horror I know, so that has changed.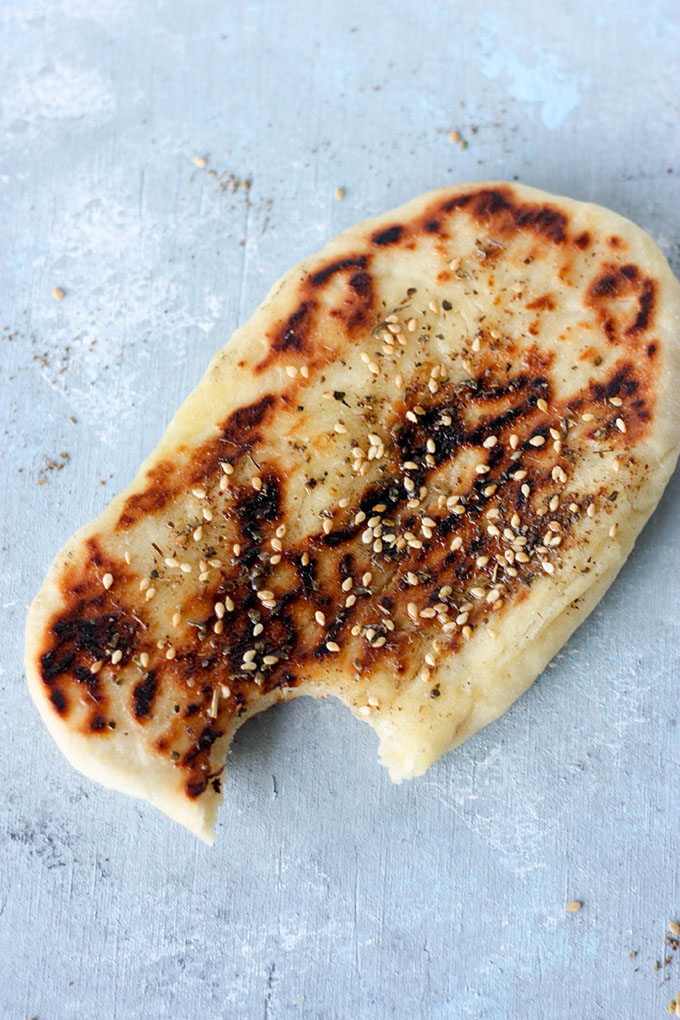 I sometimes feel a little weird crossing cuisines and flavours from different cultures, because I want to stay true to a cuisine, but the reality is, there are so many amazing dishes and recipes that cross different flavours from all around the world, it's impossible not to. Flavours from the Middle East can often be found in African cuisine for example.
I decided to make this recipe naan bread because I love the softness of naan bread. Naan is more similar to a bread, compared to a flat bread which doesn't always use yeast. I sometimes find homemade flat breads chewy and sad, and no one likes chewy sad bread!
Naan is also different because it includes one key ingredient that flat bread doesn't - yoghurt. Yep, yoghurt. I'm not entirely sure why yoghurt is used, or what benefit it has, but all I know is that at the end of the cooking process you have soft naan with crunchy outsides!
I got the original recipe for this on one of my favourite websites from Australia - taste.com.au. The recipe is really easy, and uses a few simple ingredients found in your pantry cupboard and fridge.
I kept the same ingredients, but changed up the cooking process to make it easier for you all!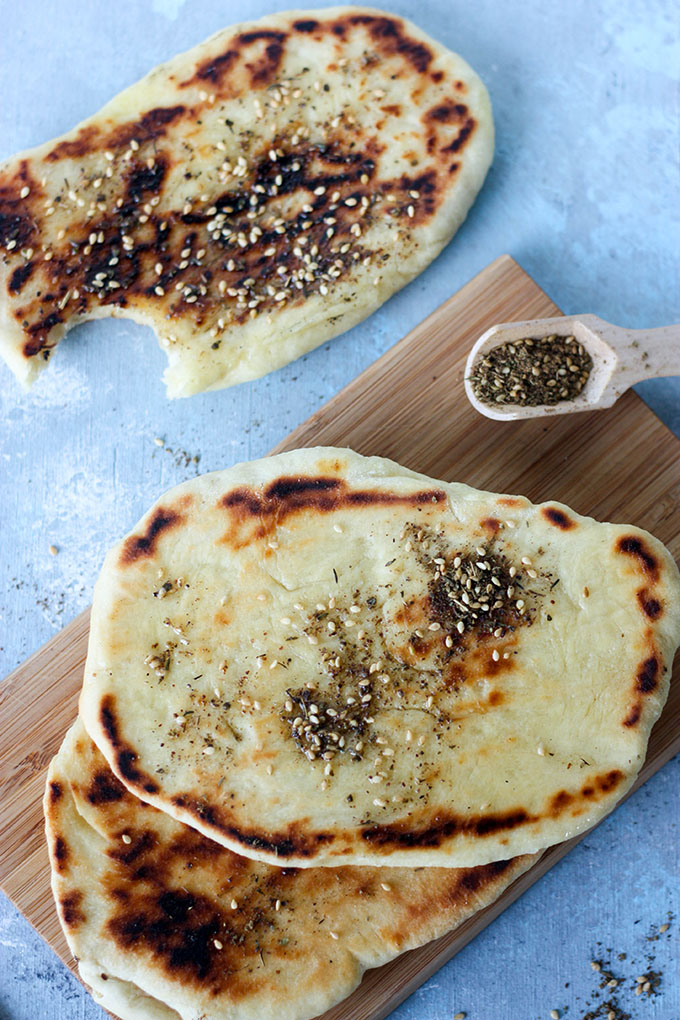 Like all bread recipes that require yeast, you'll have to be patient while the dough rises, but it is so worth it in the end!
This za'atar naan bread recipe is perfect for jazzing up your curries. We often eat it with our chicken massaman curry, and I made it the other night for my parents when we had our vegetable curry! They absolutely loved it!
So there you have it! This recipe I think can be enjoyed all year round! Because bread is life, and za'atar is the best spice ever regardless of what season it is! Have a lovely week and hope you can all recover from your LDW fun!
Much Love - Georgie x x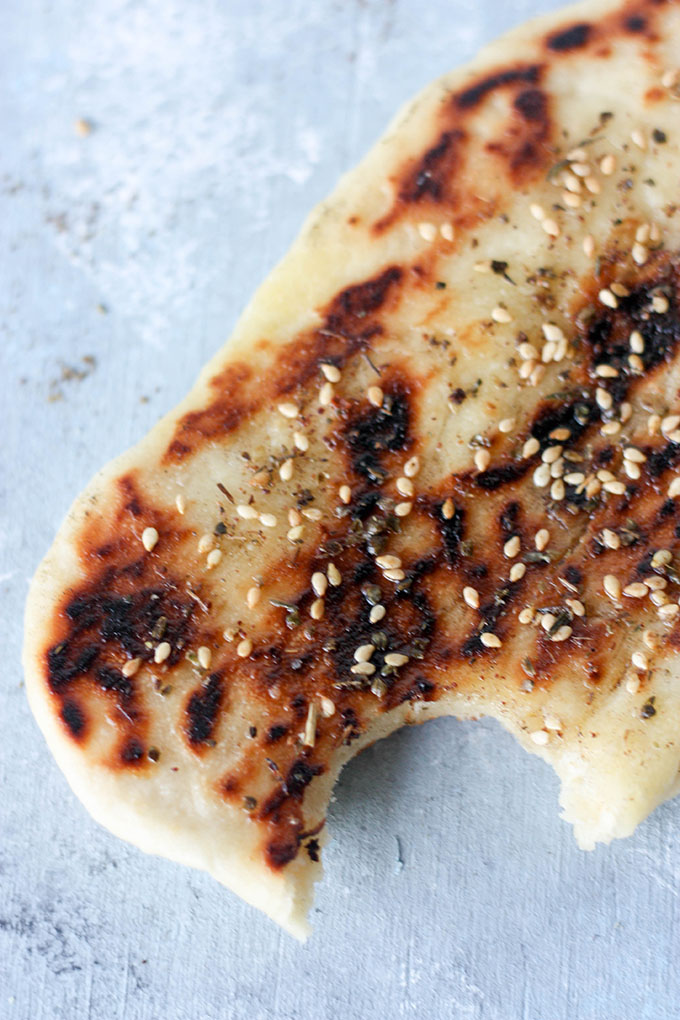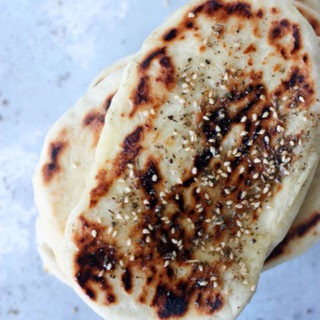 Za'atar Naan Bread
This za'atar naan bread will jazz up any curry! A chewy, soft, yet crunchy bread, topped with melted ghee and a sprinkle of za'atar. Easy and delish!
Ingredients
3

cups

plain flour

2

teaspoon

dried yeast

1

teaspoon

salt

1

teaspoon

sugar

¾

cup

warm water

⅓

cup

greek yoghurt

unflavored

2

tablespoon

vegetable oil

ghee

for serving, note 1

za'atar spice blend

for serving
Instructions
Combine flour, salt, yeast and sugar in a large bowl.

Mix in water, yoghurt and vegetable oil and mix well to combine.

Knead dough for 5 minutes until smooth and well combined.

Place dough in a clean bowl, cover with plastic wrap or a clean tea towel and set aside in a warm place to rise for 1 hour.

Preheat oven to 485F/250C.

Punch down dough to release air, and turn onto a lightly floured cutting board.

Divide dough evenly (as possible) into 8 pieces.

Roll out each portion of dough into roughly 12cm/4inch x 20cm/7inch oval shapes.

Spray both sides of each piece of dough with olive oil spray.

Place on a baking tray lined with paper and place in oven.

Bake for 10-15 minutes, flipping halfway through, or until dough has puffed up and is starting to go golden brown. Overcooking naan will lead to crunchy hard naan.
Alternative Cooking Method
Heat a teaspoon of oil in a cast iron skillet on medium to high heat.

Place 1 piece of naan dough on hot skillet and cook 1-2 minutes, or until starting to go crispy.

Flip and cook 1-2 minutes otherside until crispy.

Remove from oven/skillet, and spread over a thin layer of ghee with a knife.

Generously sprinkle za'atar over breads.

Wrap in foil until ready to serve.
Notes
note 1 - ghee is a clarifed butter found in a lot of Indian cooking. You should be able to find it in the Indian section of the supermarket or any Asian grocer.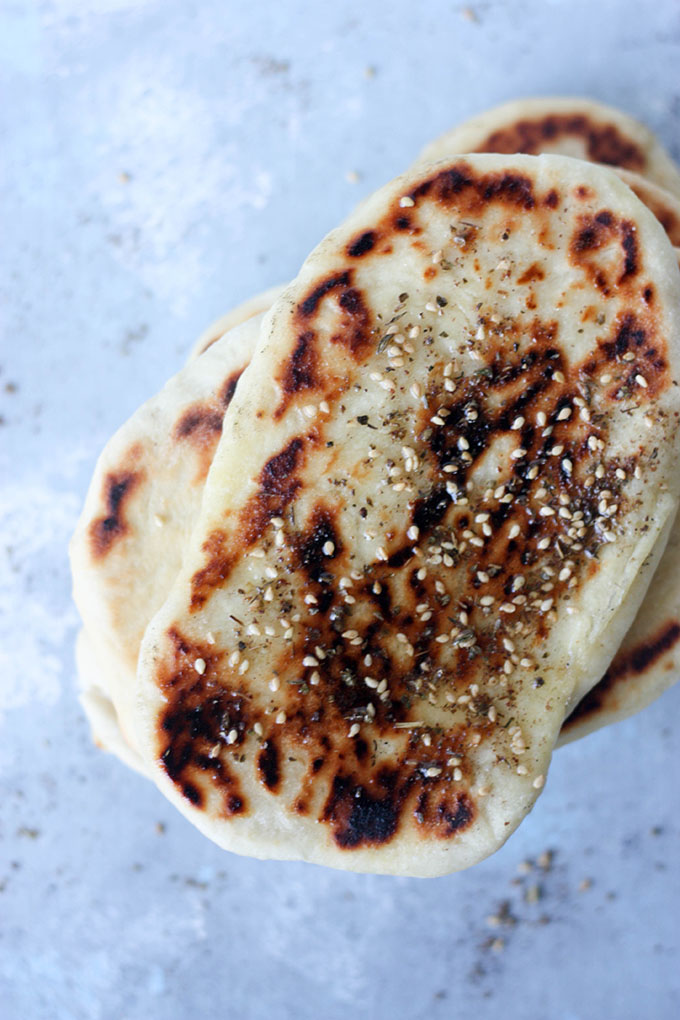 Join the discussion!
Have you ever cooked with za'atar? How was your Labor Day weekend? Get up to anything fun?