This chicken massaman curry is so simple to make, and tastes absolutely delicious. Slow cooked, creamy, spicy (ish) tender curry, served up with rice and naan. This is winter comfort food at its best! Oh and it's refined sugar free!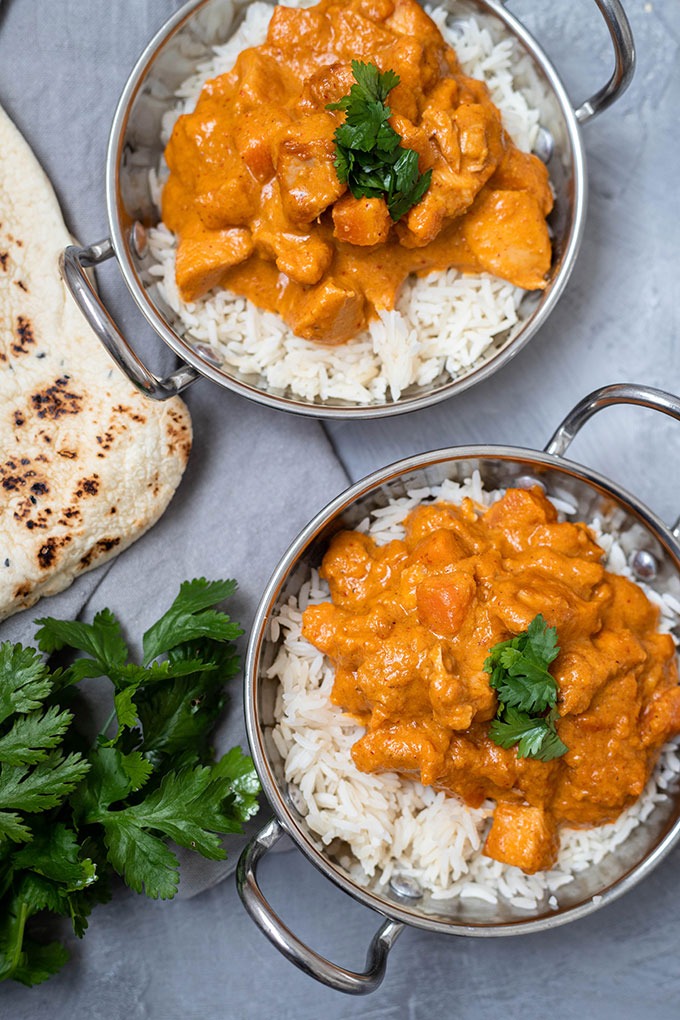 I don't even care that the weather is getting warmer here, even though it's spring it's still curry weather! I absolutely love curry, it's such a favourite for a hearty weeknight meal, or for a dinner party, so if you're looking for a creamy chicken massaman curry recipe, look no further, I got your back boo! This is one of my go-to recipes when I need something super easy to make!
The original recipe came from Sarah Wilsons Vietnamese Curry recipe from her book 'I Quit Sugar', and it's a healthier comfort meal without all the added crap from store-bought sauces. So in that sense, this is a healthier curry recipe!
The recipe itself is actually really easy and simple. And it can feed a crowd. Usually, this recipe makes enough for Adam and I plus one lunch, but I have adapted the quantities to feed up to 10 people before!
It is perfect for cozy winter and fall gatherings. Candles, a bottle of red, some fun board games, and a big hearty helping of curry. OMG YASS!
Even if you're looking for an easy weeknight meal for the family, this recipe is perfect.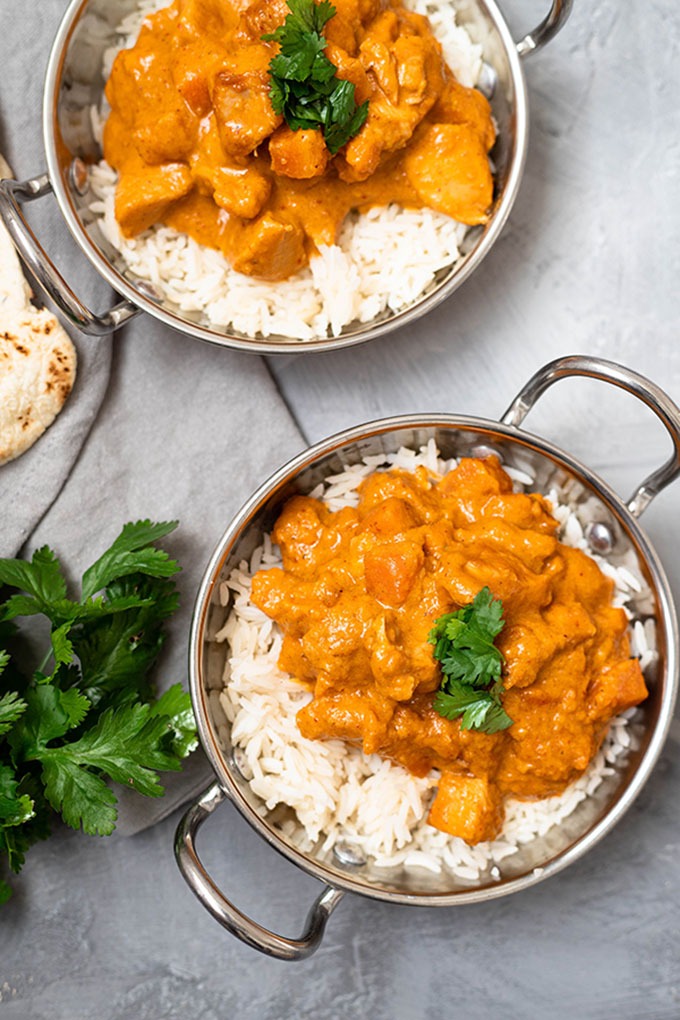 Recipe Tips - Chicken Massaman Curry
What ingredients are in the marinade?
There are only a handful ingredients that go into the marinade for this chicken curry. You will need to marinate the chicken for around 1 hour to allow for the flavours to enhance. I suggest you can do this in the morning, then come home to cook it later in the evening.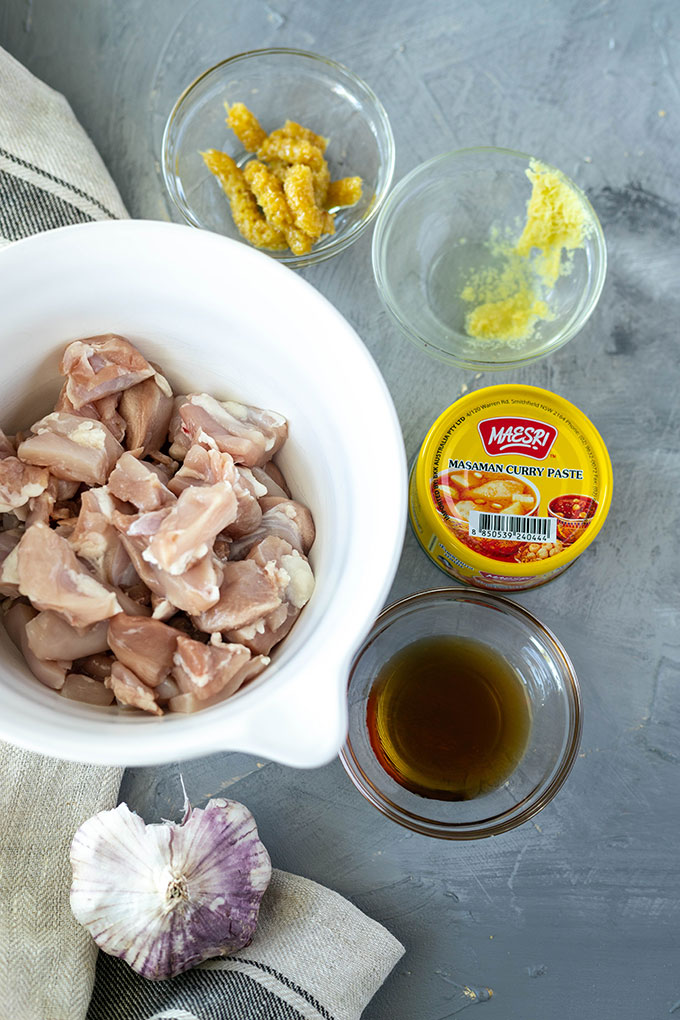 For the marinade you'll need;
Chicken - I use chicken thighs as I think they have more flavour, but chicken breast also works. Chicken should be cut into bite-sized pieces.
Massaman curry paste - we've always used the Maesri brand, and we love it. It's easy to find in Asian grocery stores, online or at most supermarkets here in Australia. This curry paste is really not spicy. You'll need a 114g tin (a 4oz tin, the small ones)
Lemongrass - I cheat and use the Gourmet Garden lemongrass. It's way easier than cutting fresh lemongrass and I find it less wasteful.
Ginger - pro tip, freeze your ginger with the skin on, then you'll find it is SO much easier to grate!
Fish sauce - I don't really have a substitute for fish sauce if you're allergic then you can probably omit it.
Garlic - fresh, that has been minced or very finely cut.
How to Cook Chicken Massaman Curry
When I first found this recipe, it called for a slow cooker, but I am kind of anti slow cooker so I opted for the stove top version. I use my large Dutch Oven and set it to a simmer over medium to low heat.
It'll take between 1-2 hours to cook, the key to knowing when it's ready is when the curry really starts to thicken. The sweet potato breaks down giving it a really gorgeous, smooth texture.
When cooking, keep adding stock or coconut milk if you want a runnier curry. If you wanted a thicker curry, add a thickening agent such as arrowroot or cornflour. I personally don't think it needs thickening agents though I prefer to rely on the sweet potato to thicken the curry.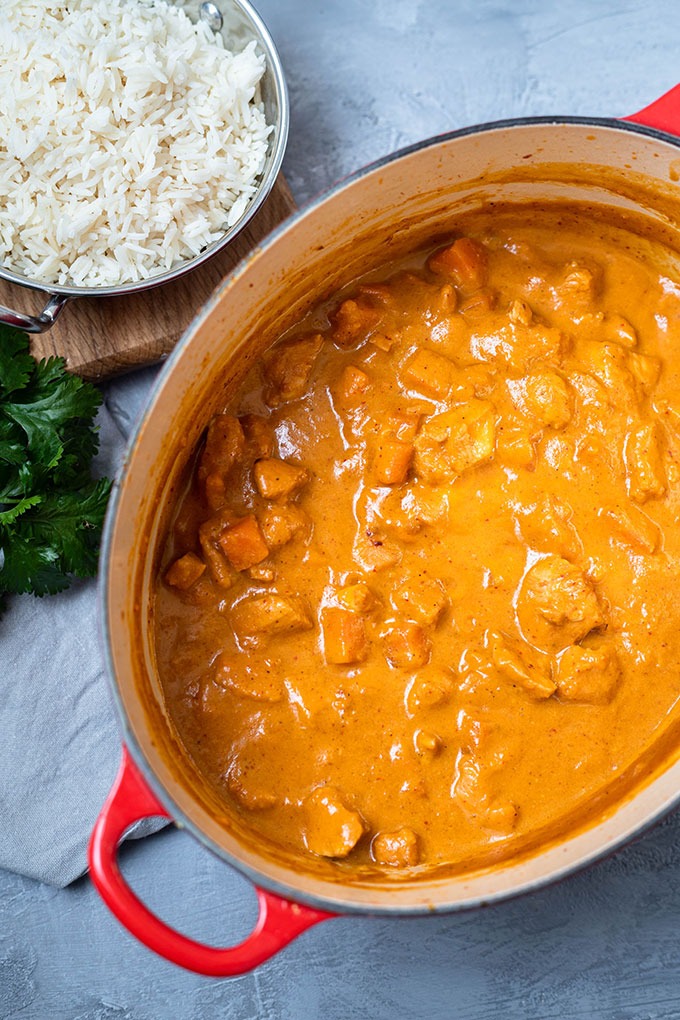 How to Serve A Chicken Massman Curry
Serve with brown rice, or wild rice, or jasmine rice, or any rice really. We also love it with our homemade za'atar naan bread! It will keep in the fridge for about a day, so any leftover curry would be perfect for lunch the next day.
Personally I haven't frozen this curry before so cannot comment on how well it would do in the freezer.
Happy cooking, and remember to tag me on instagram if you've made this curry recipe, and make sure to leave a review and a star rating! I love seeing your creations!!
Georgie x x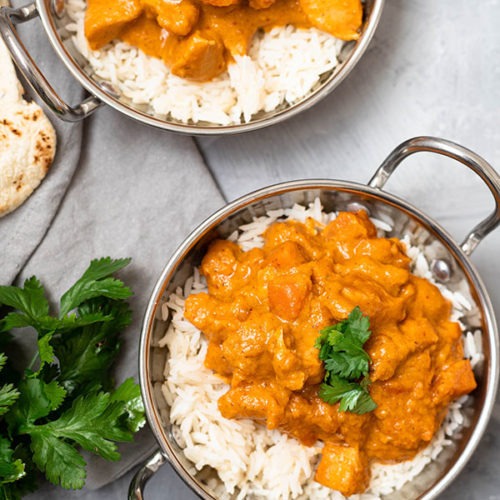 Chicken Massaman Curry
Simple, sugar-free, slow cooked and sensational! This chicken massaman curry is a winner! Great for an easy weekday dinner, or to cook for the masses!
Ingredients
4

chicken thighs

approximately 0.9lb/450g

2

tablespoon

lemon grass

minced

2

garlic cloves

crushed

2

tablespoon

ginger

fresh grated

2

tablespoon

fish sauce

4

oz

(114g tin) massaman curry paste

1

cup

chicken stock

14

oz

(400ml) coconut milk

1 tin

15

oz

(400g) sweet potato

diced (approximately 1 large or 2 small)

1

carrot

diced

2

teaspoon

olive oil

cilantro

garnish when serving

naan

to serve

jasmine rice

to serve
Instructions
Cut chicken into bite size pieces

Combine chicken, lemongrass, ginger, fish sauce, garlic and 2 tablespoons of curry paste in a large bowl. Mix well and marinade for 60 minutes.

Heat olive oil in a large fry pan or crockpot.

Add chicken and remaining curry paste and fry off until chicken is lightly browned - about 5 minutes

Add stock and coconut milk and stir until combined. Then add carrot and sweet potato.

Bring to the boil, the simmer partially covered for 45-60 minutes or until carrot and sweet potato are cooked. I tend to simmer covered for half the cooking time, then uncovered for the other half. If it's getting too thick, place the lid back on for remaining cooking time.

Serve with jasmine rice, naan and a garnish or cilantro
Afraid you'll miss a post? Subscribe today and receive updates on new posts, and bonus recipes and information! Follow along on Instagram, Facebook for food inspo and adventures, or see what I'm loving on Pinterest!
Want more comfort food recipes?