20 Fall Salad Recipes - seasonal, salad recipes perfect for fall entertaining or a Thanksgiving or Friendsgiving feast! Recipes that use seasonal, beautiful ingredients that celebrate the cooler weather and season changes! 
Who loves fall salads?! Me me me!!!! Salads don't have to be just for the summer time! In fact, there are so many beautiful fall salad recipes out there, I thought I'd share some of my favourites in a nice little handy roundup for you!
These 20 fall salad recipes are great for a fall dinner party, Thanksgiving, Friendsgiving, Christmas celebration or even just for an easy weeknight meal and meal prep! You'll find a variety of seasonal ingredients from pumpkin, to sweet potato, black rice, pomegranate and much more!
So let's jump to it!
20 Fall Salad Recipes
This recipe has it all! Roasted pumpkin, blood orange, chickpeas, leafy greens and a beautiful vinegarette. This fall harvest salad celebrates all things fall and doesn't it look beautiful!?
Not only is this salad pretty, but healthy too! I love squash and leafy greens in my salads in the fall. Plus cranberries for sweetness and pepitas for crunch!
Another gorgeous and healthy salad containing some of my favourite ingredients!
Fresh ingredients from your farmers market! Nothing beats a Panzanella salad in the fall!
How gorgeous is this! Have you ever cooked with wild rice before? This wild rice bowl looks so fresh and healthy, and hearty and cozy at the same time!
Farro is another favourite of mine for fall! It's hearty and filling! How tasty does this fall farro salad look with apple, beetroot, kale and feta!
Nothing beats a fall slaw!!! Combining my favourite fall ingredients into a fresh and healthy salad!
Another favourite with a seasonal twist! This fall panzanella salad combines fresh flavours and adds an apple for that cozy fall feel!
Another beauty utilising wild rice! This salad combines fresh flavours of roasted butternut squash, combined with apples, cranberries and crunchy pecans!
***Want to PIN this post for later? Click HERE to save the recipe to your favourite Salad Board on Pinterest. ***
Everyone needs a good brussels sprouts salad in their lives!!! This is a simple, yet delicious salad that is so easy to make! Perfect for a Thanksgiving feast.
Anything with cheese and I am SO there! How gorgeous and colourful does this carrot salad look!?
Now THIS is a colourful salad! Persimmons are in abundance in the fall so why not grab some and make this salad for something a little different?
Combining some of my favourite flavours of fall! This apple, arugula almond has is all! Crunchy almonds, sweet apple, peppery arugula and citrus notes from the orange.
Nothing says cozy like roasted sweet potato and warm quinoa! This sweet potato quinoa salad is hearty, healthy and filling! Plus it's so pretty!
Figs are beautiful this time of year!! Add in some arugula, candied walnuts for crunch, dried cherries and gorgonzola and you've got yourself a winning salad!
I love warm salads in fall and winter and nothing beats roasted butternut squash! Plus I am so down for anything with roasted chickpeas!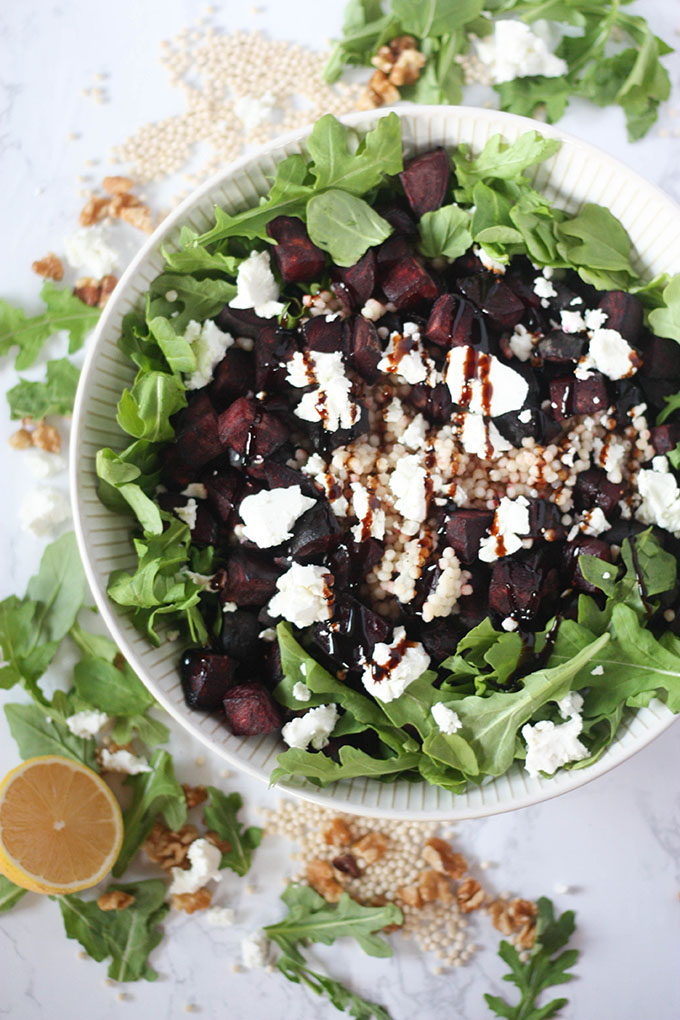 Warm beetroot mixed with creamy goat cheese! Nothing beats some beats for a beautiful fall salad!
Roasted delicata squash looks so pretty on a plate! Pair it with a creamy maple dressing and you've got fall on a salad plate!
This gorgeous apple and persimmon salad has it all! Crunchy spicy croutons, cheese, crunchy apple, earthy farro and spicy arugula! And it's so pretty too!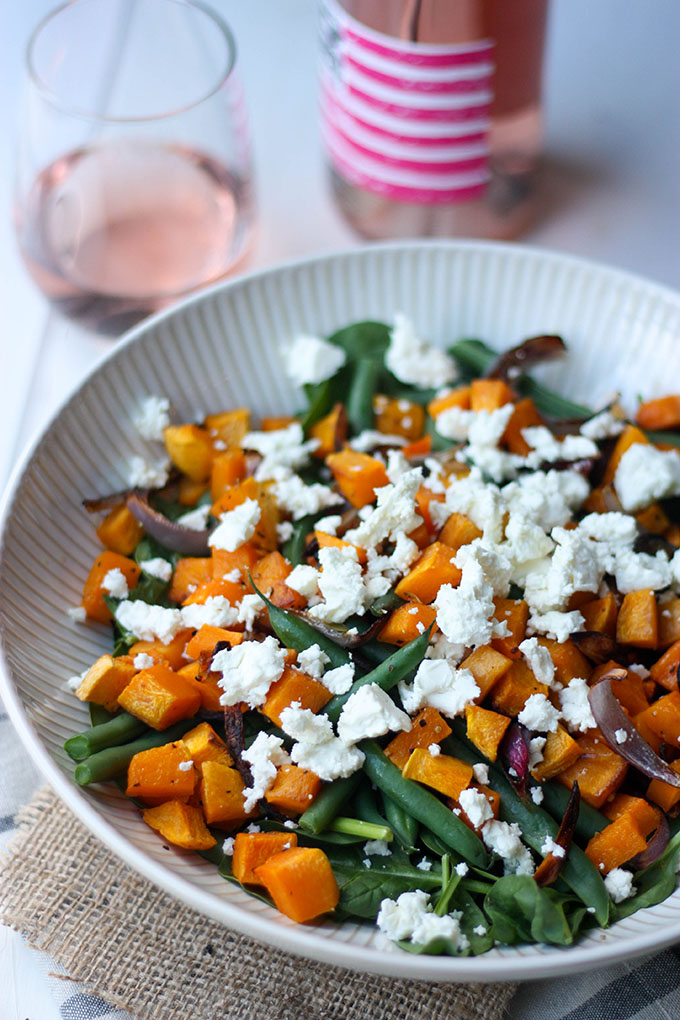 Creamy feta mixed together with crunchy al-dente green beans, crispy roasted squash and red onion and brought together with an ultra creamy honey mustard dressing.
***Want to PIN this post for later? Click HERE to save the recipe to your favourite Salad Board on Pinterest. ***