Tomato Crostini with marinated feta – a beautiful and elegant appetizer for the fall. Slow roasted burst tomatoes topped on crispy baguette, then topped with creamy herb and olive oil feta. Appetizers don't get much better than this!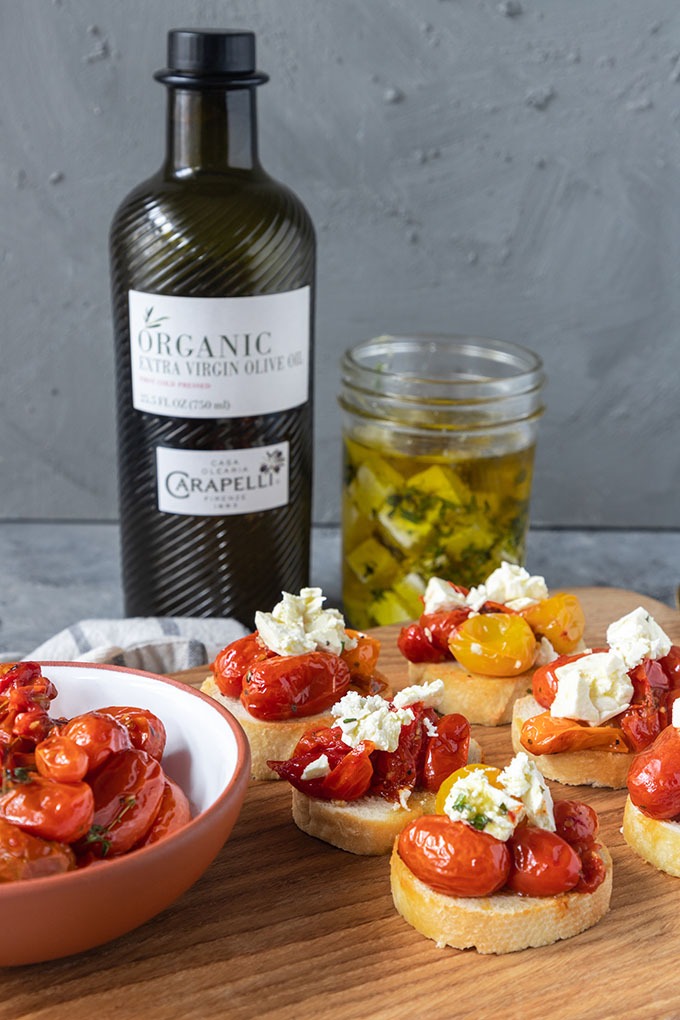 Thank you Carapelli Olive Oil for sponsoring this post. For more information and a store locator, please visit CarapelliUSA.com and be sure to check out Carapelli's social channels: Facebook and Instagram.
Picture this. You're flustered, looking for the perfect appetizer for an upcoming dinner party. You want the recipe to be seasonal, but you're running out of ideas and need something delicious that your guests will love! You've got some time on your hands for cooking and preparation, but still don't want to spend hours in the kitchen cooking.
The solution? This gorgeous tomato crostini with herbed marinated feta!
As you may well know, fall is one of my favourite times of the year to entertain. I love having people around for cozy dinner parties! I light my favourite fall candle, get out a bottle of red, light our fire, and get cooking with some fall comfort foods!
While I have a huge repertoire of main meals for fall entertaining, I sometimes struggle to find recipes for appetizers that are both easy, and quick to put together. As well as quick and easy, I am always looking for food that uses seasonal and high-quality ingredients, which is why I was so excited to partner with Carapelli for this recipe.
This recipe for roasted tomato crostini with marinated herb feta is my new favourite appetizer for the fall. You've got slow roasted burst tomatoes, topped with creamy herb marinated feta, and you know what makes all the difference – the olive oil that I used.
Olive oil can make or break a dish when it's the star ingredient, which is why I love using the best quality olive oil available to make this tomato crostini dish.
Carapelli is a brand that I recently discovered and grew to love immediately! First and foremost, their bottle is gorgeous on the outside and functional – the easy pouring spout makes life way easier and mess non-existent. As well as the functionality of Carapelli, the flavor is out of this world good.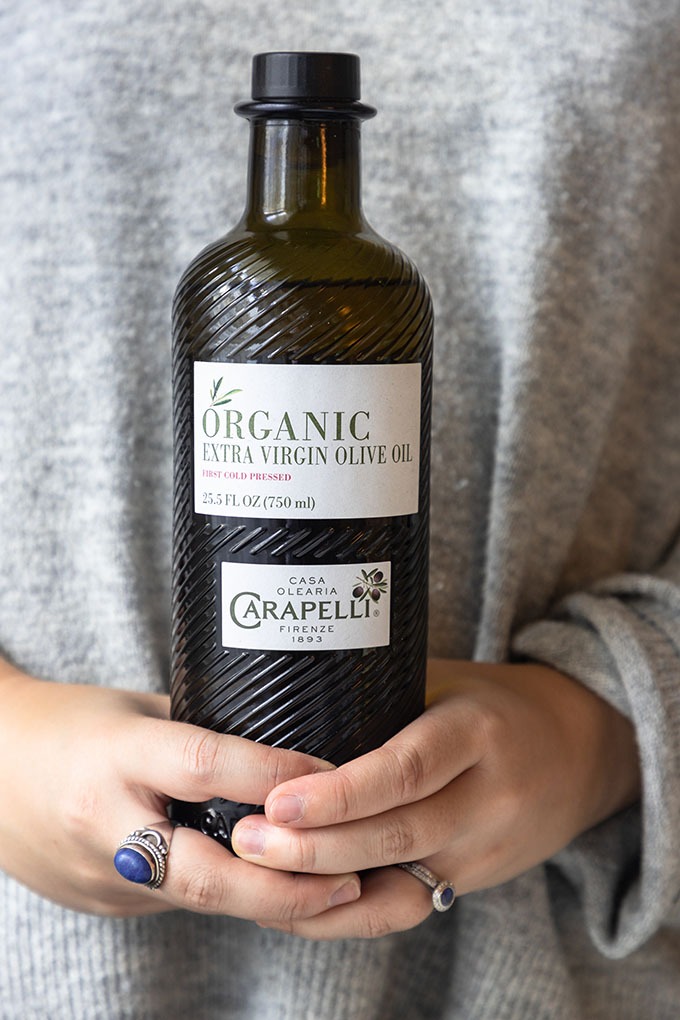 Carapelli excels in making olive oil, they've been expert crafters of extra virgin olive oil since 1893. Carapelli Olive Oil offers an exquisite flavor coming from the use of high-quality olives that are harvested with love and care.
Their Organic Extra Virgin Olive Oil is fresh and earthy with beautifully balanced flavours. The flavour is not at all overpowering, which is why it was the best olive oil to use for the marinated feta cheese in this recipe. When it comes to a recipe like this, you have to use the best quality ingredients out there, after all, the olive oil is the star of the recipe! Carapelli will take your recipe to next level gourmet!
Tomato Crostini Recipe Notes
How do you marinate feta?
Marinating feta is a very simple process involving immersing feta cheese in olive oil, lemon zest, garlic and fresh herbs. Once left overnight, the oil and the herbs infuse into the feta, giving it a beautiful fresh flavor.
What herbs can you use?
It is up to personal preference, but for this recipe, I loved the flavor combination of thyme, oregano and chives. Rosemary would also make a good option for a stronger flavor.
How long does it take to marinate?
For best results, I'd leave it overnight.
How can you store marinated feta?
I have done some research, and have found many sites that say you can store marinated feta overnight in a cool, dry place, however, the germaphobe in me can't bring myself to do that, so I stored it overnight in the fridge. Once I used it, I simply resealed the jar. The feta will last several weeks if you don't all finish it at once.
Does the olive oil solidify?
Short answer – yes. This was a small price to pay for keeping it in the fridge, however, all I needed to do to bring it back to workable form was to leave it to come to room temperature, until the olive oil went back to liquid form. This took around 30-45 minutes.
How do you get your tomatoes so soft and squishy?
The key to beautifully burst tomatoes is slow roasting them in the oven for 1 hour. I roasted mine in Carapelli Organic Extra Virgin Olive Oil and added a touch of salt and pepper and some fresh thyme leaves. Key tip – use a knife to poke a hole in some of the tomatoes that didn't explode. That way you avoid tomato explosions down your shirt when you bite into them!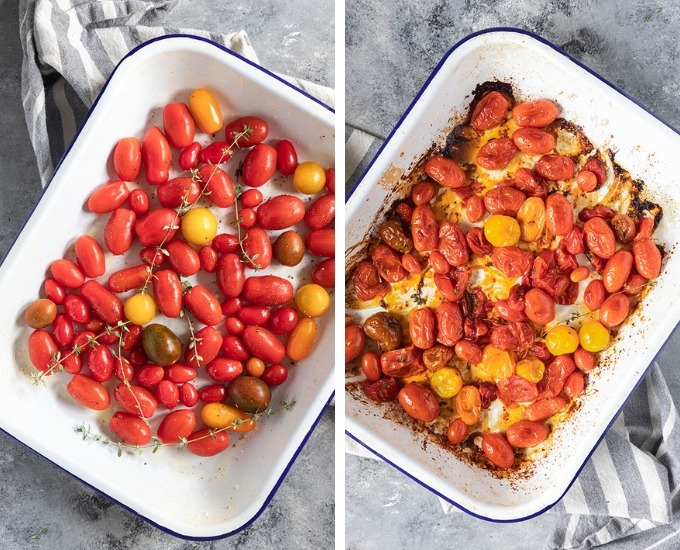 What type of bread do I use?
For this recipe, baguette was the easiest option. It is easy to slice and produces the perfect little bite-size pieces. I lightly toasted it in the oven for around 5-7 minutes to crisp it up just a little.
How do you serve this roasted tomato crostini?
Add some of the burst tomatoes onto the bread, then top with a little feta and a drizzle of the herbed olive oil from the jar! Perfection!
This recipe for slow roasted tomato crostini will elevate your fall dinner party appetizer! Nothing beats quality ingredients when it comes to making a killer appetizer for your friends!
Georgie x x
Tomato Crostini with Marinated Feta
Slow roasted, burst tomatoes and herbed marinated feta on a crunchy baguette. This tomato crostini with marinated feta is a gorgeous fall appetizer.
Ingredients
Marinated Feta
8

oz

feta cheese

1

cup

Carapelli Extra Virgin Olive Oil

1

teaspoon

chopped chive

1

teaspoon

chopped oregano

1

teaspoon

chopped thyme

1

teaspoon

lemon zest

1

garlic clove

crushed
Tomato Crostini
1

lbs

grape tomatoes

2

thyme sprigs

1

baguette loaf

1

tablespoon

Carapelli Extra Virgin Olive Oil
Instructions
Marinated Feta
Dice feta into 1 inch/2 cm cubes

Place feta into a large jar. Add herbs, lemon zest and garlic


Top with the Carapelli Organic Extra Virgin Olive Oil


Place in refrigerator overnight.


Bring it to room temperature 45 minutes before serving.

Tomato Crostini
Preheat oven to 350F/180C.

Place tomatoes in an oven proof tray, drizzle with olive oil and add thyme sprigs and salt and pepper.


Roast in the oven for 1 hour until the tomatoes are burst.


If there are some tomatoes that haven't burst, prick them with a knife to let the air out.


In the last 5 minutes of cooking the tomatoes, add the bread to the oven to crisp up.


To assemble, add a spoonful of tomato onto the crostini, and top with feta and a drizzle of the herbed olive oil from the jar.

***Want to PIN this recipe for later? Click HERE to save the recipe to your favourite Appetizer Board on Pinterest. ***
If you want more information about Carapelli Olive Oil, or to find a store locator, visit CarapeliUSA.com. As well as their Organic Extra Virgin Olive Oil, you can also pick up their beautiful Oro Verde Extra Virgin Olive Oil and Unfiltered Organic Extra Virgin Olive Oil.
If you loved this recipe, I'd love for you to leave a comment and review! Also, don't forget to snap a pic of your finished recipe and share it on our Instagram account using the hashtag #thehomecookskitchen or tagging me @thehomecookskitchen. I'd love to see your creations!
Afraid you'll miss a post? Subscribe today and receive updates on new posts, and bonus recipes and information! Follow along on Instagram, Facebook for food inspo and adventures, or see what I'm loving on Pinterest!
I was selected for this opportunity as a member of CLEVER and the content and opinions expressed here are all my own.