Asian Noodle Salad - this salad is enough to feed an army...of about four to six. Packed full of veggies and smothered in the most divine dressing, this Asian noodle salad is a total crowd pleaser! 
I say epic because I mean it. This Asian noodle salad is epic. It has veggies, it has noodles and it has one of THE BEST Asian dressings I have probably ever had.
I had an interesting conversation the other day with some students, who were asking me what I miss about Australia, and what foods we have. I pointed out to them that Asian cooking was huge, and was something we really miss. While we get amazing Mexican food in the states, I've found that the quality of good Asian cuisine is lacking. Which (not in a bad way) just forces us to make up our own at home!
Not sure if I've mentioned this, but Adam is a badass cook as well. Both of us make a pretty good team. Adam is the master of balance when it comes to Asian flavours, especially in Thai cooking which is why I always get him to be the salad dressing taste tester.
We both love just how fresh and simple Asian food is, and how flavoursome the food is with just a few simple ingredients.
Asian Noodle Salad Recipe Notes
The Veggies
The vegetables used in this recipe are very, very simple. I tend to go with red and yellow peppers, mushrooms, spring onion, broccoli, snow peas, pea shoots/snow pea sprouts and cilantro.
The broccoli and snow peas need to be very lightly cooked before serving. There are two ways you can do this. Either by steaming them over a pot of boiling water for 4-6 minutes or by blanching them. To blanch your vegetables, simply put them in a heatproof bowl, and pour over boiling water. Leave the broccoli and snow peas for 3-5 minutes, until cooked but crunchy. Strain the vegetables, then immediately run under cold water to stop the cooking process.
Something that I've had a hard time finding in America are pea shoots or snow pea sprouts. If you cannot find them, you can either omit them or use microgreens. Snow pea sprouts are everywhere in Australian supermarkets, but a little harder to come by. I found my microgreens at Trader Joes, or have seen them at my local farmers market.
The Noodles
Something I have also had a hard time finding was the right egg noodles, but I have some substitutes that can be used for the same great taste. In Australia, I use Hokkien Noodles. They're kind of like thick egg noodles and are absolutely delicious. In America, I have found soba noodles to work just fine. These are the yakisoba noodles you find in the refrigerator section of the supermarket.
You can also find something similar at a local Asian supermarket. Portland, in particular, has a lot of great Asian markets out in SE Portland and I have found a variety of different noodles there. Whatever you get, make sure they are the noodles you find in the fridge!
To cook the noodles, you simply pour over boiling water, use a fork to separate the noodles and leave until they are al dente.
The Dressing
Unlike a lot of Asian flavours, this dressing uses balsamic vinegar which I find quite surprising. I've never used balsamic vinegar in Asian cuisine before, and I must say, I am pleasantly surprised. The dressing is a combination of simple Asian style sauces and oils. Sweet chilli sauce, soy sauce and sesame oil are all very easy to find in supermarkets or Asian grocery stores.
You'll need to balance out the flavours of the dressing. Too much balsamic vinegar will make your dressing sour, and too much sweet chilli and sugar will leave it too sweet. You'll want to balance out the acidity and the sweetness by adjusting those two ingredients. A dressing such as this Asian dressing is dependent on taste, so make sure you keep taste testing until it is to your liking.
Not only is this salad versatile, it is also ridiculously easy to make. All you gotta do is essentially, cook the noodles, blanch the greens, chop the rest of the veggies, make the dressing and you're done. No fuss and minimal washing up - winning!
I might add, that this recipe was given to my Mum many, many years ago, and it has been one of our family favourites. I love that this salad is super versatile, you can use any vegetables you want. But I wouldn't recommend changing the dressing, because whoever came up with it, nailed it.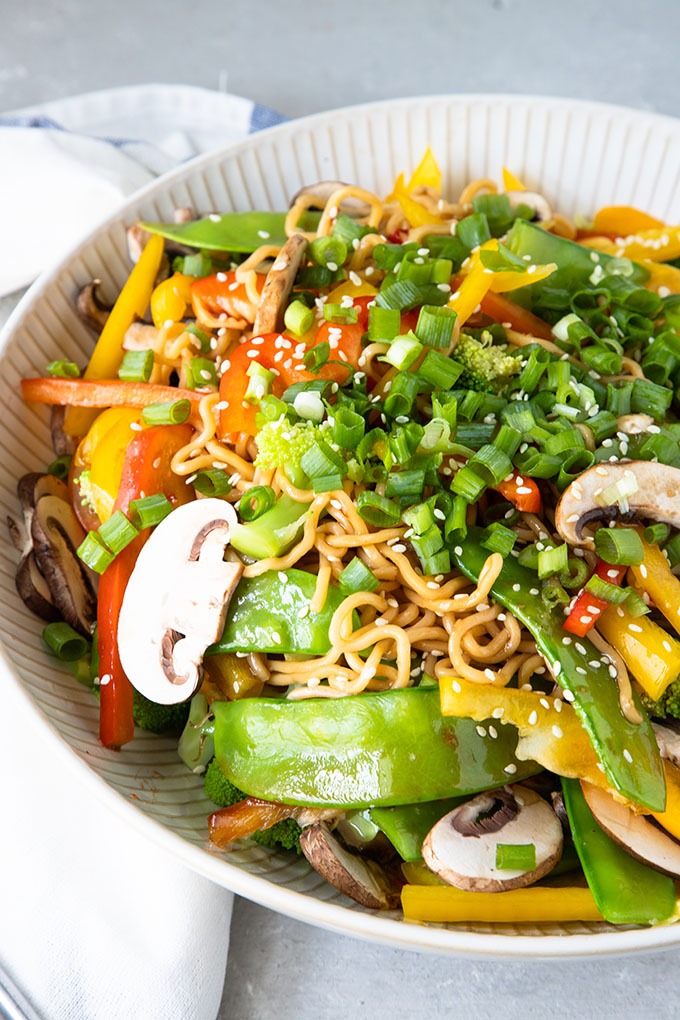 This salad is also perfect for a crowd as, it feeds a lot of people, and is quite filling given the noodle situation!
So if you, like Asian cuisine, like salads, like ripper dressings and like minimal washing up and no fuss dinners, you're onto a winner with this one!
Georgie x x
Epic Asian Noodle Salad
Delicious vegetables and noodles smothered in a tangy, sweet and sour Asian dressing. This is the very best Asian noodle salad you'll ever make at home!
Ingredients
Salad
17.5

oz

egg noodles

note 1

5

oz

snow peas

1

head

broccoli

1

red pepper/capsicum

finely sliced

1

yellow pepper/capsicum

finely sliced

5

mushrooms

finely sliced

handful

snow pea sprouts/pea shoots

or micro greens

3

spring onion/green onion

finely sliced

¼

cup

cilantro/coriander
Dressing
¼

cup

sweet chilli sauce

⅓

cup

soy sauce

¼

cup

balsamic vinegar

1 ½

tbsp

sugar

1

tbsp

sesame oil

⅓

cup

vegetable oil
Instructions
Salad
Cook noodles according to instructions on the packet. (note 1)

Chop broccoli, capsicums, mushrooms, spring onion and roughly chop coriander.

Place broccoli and snow peas in a steamer and lightly steam for 3 minutes OR place broccoli and snow peas in a ceramic bowl or saucepan and pour boiling water over the vegetables. Leave for 3-5 minutes, then immediately strain and run them under cold water.

Drain noodles and place in a large salad bowl.

Top with capsicums, snow peas, broccoli, mushroom
Dressing
Place ingredients in a jar and shake

Adjust flavour accordingly

Add dressing to noodle salad and toss well, coating all the vegetables

Top salad with snow pea sprouts, cilantro and spring onion and serve
Notes
note 1 - I used Hokkien noodles in the past, they are easy to find in most Australian supermarkets in the fridge section. In America, I haven't found them in supermarkets yet but got the equivalent at an Asian grocery superstore in Portland.  If you can't find them, soba noodles will do fine (see the image in post)
note 2 - to blanch broccoli and snow peas, bring a large pot of water to the boil. Add veggies and boil for about 2-3 minutes (for max crunchiness). Take off and immediately run under cold water to stop the cooking process.
Nutrition
Calories:
832
kcal
Carbohydrates:
122
g
Protein:
26
g
Fat:
28
g
Saturated Fat:
16
g
Cholesterol:
104
mg
Sodium:
1325
mg
Potassium:
1142
mg
Fiber:
10
g
Sugar:
23
g
Vitamin A:
2555
IU
Vitamin C:
252
mg
Calcium:
148
mg
Iron:
5.3
mg
If you loved this recipe, I'd love for you to leave a comment and review! Also, don't forget to snap a pic of your finished recipe and share it on our on our Instagram account using the hashtag #thehomecookskitchen or tagging me @thehomecookskitchen. I'd love to see your creations!
Afraid you'll miss a post? Subscribe today and receive updates on new posts, and bonus recipes and information! Follow along on Instagram, Facebook for food inspo and adventures, or see what I'm loving on Pinterest!