Date Night Meat and Cheese Board, aka the perfect excuse to crack open the wine, nibble on some munchies and have a cheap and easy date night at home! I've perfected my favourite meat and cheese board for you today, providing tips and tricks on how to create a beautiful, simple elegant charcuterie at home with minimal fuss. 
If I could eat one thing every night for dinner, it would be a meat and cheese board. Hands down, my absolute favourite easy, quick but elegant dinner. Paired with some delicious red or white wine, I am in foodie heaven! Not only is this meat and cheese board super easy to make, but it's also a fun way to have a cheap and easy date night!
In an effort to save more money lately, Adam and I have cut back on the number of times we eat out at restaurants. While I love not having to cook at least once a week, it does get pricey eating out every week compared to eating at home. Just because we don't eat out as much anymore, doesn't mean we still like to indulge once in a while and share something special. This provides the perfect opportunity for us to share our easy date night meat and cheese board for two.
You're probably wondering what makes this meat and cheese board so special, given the hundreds and thousands found on google! Well, lemme tell you! I've tailored this meat and cheese board to be perfect for exactly two people. There is the perfect amount of cheese to meat ratio, plus some tips on how to get variation even though you're reducing your quantities.
This meat and cheese board is specifically tailored for a date night, girls night in or even if you need a smaller appetizer for a dinner party, but because I love THCK, and I love my husband, we're focusing on the date night element!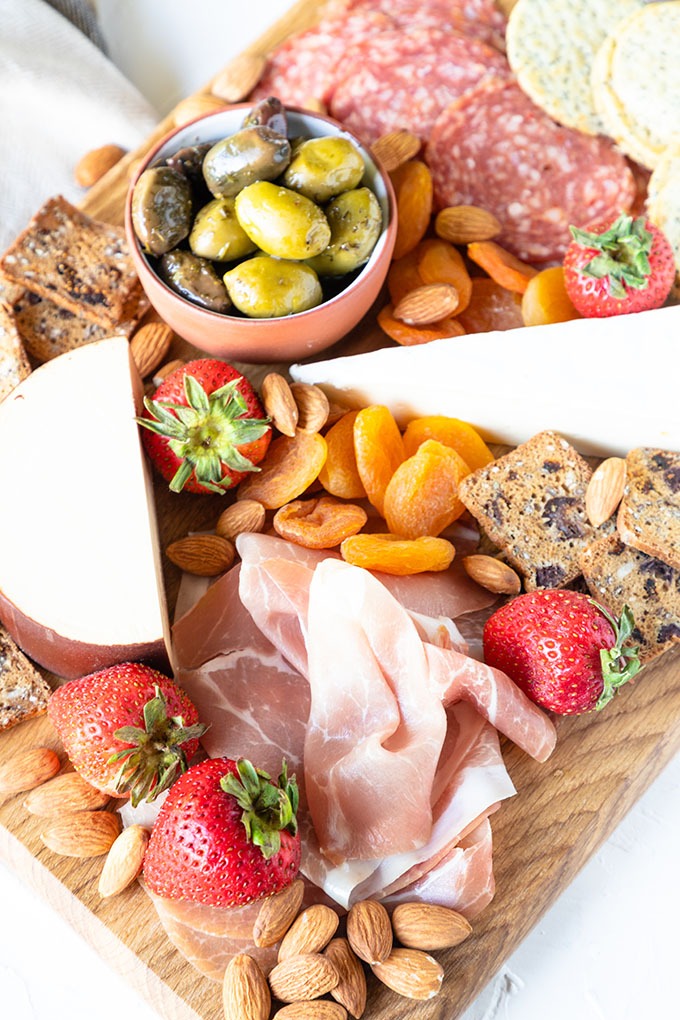 **Want to PIN this recipe for later? Click HERE to save the recipe to your favourite Appetizer Board on Pinterest. *** 
The Perfect at Home Date Night
To me, the perfect at home date night includes two things - really, REALLY good food, and wine. Preferably Pinot Noir! I love being able to spend time with Adam cooking together, chatting about the week and listening to music. It's so relaxing, and a good chance to really catch up without the distractions of a phone or television.
Sometimes date night involves my favourite chicken massaman curry or lamb shanks, other time a beautiful bucatini all'amatriciana for two, and other times just a super simple, meat and cheese board, especially in the summer months when it's way too hot to cook!
Whatever it is for you, I strongly believe that there is such an ability to connect with someone, through food and wine, and really taking the time to carefully prepare something that can be enjoyed together!
Date Night Meat and Cheese Board
As far as I'm concerned, nothing is more easy, affordable, quick and elegant than preparing a meat and cheese board together for date night. It's a no-brainer. Not only is it quick, but it's completely customisable depending on your individual tastes!
For this particular charcuterie board, I bought all my ingredients from Trader Joes! I love their selection of meat and cheeses, and they are probably more affordable than your regular supermarkets or gourmet food stores. For my Australian buddies, I would have bought this at your local Woolies or Coles!
For this particular platter, I wanted a lot of variety, without going overboard on the masses of food. Given, you probably will have leftovers for another night as it can sometimes be hard to buy cheese and meat in smaller quantities, but the actual amount you're putting on your board is perfect for two.
The Cheeses
I love cheese, which is why I always opt for two for my meat and cheese board. I love including one creamy cheese and one hard cheese. For two people, you'll need about 4oz-6oz/110-170g of cheese. The amount really depends on how hungry you are, but from experience I know I can personally eat a lot of cheese!
When it comes to picking cheeses, pick two very different ones for variety. Personally, I love brie and a smoked cheddar or beer cheddar. If I was in Australia, I probably would have bought out the Mersey Valley cheese instead of the smoked cheddar! I have a distinct hatred for blue cheese, so naturally, that was never an option for my board!
You'll find that a lot of brie and cheddar cheeses come in larger wheels or chunks. If I get a wedge of brie, I usually slice it down the middle and have half for my cheese board, and use half for another day. Same goes for my cheddar. It was only sold in rounds for around $3.40, so I just cut it in half.
The Meats
For sure, one of my go-to meats is prosciutto. I adore prosciutto and while it can be a little on the pricier side, I think it goes really beautifully with the cheese I generally choose. I use around 2-3oz/55-85g and tend to buy it by the packet. I still go full Australian mode when I purchase items from the deli and still haven't quite figured out my grams to oz conversion, so I tend to stick to pre-packaged meats (that's ridiculous isn't it!).
For the other meat (again, bringing in variety), I tend to go for a hard salami. You can either get this in the deli at supermarkets, or in the packaged meat section of Trader Joes or any local supermarket. I freaking love salami, so I usually put out 4 slices per person! Keeping in mind that I eat a LOT! Use your judgement depending on how hungry you are!
The Crackers/Biscuits
I love using two different types of crackers/cheese biscuits, and generally put out a small handful of each. If you really want to be picky, depending on the size of your crackers you're probably going to eat 8-10 each with the cheese! Cracker choice is entirely dependent on your tastes. Personal I love these fig and olive crisps or the rosemary crips from Trader Joes because they're super crunchy! I also like adding just regular wafer crisp crackers or water crackers for something a little plainer.
The Fillers
Every charcuterie boards need 'fillers', or foods to fill in the gaps. For this, I love marinated olives, dried fruit, fresh fruit and some kind of nut. I usually put out around 8-10 marinated olives (you can also get them from Trader Joes for cheap) into a little dish, then add some seasonal fruit. For this particular board, I used fresh strawberries because I had some in my fridge already. Fresh figs, pear, apple, peach or plum would also work beautifully for a meat and cheese board.
As well as fresh fruit and olives, I love dried apricots and nuts for some sweetness and crunch. These are usually just put in to fill up the gaps on your cheese board to make it look fuller and prettier!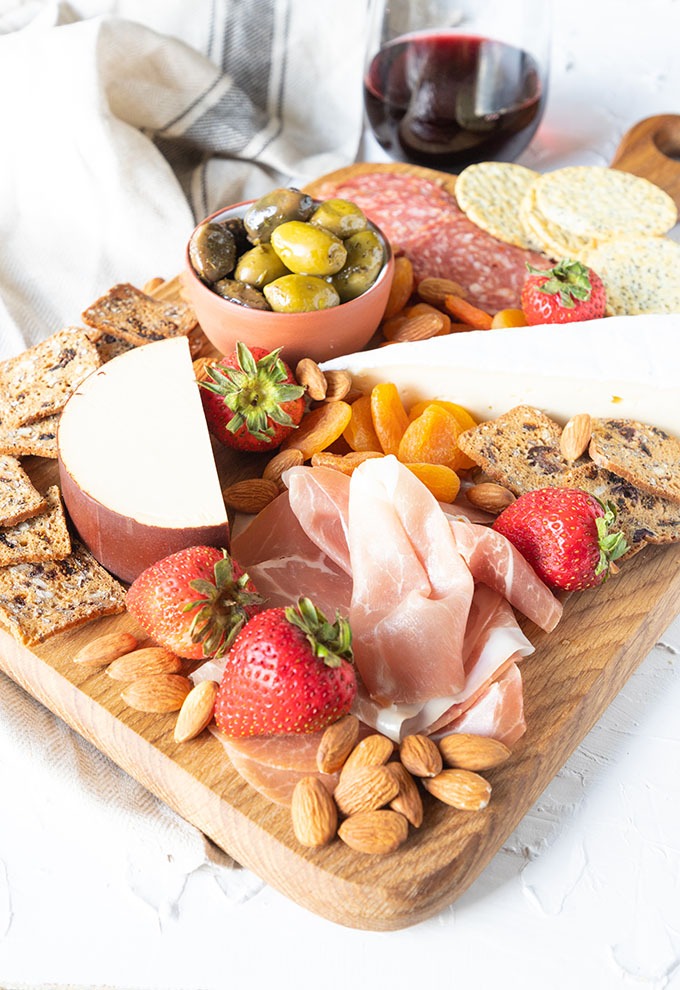 How to Assemble Your Meat and Cheese Board
Assembly is an important part of creating the perfect date night charcuterie board! It's gotta look pretty and photo-worthy (obviously!).  I ALWAYS use wooden boards for my charcuterie plates because I think they just look gorgeous! The one I used for this particular post was one I found in Latvia, and it measures around 10"x14"/25x10cm. Given it's not completely square, but you get the rough measurements! I love the square ones, in particular, especially if it had a handle, it makes it that much easier to carry!
As well as the board itself, you'll need a little dish for the olives, and two knives for the cheese!
I will say one thing about knives and boards, however, be VERY CAREFUL about cutting your cheese if you have a really nice or special board. We've scratched so many boards by accidentally cutting too hard. I know this sounds silly, but there is nothing worse than seeing a massive cut in your favourite board. So be gentle when you cut your cheese or meats!
Here are the following steps I use to create my charcuterie board! And don't forget to check out the photos too!
Place your cheeses on opposite sides of the board
Arrange your meats on the opposing sides. You should have some space in the middle and around the edges.
Next place, your olives either in the middle of the board or to one edge of the board. Add some of the apricots around the centre of the board too.
Place your crackers around the edges close to the cheeses and meats.
Add your fresh fruit in major gaps to start filling in the board.
Finally, add nuts to fill in the smaller gaps.
And there you have it! The perfect date night meat and cheese board for two!
This is really an affordable and easy way to celebrate a date night together! Meat and cheese boards are always so elegant and fancy with minimal effort! Paired with your favourite wine, and maybe some chocolate to finish off, in my opinion, you've created a perfect night!!
So happy date night, and I'd love to know - what's your ideal at home date night look like? Or girls/boys night in?
Georgie x x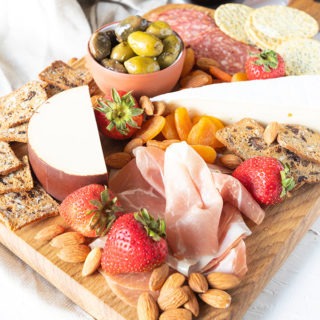 Date Night Meat and Cheese Board
The perfect date night for food and wine lovers. This meat and cheese board is perfect for two. An elegant, affordable and easy way to enjoy a meal at home with your SO!
Ingredients
4

oz

cheese

pick your favourite cheeses

2

oz

prosciutto

8

slices

salami

10-15

of your favourite crackers

1

handful

dried apricots

1

handful

of your favourite nuts

I love using salted cashews

6

strawberries

or other fresh fruit

10

olives
Instructions
Place your two kinds of cheese on the board at opposite ends of the board.

Add the prosciutto and salami at opposite ends of each other and the cheese.

Add your olives and apricots to the centre of the board.

Place the crackers around the outer edges of the board.

Fill in the gaps with the fresh fruit, nuts and more dried apricots.
Notes
The nutrition information is only roughly calculated. It will change depending on the type of foods you use and the amount. 
**Want to PIN this recipe for later? Click HERE to save the recipe to your favourite Appetizer Board on Pinterest. *** 
Afraid you'll miss a post? Subscribe today and receive updates on new posts, and bonus recipes and information! Follow along on Instagram, Facebook for food inspo and adventures, or see what I'm loving on Pinterest!