So basic, but in a good way! This granola with cinnamon & honey is perfect! 
*NEW OLD POST ALERT*
Yeah, that probably doesn't make any sense, but I'm in a weird mood at the moment (if you saw my random, rant about how good 'Lion' is on my Insta stories yesterday afternoon!)
I decided to give you a super easy, simple breakfast recipe, because I realised I didn't have too many breakfast recipes on hand, and this one was too good not to miss.
Yes, this recipe is on the healthier side, and I am totally cool about that.
I love food. Let's face it. Whether it's granola, or a huge pasta with a glass of wine, I am all about the balance.
We've been really into the granola lately. Adam has been off site working and it's really hard for him to get healthy meals. So (and might I add, best wife ever), made him a huge batch of granola, and lunches for him to have at work to avoid temptation of crappy food.
Anyway, back to the granola.
I have a couple of granola recipes to satisfy your granola cravings, like our chocolate granola but there is nothing like my original granola recipe to start the day.
This granola with cinnamon & honey, is, well kind of self explanatory.
It combines the powers of cinammon which I discovered is really freaking good for you, and honey for added sweetness. Add nuts, oats and coconut for crunch and 'bob's your uncle.'*
You can also make this granola with cinnamon & honey to your liking. Add dried cranberries or apricots, brazil nuts, walnuts, whatever you please.
This granola keeps really well too - simply store in an air tight container and you've got yourself breakfast for about a week!
So, I hope you like our revamped recipe, next on the list...not entirely sure, but it will be delicious for sure! Georgie x x 
*'Bob's your Uncle' is an Australia/British saying. Not idea where it originated from, but transfers loosely to 'you got this/you're finished/you're done/it's easy/you're doing alright. I don't know who Uncle Bob was, or who's Uncle Bob really was... but you get my drift.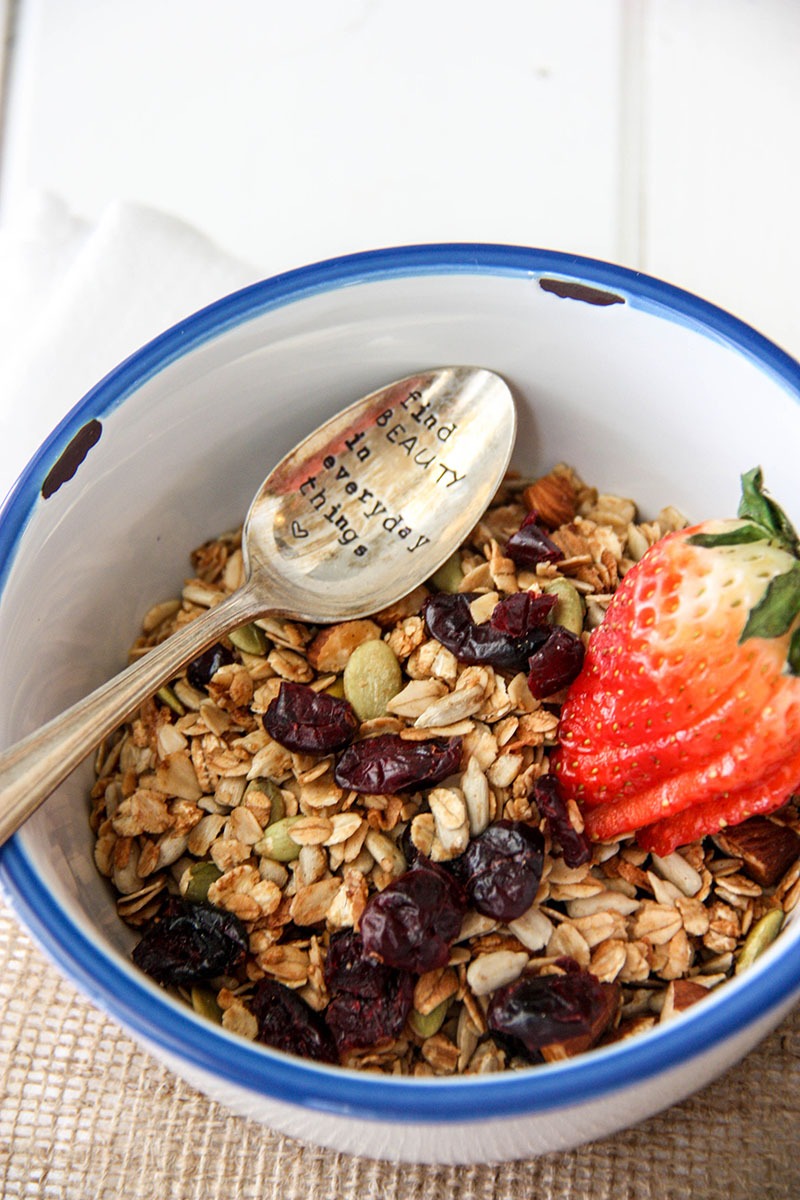 Basic Granola with Cinnamon & Honey
This basic granola with cinnamon & honey is anything but basic! Perfect breakfast for busy people on the run!
Ingredients
2

cups

rolled oats

½

cup

almonds

roughly chopped

½

cup

shredded coconut

½

cup

sunflower seeds

½

cup

pepitas

½

tso

ground cinnamon

2

tbsp

honey

2

tbsp

coconut oil

Toppings of choice - yoghurt

fresh fruit, cranberries, dried fruits
Instructions
Preheat oven to 300F/150C

Combine oats, almonds, coconut, sunflower seeds, pepitas and cinnamon in a large bowl

Combine honey and coconut oil in a bowl and microwave for 30-45 seconds until melted and runny

Pour coconut oil and honey mixture over the oat mixture and stir until well combined.

Lay out granola in a thin layer onto a baking tray lined with parchment paper

Place into oven and bake for 20-30 minutes, or until granola is golden brown and crunchy (note 1 & 2)

Keep in an airtight container until ready to serve
Notes
Note 1 Every so often, use a spatula to turn or shake up the granola so it cooks evenly. Remember the granola will continue to cook and harden once taken out of the oven so don't worry if it's not too crunchy yet.
Note 2 Cooking time will vary. We don't have a fan forced oven which meant it took less time than usual. What took us 50 minutes to make in our last oven, took only about 25 minutes in our current oven. You really need to keep an eye on it in the oven, so check it every so often to make sure it doesn't burn