This strawberry basil ricotta bruschetta is a perfect brunch recipe when you want something light, quick, easy and delicious! Crunchy bread topped with a light ricotta cheese, with a subtle yet delicious balsamic and basil flavour, this is perfect for summer breakfast! 
Guyyysssssssss!
I can't even, don't even know where to begin!
I am so freaking overwhelmed at the moment, I think I either need a weeks' worth of sleep, 6 coffees, a puppy or a large hug? Actually all of that doesn't sound bad? How about we throw in this strawberry basil ricotta bruschetta as well for funs?
But seriously! Do you guys find that everything comes at once, and when you're so busy you just want to crawl under a table and sip on a margarita?
That's kinds of me at the moment. My head is ALL over the place, and I don't know where to start or how to get myself organised!
I have a tendency to get really stressed when I'm disorganised, which usually isn't a problem, apart from the fact that we are currently moving and both of our houses are a complete disaster. There is literally crap everywhere!
On top of that, I've been trying to get recipes out for this week, trying to commit to my football club training, have a work function, a meeting with a potential client, and have to hang around the new house on Friday for the internet. Oh and set up the brand new house, shop for new furniture and clean the old apartment.
Can't even deal!
ok, so maybe I'm just being a princess but in my mind life seems crazy! But crazy exciting!
I feel like there are some really good things to come this and next month and I am SO excited!
In the next month, we are; moving house, going on a camping trip, flying to New York because my PARENTS ARE VISITING FROM AUSTRALIA, then hanging around Portland with Mum and Dad to show them around Oregon and Washington!
Oh and finding out whether or not we are getting a puppy! Wow, talk about life updates!
But for now, let's focus on the fact that I managed to squeeze a really easy recipe in for you this week, and that I'm probably just going to post once this week for the sake of my brain fry!
This recipe came about because I bought a huge bunch of basil from the Portland farmers market the other day, and really needed to use it up. My brother in law suggested making a bruschetta recipe which I immediately jumped at.
The second brainwave that came to this recipe, was the fact that it was breakfast and I was STARVING! Which is usually how my recipes come about, hangriness.
I wondered how I could incorporate a bruschetta recipe into a breakfast recipe, and I remembered that we had some goat cheese in the fridge. Then I remembered that Adam ate said goat cheese last night, which got me thinking of alternatives aka ricotta. Then I wondered what paired well with basil, voila, strawberry.
And finally (yes this is long winded), I really wanted something to break up the sweetness of the ricotta and strawberry and remembered that balsamic glaze went really well with all of that, and thus,
the strawberry basil ricotta bruschetta was born!
This strawberry basil ricotta bruschetta is great for many reasons.
it tastes amazing (duh) – the combination of flavours is subtle, slightly sweet and a little tangy making for a beautifully balanced dish.
it is so easy – bread, ricotta, strawberry, basil, balsamic glaze and done.
this would be perfect for whip up for a brunch gathering, I'm thinking some mimosa's or sparkling, are you feeling me?
you can make as much or as little as you want! I made four slices just for me and it was perfect. You could use a whole loaf of bread and feed a gathering of 6!
But seriously, sah good you'll absolutely love it!
So here's cheers to hectic summers, new houses, puppy play time, family visits, travel and brunching on strawberry basil ricotta bruschetta!
with love – georgie x x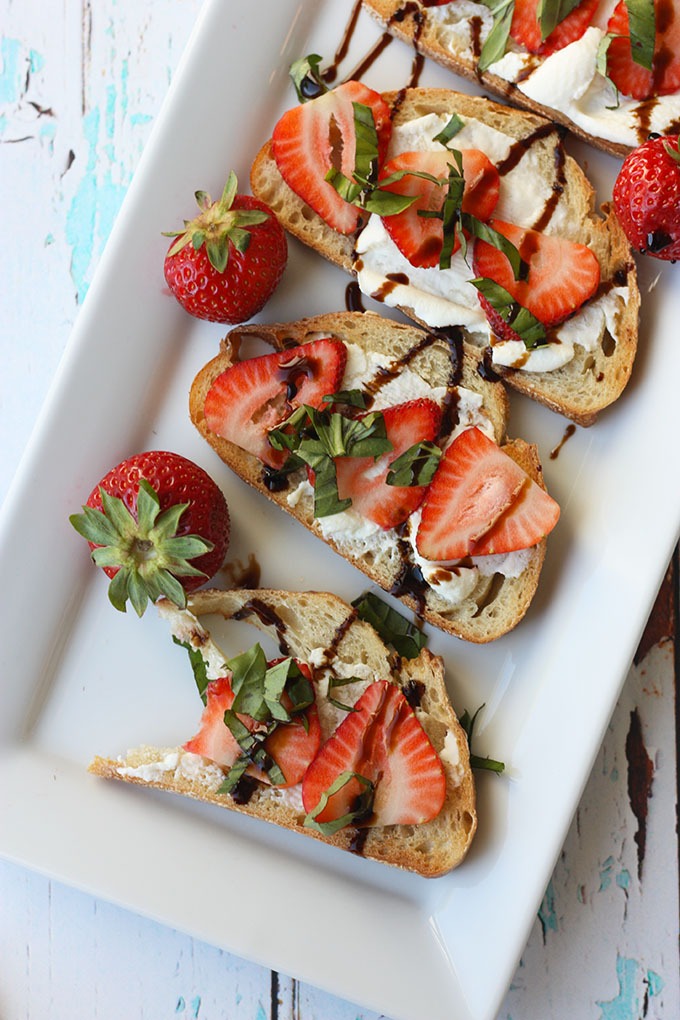 Strawberry Basil Ricotta Bruschetta
This strawberry basil ricotta bruschetta is perfect for a girl's brunch or a family gathering. It's so easy to make, and requires 5 simple ingredients!
Print
Ingredients
4

slices

sliced bread

note 1

4

strawberries

whole

3

basil leaves

roughly chopped

4

tsp

ricotta

note 2

1

tsp

balsamic glaze

note 3
Instructions
Place bread in toaster and toast until golden brown.

Spread over a thick layer of ricotta onto toast.

Top with sliced strawberries, and basil.

Drizzle over balsamic glaze.

Serve
Recipe Notes
Note 1 - we used Pugliese bread, but a baguette or good quality sour dough would also work.
Note 2 - I also think goat cheese would work really well with this recipe, although I haven't tried it. Goat cheese was my original thought for this recipe.
Note 3 - balsamic glaze can be found in most supermarkets in the vinegar section. It is balsamic vinegar mixed with sugar to make a slightly sweet thick glaze. It is absolutely delicious!
*the quantities for this recipe are for about four pieces of toast. You can make as much as you want, there is no right or wrong quantities it is totally customizable*
Nutrition Facts
Strawberry Basil Ricotta Bruschetta
Amount Per Serving
Calories 80
Calories from Fat 9
% Daily Value*
Total Fat 1g 2%
Cholesterol 2mg 1%
Sodium 127mg 5%
Potassium 47mg 1%
Total Carbohydrates 13g 4%
Protein 2g 4%
* Percent Daily Values are based on a 2000 calorie diet.