This strawberry bruschetta is a perfect brunch recipe when you want something light, quick, easy and delicious! Crunchy bread topped with a light ricotta cheese, with a subtle yet delicious balsamic and basil flavour, this is perfect for summer breakfast! 
Guyyysssssssss!
Happy May! You know what that means, only a month and a little bit till Summer!  Can I get a woop woop!
Once again I've been updating some of my older posts from THCK last year, and I freaking love this recipe! This strawberry bruschetta is so versatile, and makes the most delish recipe for weekend brunching or Mother's Day!
Some very exciting things are coming to THCK this month and next month, and I am so excited to share them with you!
I've got approximately 30 work days left until the summer break begins and am SO hanging out for the summer!
I know for one, that Archie will be super happy I'm off work for that long. Poor little guy gets lonely at home while we are both at work, but he won't have to worry soon!
Who else is excited about spring and summer? This summer I am planning on getting some serious hustling done, as well as enjoying some down time with Archie and Adam on weekends. It's going to be weird actually having my weekends back!
The side hustle is great, but far out working every weekend gets old quickly!
But for now, let's get onto this strawberry bruschetta recipe!
This is probably one of the quickest recipes I have on THCK. It literally takes under 10 minutes and, a bonus is, that it's only 5 ingredients.
It's amazing how a dish with only 5 ingredients can taste so darn good! I love a good bruschetta recipe, but I particularly love this one because it's SO simple!
This strawberry basil ricotta bruschetta is great for many reasons.
it tastes amazing (duh) - the combination of flavours is subtle, slightly sweet and a little tangy making for a beautifully balanced dish.
it is so easy - bread, ricotta, strawberry, basil, balsamic glaze and done.
this would be perfect for whip up for a brunch gathering, I'm thinking some mimosa's or sparkling, are you feeling me?
you can make as much or as little as you want! I made four slices just for me and it was perfect. You could use a whole loaf of bread and feed a gathering of 6!
But seriously, sah good you'll absolutely love it!
So here's cheers to hectic summers, new houses, puppy play time, family visits, travel and brunching on strawberry bruschetta!
with love - georgie x x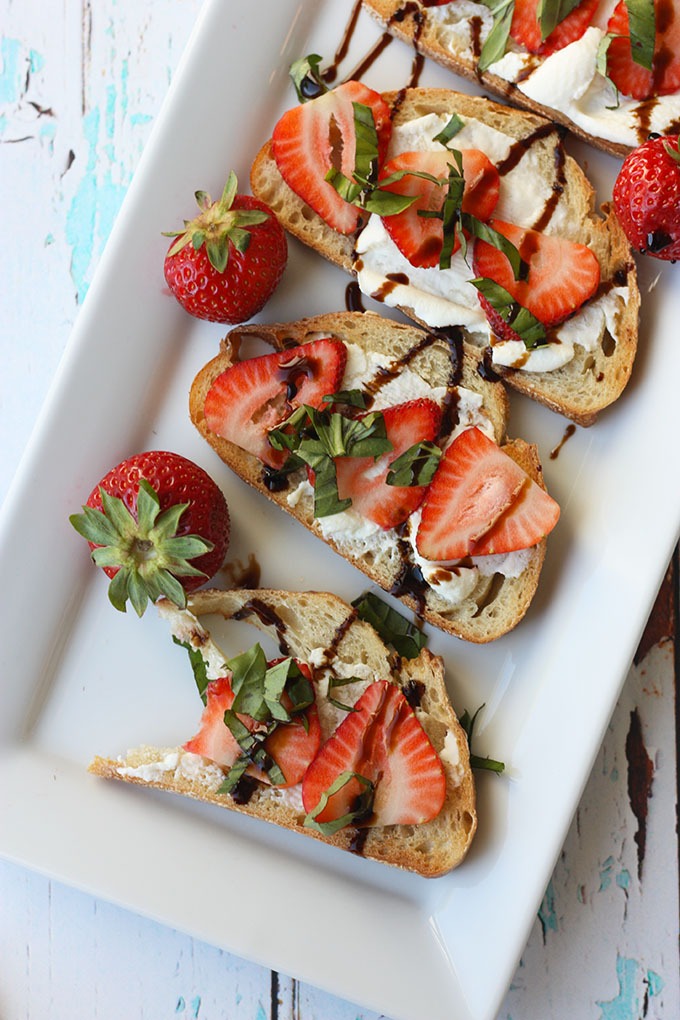 Strawberry Bruschetta with Basil and Ricotta
This strawberry bruschetta is perfect for a girl's brunch or a family gathering. It's so easy to make, and requires 5 simple ingredients!
Ingredients
4

slices

sliced bread

note 1

4

strawberries

whole

3

basil leaves

roughly chopped

4

tsp

ricotta

note 2

1

tsp

balsamic glaze

note 3
Instructions
Place bread in toaster and toast until golden brown.

Spread over a thick layer of ricotta onto toast.

Top with sliced strawberries, and basil.

Drizzle over balsamic glaze.
Notes
Note 1 - we used Pugliese bread, but a baguette or good quality sourdough would also work.
Note 2 - I also think goat cheese would work really well with this recipe, although I haven't tried it. Goats cheese was my original thought for this recipe.
Note 3 - balsamic glaze can be found in most supermarkets in the vinegar section. It is balsamic vinegar mixed with sugar to make a slightly sweet thick glaze. It is absolutely delicious!
*the quantities for this recipe are for about four pieces of toast. You can make as much as you want, there are no right or wrong quantities it is totally customizable* The nutrition information is for 2 people, however. 
If you loved this recipe, I'd love for you to leave a comment and review! Also, don't forget to snap a pic of your finished recipe and share it on our on our Instagram account using the hashtag #thehomecookskitchen or tagging me @thehomecookskitchen. I'd love to see your creations!
Afraid you'll miss a post? Subscribe today and receive updates on new posts, and bonus recipes and information! Follow along on Instagram, Facebook for food inspo and adventures, or see what I'm loving on Pinterest!
---
Archie's Adventures
Poor little poppet has been sick with a cough. Hate it when he's sick but he's still his happy old self!