Our guide to Playa del Carmen has everything you need to know about what to do, where to stay, and most importantly, where to EAT! 
OUR GUIDE TO PLAYA DEL CARMEN ||
As you know, we spent a good chunk of May travelling to Mexico and Cuba. Mexico was by far our favourite part, so we've decided to share our tips for you today in our guide to Playa del Carmen.
Playa del Carmen is a small town south of Cancun on the Yucatan Peninsula in Mexico. While it is still a tourist town, we found Playa to be a lot more laid back and relaxed than the popular beach side resort area of Cancun.
We spent 6 days in Playa, and could have easily spent more - we just loved it!
Being foodies, we sussed out some amazing local food spots, and great places for cocktails and cheap beers!
We would have loved to have spent more time, but we've compiled a list of some of the things we'd recommend doing, seeing, and places to eat!
WHERE TO STAY ||
A personal preference, you won't find any shortage of accommodation in Playa del Carmen.
We opted however for an Air Bnb, rather than a big hotel on the beach.
For us, we were looking for a more authentic experience, and from prior experiences staying in Air Bnb's, we have always got the local knowledge of the area through the hosts. Our hosts were amazing and gave us fantastic recommendations for things to do, and places to eat.
Our Air Bnb was in a little condo, and had a roof top pool which was perfect for the lazy afternoons in the heat of the day.
Another reason we chose Air Bnb, was the price. Generally the apartments we found were so much cheaper than resort prices and we absolutely had no regrets staying where we did.
Our Air Bnb was located back from the popular 5th Avenue, meaning it was a lot quieter and gave us the opportunity to explore outside the popular tourist areas.
WHERE TO EAT ||
The most important part in our eyes!
El Fogon is a MUST! We seriously had THE best tacos I have ever eaten! They might be an overstatement, considering the lack of good tacos I've eaten in my life, but you know it's good if it's where the locals go for food as well!
The staff were so friendly, the margaritas were huge (and free poured ????) and the food was just awesome! We'd recommend the meat platter that came with the little grilled onion! Can't for the life of me remember what it was, but it was so, SO good!
For breakfast, we'd recommend Papa Charlys and Choux Choux. Both were really close to our Air Bnb and did really great breakfast menus! The coffee was excellent too. Papa Charlys also did a fantastic dinner menu as well if you wanted something a little different!
For something a little different, Parilla Muchgusto had fantastic Argentinian food and we'd highly recommend the empanadas and their sangria!
There are no shortages of bars along the popular 5th avenue, but if you're looking for something a little fancy, try Trujillos. This place was in a street that was still inundated with 'jungle' plants and you felt like you were in a completely different place! While it was a little more expensive, it was worth chilling in the bar as it was so cool!
The food was so delicious in Playa del Carmen and we had some seriously good dining experiences.
WHAT TO DO ||
There is SO much to do in Playa del Carmen, and unfortunately we didn't get to all the places we wanted to, but here is a list of some of the things we loved!
Chichen Itza - an absolute must! So beautiful, and a nice drive. We went through a tour for the day and had a great time, despite getting stuck in torrential rain and thunderstorms.
Cenotes - these are incredible! While we didn't go to all of them, we loved Jardin del Eden which was a short drive out of Playa del Carmen. It was best in the morning when it was a lot quieter.
Ride in a Collectivo - these are the local buses that run between Playa and Tulum, and Playa and Cancun. It cost us about 40 pesos to get from Playa to Jardin del Eden and they are so easy to catch!
Hire a bike and ride to the beach - we hired bikes and rode to the local beach just off Calle 66th! Perfect little spot, with barely any people present. From there we road all the way to Playacar.
Drink as many margaritas and beers as possible - goes without saying! Cocktails and beers are cheap!!!!!
Visit the beach at Playacar - the beach is beautiful and you'll find a lot less people at the beach if you go far enough up! There are some great little bars and shopping malls on the way.
Shopping! Playacar and 5th Avenue had some beautiful little shops! We bought some beautiful textiles, clothes, shoes and other little knick knacks that we bought back with us! You could barter at a lot of places, but a lot of the little boutiques had really decent prices.
There were plenty of other things we would have loved to have done - Tulum looked like a beautiful little town, and the ruins looked amazing! A trip to Isla de Mujeres and Cozumel would have been incredible too but we just didn't have time. Akumal would have also been on our list, and definitely visiting more cenotes!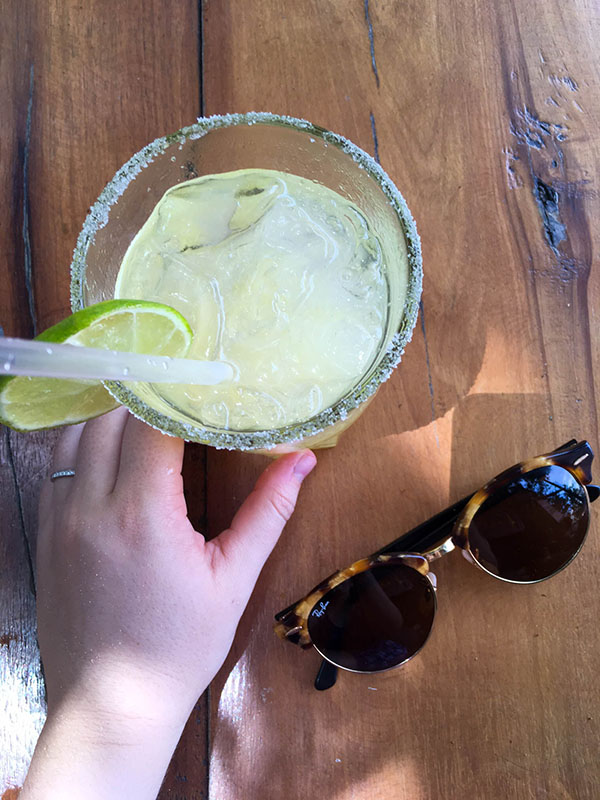 THAT'S A WRAP ||
We would have happily spent more time in Mexico, the region was just gorgeous and we absolutely loved staying there!
We understand that this is just a small part of our experience, and would love to hear any more suggestions that you guys have! So we hope you've enjoyed our guide to Playa del Carmen!
I'd love to hear! Have you been? Would you like to go? Do you want to hear more of our travel adventures in the future?