Three South American recipes fit for a King or Queen! Today I'm bringing you three easy homemade recipes, for South American food and wine lovers! Empanadas, steak with chimichurri and a super easy, dulce de leche mousse, with wine pairings! If you're looking to host a South American themed dinner party, this is the recipe round up for you!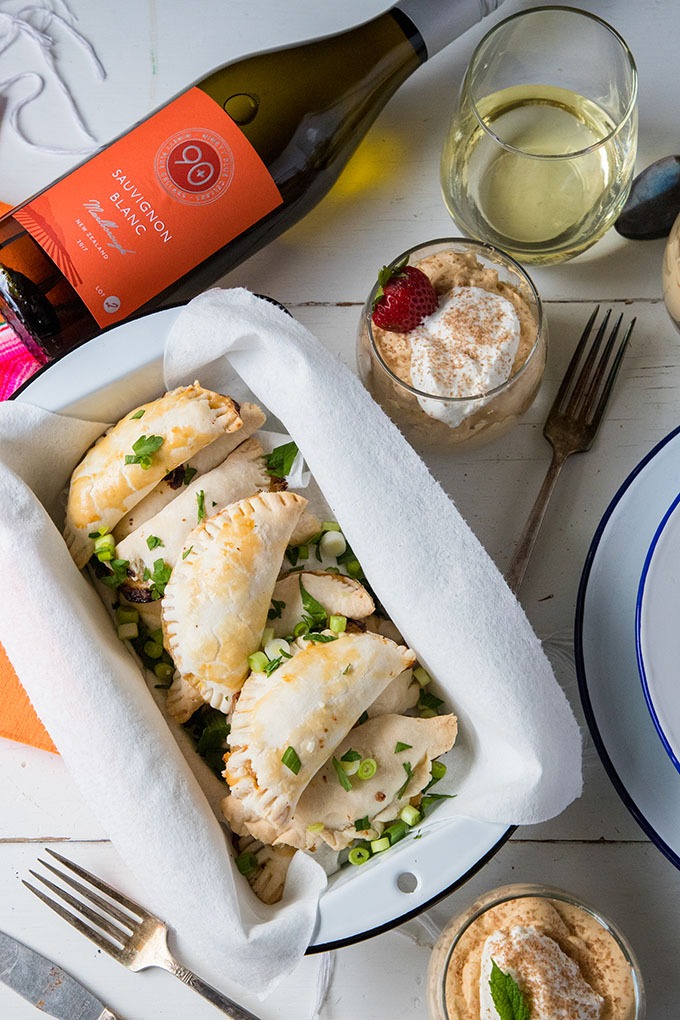 This post has been sponsored by 90+ Cellars. As always, all opinions are my own. Thank you for supporting the brands that keep The Home Cook's Kitchen up and running! 
Wow! Do I have a treat for you today!! Not only do I bring you one delicious recipe, but THREE today and a wine pairing from the beautiful wine selection from 90+ Cellars!
As you may know, last year I launched a new section on the blog, that was dedicated to meal plans and menus for entertaining. While I have been a little slow in getting some feasts together, it is my full intention to revamp and redo the entertaining section of the blog, and give you guys heaps more ideas for entertaining at home, starting with these South American recipes and wine pairing!
Now, I must disclaim, that I have not been to South American, just yet, unfortunately, but fell in love with the food when Adam and I did an Argentinian cooking class for his birthday a few years back! We learnt how to make some traditional Argentinian dishes and have continued to make them!
For this post, however, I wasn't 100% if these recipes were truly Argentinian, as I came up with new recipes, hence why it's more a South American inspired feast that you can make at home! Regardless, these three recipes are so, so easy to make, and enough to feed a crowd of six! There is no reason to be worried at all tackling these dishes, and by following my simple steps and instructions, you'll have some beautiful homemade food on your plate in no time!
The Three South American Recipes
Shrimp Empanadas, paired with 90+ Lot 2 Marlborough Sauvignon Blanc
These shrimp empanadas are so easy to make and an absolutely delicious way to start your South American feast! Empanadas are found in a variety of different countries in South America, and I have some great tips to make them a little 'at home' user-friendly!
Essentially, these shrimp empanadas are a combination of shrimp, spices, tomato, cheese and fresh cilantro. If you can get real empanada dough, that is fantastic! Empanada dough should be available from any South American supermarket, but I, unfortunately, had a hard time finding it. So my quick fix - finding store-bought, savoury pie crust.
Savoury pie crust is a little flakier than real empanada dough, however, I found it worked a treat and was really easy to use!
From the store bought pastry crust, I used a 4"/10cm wide ramekin to cut perfect circles. One I was down to the dough scraps, I brought the dough together and continued to re-roll the crust until I could no longer make circles.
Filling and sealing the empanadas, is probably the trickiest part of this recipe. You need enough filling to make a nice, plump empanada, but not so much that you empanada won't seal properly. When it comes to sealing, I could not for the life of me get the proper little waves, (must be the clumsy fingers!), but I used a fork to gently press and seal the edges.
I also opted to do a baked empanada rather than a fried one. To be honest, deep frying scares the crap out of me, and I'd rather not have the mess and oiliness of the empanada! Hence the decision to do an easier baked empanada!
These empanadas are super simple, and pair beautifully with 90+ Cellars Lot 2 Sauvignon Blanc from Marlborough. New Zealand white wines are always my go-to wine for everyday drinking and the crispness of the wine pairs beautifully with the seafood! If you love Marlborough Sauvignon Blanc, then you'll absolutely love the 90+ Lot 2!
Three South American Recipes for a Dinner Party - Shrimp Empanadas
These shrimp empanadas make the first part of your South American Recipes for an at home feast! These are quick and simple to make, and so tasty! Better still, make them the night before, so all you need to worry about is reheating them before your guests arrive!
Ingredients
1

tablespoon

butter

1

tablespoon

olive oil

¾

lbs

cooked shrimp

finely chopped

1

yellow/brown onion

very finely diced

2

garlic cloves

crushed

1

small tomato

finely diced

1

teaspoon

cumin

½

teaspoon

chili powder

2

tablespoon

cilantro

finely chopped

2

tablespoon

queso fresca

roughly crumbled

2

sheets

shortcrust pastry

1

egg

lightly beaten
Instructions
Preheat oven to 400F/200C


Heat olive oil and butter in a medium-sized skillet over medium to high heat until butter is melted.


Add onion and garlic, and cook 3-4 minutes, or until onion is fragrant.


Add cumin and chilli, and stir 1 minutes.


Add diced tomato, and cook a further 2 minutes.


Combine onion, garlic, spices and cumin mix in a large bowl with the cooked shrimp, cilantro and queso fresco. Season to taste with salt and pepper and stir well.


Roll out the pie crust dough, and use a 4"/10cm ramekin, to cut circles.


Take about 1 ½ teaspoon of the shrimp mix, and place in the centre of dough round.


Very carefully, fold the dough in half, and seal using a fork. Gently press the fork around the edges to seal and create a pattern.


Brush with a little of the beaten egg, and place on a baking tray lined with parchment paper.


Bake in the oven for 20 minutes, until the top is starting to brown and crisp up.

Steak with Chimichurri, paired with 90+ Lot 53 Mendoza Cabernet Sauvignon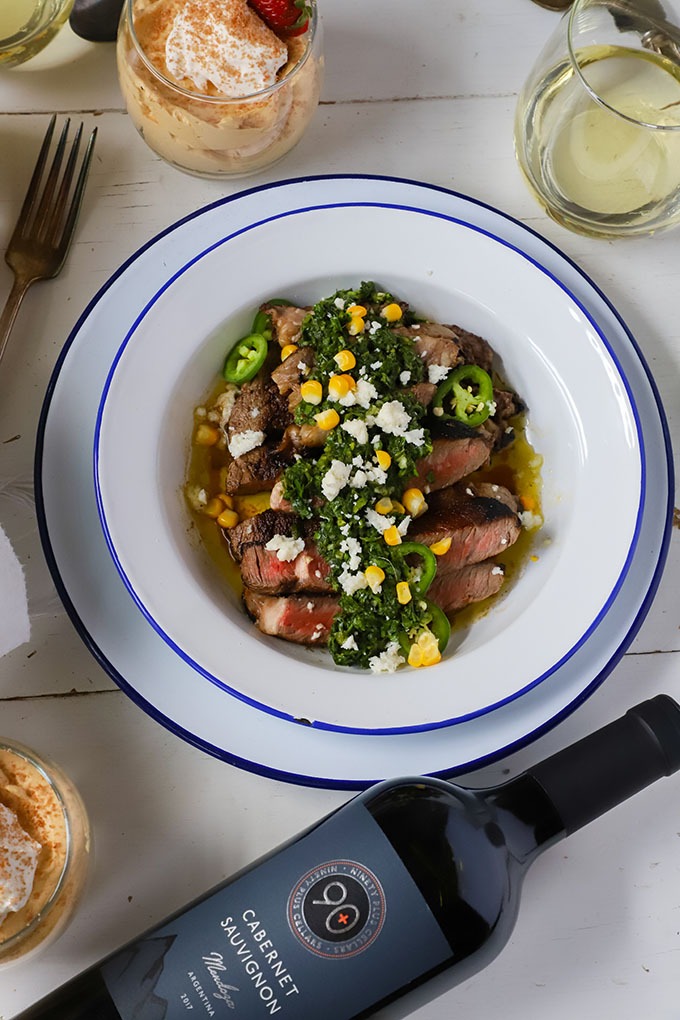 This chimichurri recipe is INSANELY good!! I've been obsessed with chimi ever since we learnt how to make it at our cooking course, and over the years I've perfected it to our tastes!! I freaking love smothering my steaks with chimichurri, and it's always been a total hit with our friends and family!
If you don't know, chimichurri is a parsley-based sauce, made with (you guessed it!) parsley, oregano, jalapeno (optional), garlic, lemon and olive oil!
I love the freshness of the chimichurri with the steak and it really adds another element to the dish! I love my chimi a little heavier on the lemon and garlic side of things, but the balance of flavours really comes down to personal taste preferences.
It is absolute perfection on steak, and pairs beautifully with the Lot 53 Mendoza Cabernet Sauvignon.  I had only ever had Malbec before from Argentina and was pleasantly surprised with the Cabernet Sauvignon. Adam and I typically drink Pinot Noir when we do drink red, but we absolutely loved the Cabernet Sauvignon when we tasted it with the steak and chimichurri. The wine is beautifully balanced - not to heavy, and not too light! It's a great everyday drinking wine!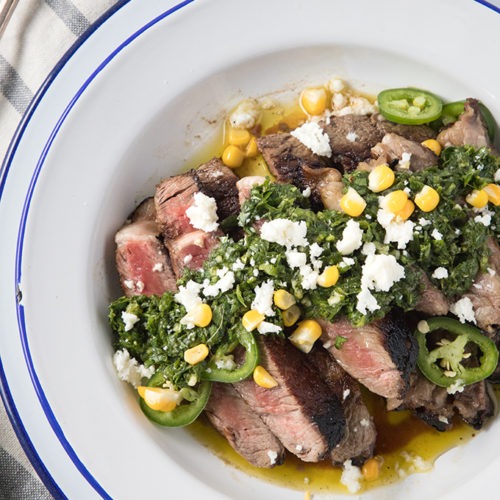 Three South American Recipes for a Dinner Party - Steak with Chimichurri Sauce
A South American feast wouldn't be complete without a delicious and easy steak with chimichurri recipe! Quick and easy, this steak is great for cooking for large crowds.
Ingredients
Chimichurri Sauce
1

bunch

flat leaf parsley

very, very finely chopped

2-3

garlic cloves

crushed

4

tablespoon

oregano

very finely chopped

½

a jalapeno

seeds removed, finely diced

zest of one lemon

juice of one lemon

¼-1/2

cup

olive oil

1

teaspoon

salt

1

teaspoon

pepper
Steaks
6

pieces of good quality steak

around 3.5oz/100g per person

1

tablespoon

grapeseed oil

2

teaspoon

salt

divided between the 6 steaks

2

teaspoon

pepper

divided between the 6 steaks
Instructions
Chimichurri Sauce
Combine parsley, garlic, oregano, jalapeno, lemon zest, juice and salt and pepper in a small bowl.

Add olive oil (I usually start with ¼ cup) and stir. You want a consistency that is similar to a pesto. I usually like to see a little olive oil swimming in the chimichurri.


In a large skillet, heat 1 tablespoon of grapeseed oil over high heat– you'll need an oil with a high smoking point with a neutral flavour. That is why I prefer to use grapeseed oil.


Add your steaks, and cook according to preferences. Depending on the size of the steak, this could be anywhere from 3 minutes, to 8 minutes per side. As a general guide, I tend to wait until I see blood appear on the top side of the steak before I flip it. Do not flip the steak more than once, otherwise, it'll become tough.

Let the steak rest for 5 minutes, before slicing it into pieces.


Serve with the chimichurri.
Dulce de Leche Mousse
To top off this beautiful South American feast, I bring you, dulce de leche mousse aka the easiest dessert I think you'll ever make! Dulce de leche is a caramel basically made from heating condensed milk until it becomes caramel, and it is SO delicious!!!
I will warn you though, this dessert is very sweet and rich, so the portion sizes will be on the smaller side!! Making this dessert is literally as easy as whipping some cream, then whipping in some dulce de leche until combined! Serve with fresh fruit (trust me, it cuts through the sweetness), a grating of dark chocolate and a mint leaf!!!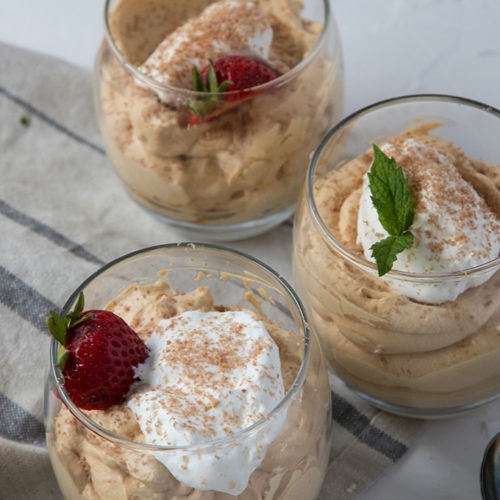 Three South American Recipes for a Dinner Party - Dulce de Leche Mousse
A rich and creamy mousse, that is so easy to make, you'll have it prepared in under 10 minutes. Make the night before to ease the stress the day of the dinner party!
Ingredients
1 ½

cups

cold, heavy whipping cream

¾

cup

dulce de leche

mint leaves, grated chocolate and strawberries

for serving
Instructions
Whip cream until soft peaks appear.

Set aside half a cup of the cream, then add in the dulce de leche.


Whip until stiff peaks appear.


Divide into 6 glasses or ramekins and refrigerate 2+ hours.


To serve, add a dollop of whipped cream, and some fresh strawberries, and grated chocolate.
So there you have it – three South American recipes for the everyday home cook! These dishes are perfect for when you want to impress, or just want to have a fun celebration of food at home! Paired with some gorgeous wines, this is a simple, and easy way to host a killer dinner party!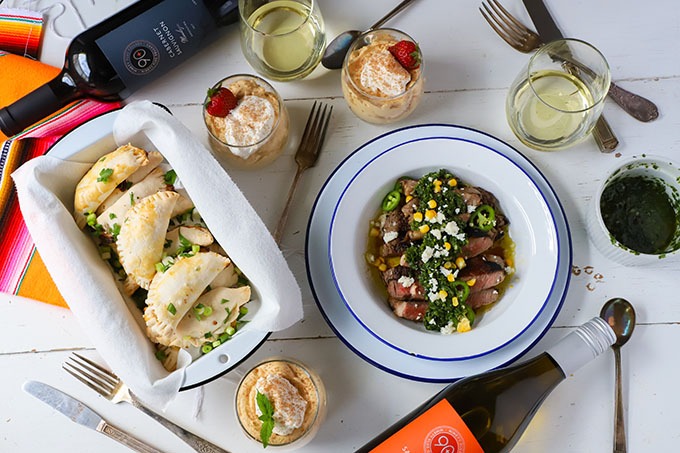 If you loved this recipe collection from 90+, you may also love these Rose Wine Mussels using 90+ Rose Wine!
If you loved this recipe, I'd love for you to leave a comment and review! Also, don't forget to snap a pic of your finished recipe and share it on our on our Instagram account using the hashtag #thehomecookskitchen or tagging me @thehomecookskitchen. I'd love to see your creations!
Afraid you'll miss a post? Subscribe today and receive updates on new posts, and bonus recipes and information! Follow along on Instagram, Facebook for food inspo and adventures, or see what I'm loving on Pinterest!