A spicy, fresh and easy cocktail recipe to make for your summer celebrations. This spicy margarita with fresh grapefruit juice and sliced jalapeño is a fun twist on a classic margarita. Up your margarita game today!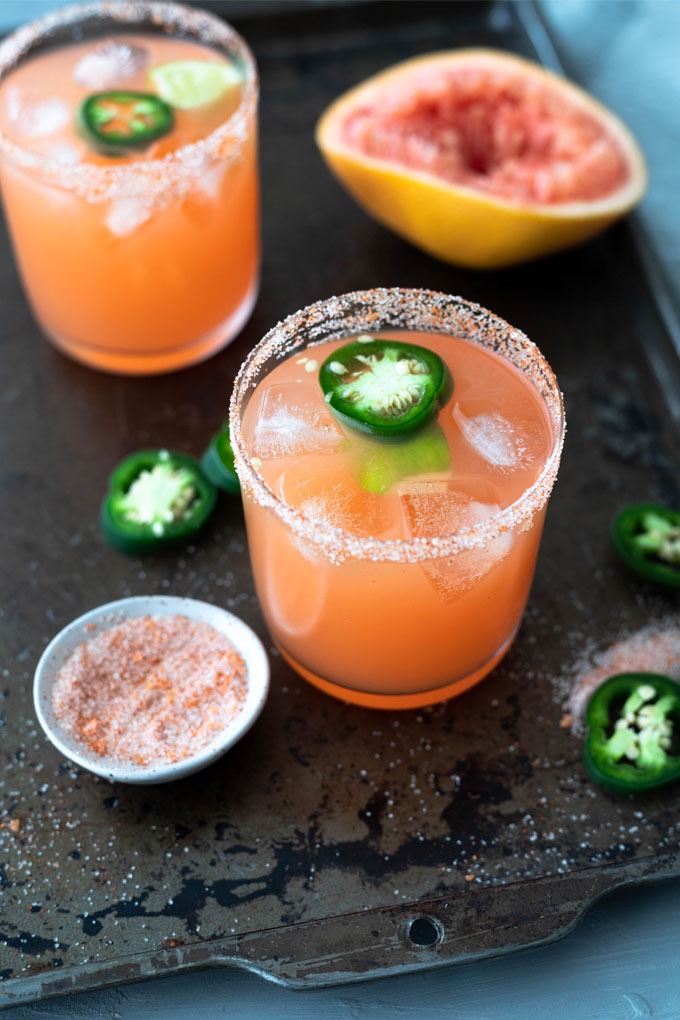 I'm feeling a little nostalgic for the summer time, so I thought I'd bring you a quick and easy cocktail recipe today. We're heading into our 10th month of our fall/winter/fall/winter cycle and it's safe to say I am CRAVING some sunshine!
I fell in love with margaritas on our honeymoon to Mexico in 2017 and since then, I've loved experimenting with different margarita flavours. I'm looking at you cranberry margarita and peach margarita!
They're so easy to make and great for a party! You can make pitcher cocktail or keep them as single serves! The tartness of the grapefruit pairs so beautifully with the subtle spice from the jalapeño, and if you prefer, you can add in some simple syrup for a little sweetness.
How To Make A Spicy Margarita
There are some key ingredients involved in making a spicy margarita. These are all easy to find at your local supermarkets and liquor stores. Nothing too fancy, but you'll be amazed at how just a few simple ingredients can elevate a cocktail.
Ingredients for a Spicy Margarita
Tequila - trust me on this, invest in a good bottle of tequila. It will make your margarita smooth and actually add to the flavour of the cocktail.
Simple syrup - combine ¼ cup of sugar and ¼ cup of water in a small saucepan and heat until the sugar dissolves. Cool, then add to your cocktail.
Fresh grapefruit juice - you'll need about 2-3 large grapefruits. You can substitute this for bottled grapefruit juice but I prefer the flavour of fresh grapefruit.
Lime juice - about 1-2 limes will be enough for 2oz/60ml of juice
Jalapeño - these are easy to find in most supermarkets, even in Australia. You'll need 1-2 very thinly sliced pieces. A little goes a long way!
Salt, chili powder and sugar - this is for the rim of the glass. It adds a nice touch and a touch of saltiness and spice to the cocktail. If you don't want it too spicy, then simple just do a salt rim.
Equipment Used for Margarita
I recently just invested in a cocktail shaker and I must admit, I really like it! You don't need anything too fancy though to make these. Some essentials are;
a measuring jig to measure out your liquids (eyeballing is ok, but by measuring you're balancing out your flavours)
two small-sized glasses with an open rim.
a cocktail shaker with strainer - this can help you shake up your cocktail to infuse that jalapeño flavour but you can also just stir your cocktail.
knife and board for cutting your fruit
a good juicer to juice your grapefruit and lime
How to Make One Spicy Margarita
Juice your fruits and make your simple syrup.
Rub a piece of lime around the rim of your cocktail class
Combine your sugar, salt and chilli powder then gently rub the glass around in the spice mix to salt the rim of your glass.
Combine tequila, simple syrup, grapefruit juice, lime juice and sliced jalapeño to a cocktail shaker and shake for 30 seconds. The longer you shake, the longer the jalapeño will infuse.
Add ice to your glass and pour over your margarita!
Cheers and enjoy!
These are seriously simple margaritas with just a little more pizzaz and flair than your traditional margs. They make a refreshing and beautiful summer drink, perfect for a patio party or Mexican fiesta!
Remember, if you try any recipes, tag me on Instagram, or leave a rating and review. I love hearing your feedback!
Georgie x x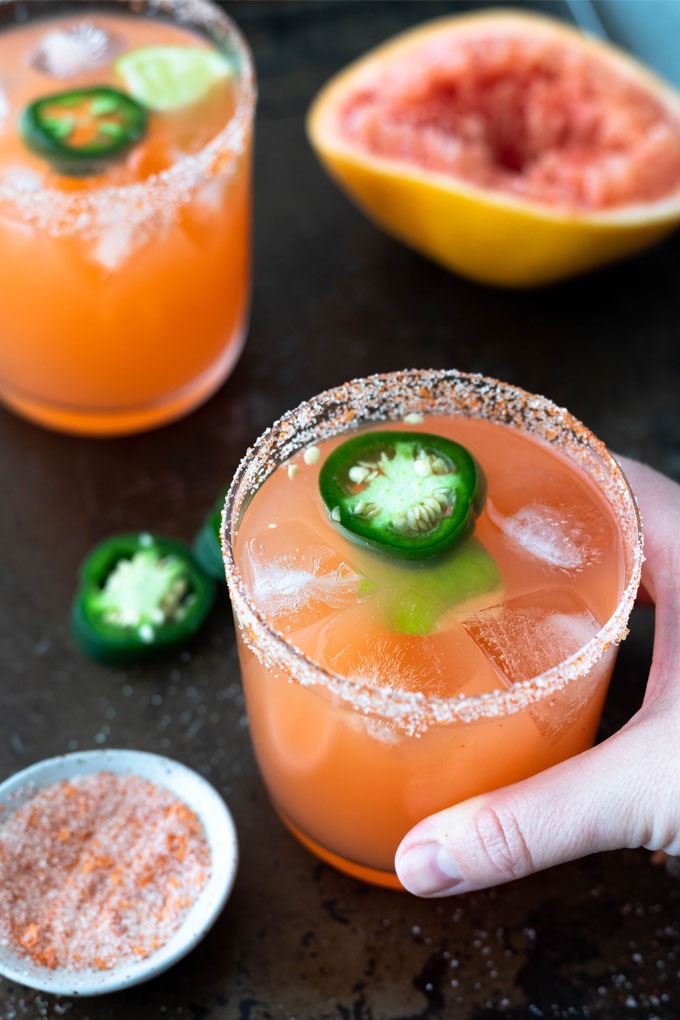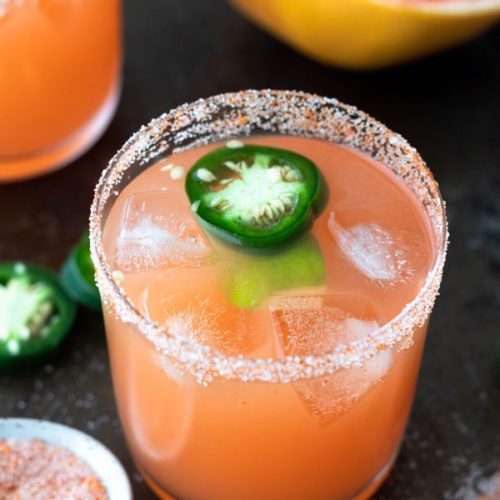 Grapefruit Jalapeno Spicy Margarita
Jazz up your party with a light, fresh and subtly spicy margarita. Made with fresh grapefruit juice and jalapeno, this is a fast and fresh recipe with a fun spin on a classic margarita.
Ingredients
120/4

ml/oz

freshly squeezed grapefruit juice

plus an extra slice to serve

30/1

ml/oz

freshly squeezed lime juice

plus a extra slice to serve

30/1

ml/oz

sugar syrup

60/2

ml/oz

tequila

1

slice

jalapeno

plus extra to serve
Sugar and Spice Rub
1

teaspoon

salt

1

teaspoon

sugar

¼

teaspoon

chilli powder
Instructions
Take a piece of lime and rub it around the rim of your glass.

Carefully dip the glass into your spice rub so that there is a thin layer of sugar, salt and chilli around the rim of your glass.

Combine tequila, sugar syrup, grapefruit juice, lime juice and jalapeno in a cocktail shaker and shake for 30 seconds.

Add ice to your margarita glass.

Pour over the cocktail, and garnish with extra jalapeno and grapefruit or lime wedge.
Want More Margarita Recipes?
Afraid you'll miss a post? Subscribe today and receive updates on new posts, and bonus recipes and information! Follow along on Instagram, Facebook for food inspo and adventures, or see what I'm loving on Pinterest!