A creamy pumpkin sweet potato soup that is absolutely perfect for an easy fall dinner. Nothing more comforting than coming home from a hard day of work, it's cold outside and you can curl up with a bowl of steaming soup, your puppy and some crusty bread. Dreamy! 
Oh my gosh you guys, today is the day! Today you get to…
OFFICIALLY MEET ARCHIE!!!!!!!!!!!!!!!!!!!!!
Yep, Adam and I bought young Archie (aka Arch, Archdini, escape master, Archickans, Archie monster, Arch Duke, the Archmister.but most importantly his "fancy name", Sir Archibald Clegg the First) home on Wednesday and we could not be more smitten.
I decided to push my usual Thursday post back to Friday so you had the chance to meet the little fella! I wish I had more photos but he is SO wriggly and everyone is blurry! If you're really keen, you can follow him @archies_golden_adventures. Yep, I went there. Don't judge me ????
Honestly, he is the cutest thing I have ever seen in my life, and we are absolutely in love! I couldn't help myself and did a quick little instagram introduction but I wanted to make it THCK official!
Archie is a red golden retriever, runt of the litter, (however he's a bigger than his sisters now), but positively adorable and cheeky AF. Getting him has been a long time coming, we've been literally waiting for over 9 months but finally we have our little golden nugget running around our house and holy shit we are loving every minute of it.
We were originally going to pick him up on Monday after we came back from San Diego. Oh yeah, came back NATIONAL CHAMPIONS, I should say from San Diego however weren't able to until Wednesday.
I stayed at home from work yesterday, and it's safe to say I've been fairly unproductive! I mean, cuddles every day who can resist!?
He seems to be settling down really, really well! We are starting crate training so he's slowly learning to make his crate his safe place while I work. He doesn't like being alone though so we are trying to teach him how to have periods of time to himself.
We've realised pretty quickly that he is smart. Like, super smart. He already learnt how to sit, come and lay down and can already retrieve objects in only minutes.
He's also playing a game with us, where he whines in his pen, we don't let him out, decide to let him out after he's settles, then he decides he's going to stay in the crate and go to sleep! ????????
But honestly, he is just the best little guy and we are SO happy to have him! He's a little champion! So excited to be able to take him out when he's had all his shots and take him on adventures!!!!
As you can imagine, he'll be showing his face a little more on the blog – he's such a cute little cooking buddy! #sueschef #kitchenhand #pupchef?
Luckily being prepared for my total unproductiveness to make time for puppy pats, I managed to get the photos for this for my pumpkin sweet potato soup recipe out TWO weeks ago! Talk about actually being organised for once!
As much as I want to talk about Archie, I better chat to you guys about the awesomeness of this pumpkin sweet potato soup!
I have been eating this pumpkin soup for as long as I can remember. And from memory, it was one of the first meals my mum taught me how to cook when I was younger.
I was actually a little unsure about whether or not to post this recipe, because it seems so simple and basic, but I'm a firm believer in sticking to recipes that are true to you, and recipes that you love. And I can't go past a simple pumpkin sweet potato soup.
This pumpkin sweet potato soup was one of my favourites to eat as a kid. When I got home from school and mum announced that we were having soup for dinner, I couldn't have been a happier little kid.
I don't know why, but there is something so comforting about having soup on those really cold, winter nights.
Most of my school years were taken up with sports in the evening. I remember coming home from soccer practice at around 6pm, cold, and absolutely starving, finding so much comfort in hoeing into a bowl of creamy pumpkin sweet potato soup.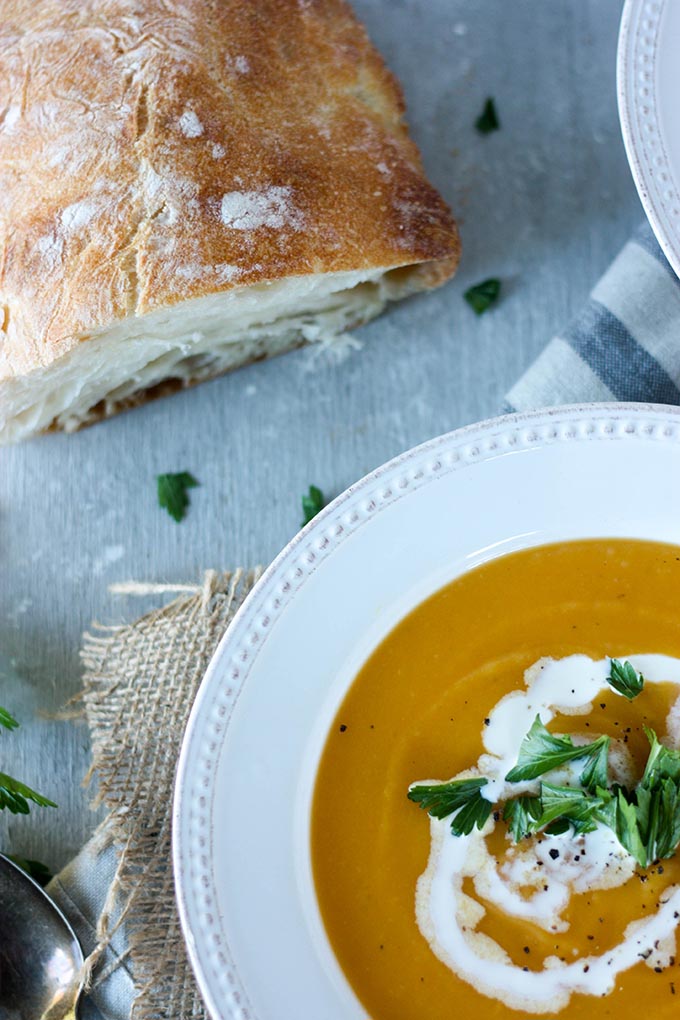 Now I think about it, nothing much has changed! I still find so much comfort in food whether that be baking for friends, hosting dinner parties or just having a quiet night in with Adam making something delicious.
This pumpkin sweet potato soup (like most of my recipes) is ridiculously easy to make. So easy, I almost thought it was too simple to post, but then I remembered everyone needs a damn good pumpkin soup recipe in their lives!
I'm not entirely sure you can go wrong with this recipe!
This soup is; thick, smooth, creamy, great for the freezer, perfect for a full meal with a crusty loaf of bread or great for a quick and easy lunch!
And I think you're going to LOVE IT!!! – Georgie x x
Pumpkin Sweet Potato Soup
This pumpkin sweet potato soup is the perfect fall soup! Quick, simple, minimal ingredients and warming right through to your toes!
Print
Ingredients
1

brown onion

roughly diced

5

oz

butternut squash/pumpkin

peeled and diced into cubes. (note 1)

7

oz

white potatoes

like Yukon golds or russet potatoes , peeled and diced (note 2)

10

oz

sweet potato

peeled and diced (note 3)

2.5

cups

chicken stock
Instructions
Place onion, pumpkin, potato, sweet potato and chicken stock in a large dutch oven.

Bring to boil.

Reduce heat and simmer 20-30 minutes, or until vegetables are soft.
Option 1 aka easy option
Using an immersion blender/stick blender, blend soup until smooth and creamy.
Option 2 aka slightly longer but still easy process
Pour small amounts of soup through a sieve into a seperate saucepan.

Place larger chunks leftover in sieve into a food processor.

In small batches, blend until smooth, then return to liquid already strained into the second saucepan.
Serving
Reheat until warmed through, about 5 minutes.

Serve with a drizzle of cream, crack of salt and pepper and some chopped parsley.

Serve with crusty bread and butter.
Recipe Notes
note 1 - 1lb 5 oz was half a rather large butternut squash. My Australian friends, feel free to use butternut pumpkin, kent or jap pumpkin.
note 2 - this amount was 4 small potatoes.
note 3 - this was one medium sized sweet potato
General notes on dicing - this doesn't have to be perfect. The smaller you go, the cooker it will cook. I tend to do medium sized chunks because reality is, I'm too lazy to be finicky about chopping it into smaller pieces!
Nutrition Facts
Pumpkin Sweet Potato Soup
Amount Per Serving
Calories 170
Calories from Fat 9
% Daily Value*
Total Fat 1g 2%
Cholesterol 4mg 1%
Sodium 260mg 11%
Potassium 766mg 22%
Total Carbohydrates 32g 11%
Protein 6g 12%
* Percent Daily Values are based on a 2000 calorie diet.
Yay or nay? I'm seriously considering adding a section at the end of each blog post 'Archie's Adventures'. Do you want to see more pup pics? and see what he gets up to behind the scenes on THCK? Comment below!
Afraid you'll miss a post? Subscribe today and receive updates on new posts, and bonus recipes and information! Follow along on instagram, facebook for food inspo and adventures, or see what I'm loving on pinterest!